Deadline Day: Five things to watch
Wednesday's trade deadline is just around the bend, so let's take a look at five questions that will be answered by the time the bell rings.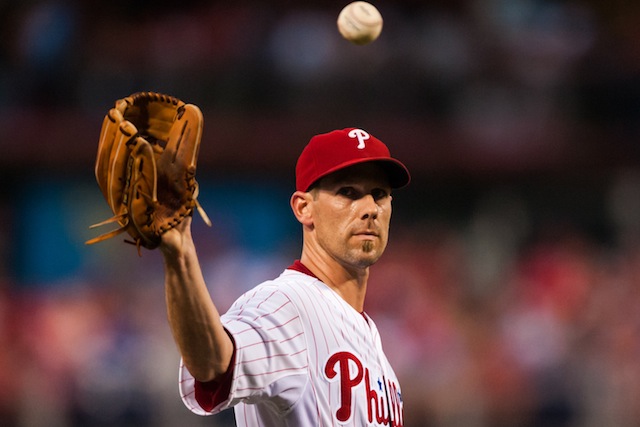 More Deadline: Peavy scratched | Does Papelbon want out? | Rumors
The non-waiver trade deadline will drop with a menacing thud on Wednesday at 4 p.m. ET. Between now and then, however, we'll see a number of questions answered, concerns addressed and storylines played out. On that front, let's take a look at five particularly intriguing matters that will be resolved by the time the deadline comes and goes ...
How will the teams of the AL East play it?
The AL East is once again MLB's toughest division, and four of its five teams right now have legitimate designs on the postseason. The Rays, normally church-mouse-quiet this time of the year, have already added Jesse Crain. The Red Sox want starting pitching (might a blockbuster for Cliff Lee be possible?). The Yankees need all manner of offensive help, even after nabbing Alfonso Soriano, but do they really see themselves as contenders? As for the Orioles, they've already been active, as this month they've added Scott Feldman and Francisco Rodriguez. They may not be done, as the Baltimore rotation still needs a bit of work. As for the Blue Jays, do they sell off, or keep things intact for a run in 2014?
Phillies make this a high-stakes deadline?
The presence of the second wild-card berth in each league has expanded the field of notional contenders, and that, in turn, has tamped down the number of teams in sell mode. As a further consequence, we typically don't see quite as many blockbusters as we did during deadlines past. Phillies GM Ruben Amaro, though, has the power to change that.
For a time Amaro seemed relucatant to sell, but the team's recent losing streak has changed that. But to what extent? It would hardly be surprising to see the Phillies part with, say, Michael Young, but that's "half-measure" type of stuff. Trading the likes of Cliff Lee, Chase Utley and Jonathan Papelbon, however, would be something else entirely. The prices would be high, since the Phillies aren't desperate to shed payroll, but it could give the organization a nice jump on the rebuilding process. Any of those three players would have wide appeal on the market (although the Phillies would likely need to pitch in some cash in order to move Papelbon). Wednesday gets a lot more interested if Amaro decides everything must go.
Rangers get a bat?
Despite playing their home games in one of baseball's best parks for hitters, the Rangers presently rank just ninth in the AL in runs scored. That's why they're looking for help at DH and at at least one of the outfielder corners. That's why they've gone so far as to ponder a reunion with Michael Young, and that's why they've gone so far as to ponder parting with Joe Nathan. This team needs help.
Oh, and see below with regard to Nelson Cruz concerns.
Will there be any moves that seem motivated by the forthcoming Biogenesis suspensions?
It of course remains to be seen what becomes of those linked to the terminally ongoing Biogenesis scandal. Alex Rodriguez seems bound headlong for a suspension, but what about, say, Bartolo Colon of the A's, Nelson Cruz of the Rangers and Jhonny Peralta of the Tigers? They play for contenders, and they could be facing in-season discipline for their alleged ties to Biogenesis. It's highly doubtful that MLB lowers the boom on them before Wednesday, but will a move by any team likely to be affected telegraph what's to come? That is, if the A's deal for a starting pitcher, does it mean they believe Colon is going to be temporarily banished? Commence the speculatin'.
What else will the Cubs do?

Theo Epstein, Jed Hoyer and the Cubs are of course in the midst of a deep rebuild, and on that front things are going swimmingly. The farm system is steadily improving, and already this month they've shipped off Scott Feldman, Scot Hairston, Matt Garza and Alfonso Soriano in exchange for more young talent. But they may not be finished. Still on the roster are tradeable names like Nate Schierholtz, David DeJesus and Kevin Gregg. So expect more moves from the Cubs before the clock runs out on Wednesday.
No, you're not imagining things. This MLB offseason has been very slow compared to the last...

Francesa will retire from radio next month, so he'll have plenty of free time next summer

Get your sports fans something that they'll wear all year
Get 15 percent off any order of more than $75 at CBS Sports Shop

The Twins need help in the rotation, and they may look to the trade market to find arms

Here are the bullet-points of what went down Tuesday regarding MLB and the Braves' punishm...