Deadline winners/losers: Orioles fly high, Rangers shoot blanks
From H (Hunter Pence) to E (Indians' equipment manager), here's everything you need to know about who won, who lost and who is living in the wrong city (Windy) at this year's July non-waivers trading deadline.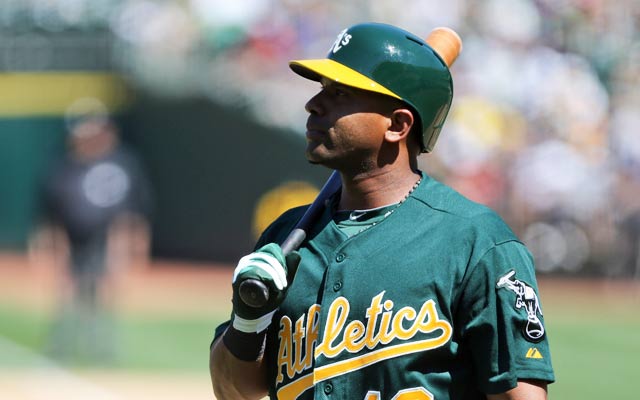 How slow was this July's non-waivers trade deadline? Even travelin' man Hunter Pence stayed put.
Last July, the Philadelphia Phillies shipped him to the San Francisco Giants .
Two Julys ago, the Houston Astros shipped him to the Phillies.
This July? Nothing.
The trade deadline sometimes can seem like an elaborate Saturday Night Live skit, and that was reiterated Wednesday when, less than an hour before the deadline, news came that the Astros dumped starter Bud Norris for (L.J.) Hoes. Only thing missing was Eddie Murphy announcing it.
But hey, all this doesn't mean some clubs didn't really helped themselves as baseball now points toward the stretch run. …

ORIOLES: Enormous kudos to general manager Dan Duquette for pulling off a handful of moves the Birds really needed, acquiring starters Norris (from the Astros) and Scott Feldman ( Chicago Cubs ) and reliever Francisco Rodriguez ( Milwaukee Brewers ). The O's will go as far as their pitching takes them the rest of the summer because. …
"Baltimore's lineup is probably better than Boston's," one longtime American League executive says. "I never thought I'd say that, because Boston is such an offensive-oriented club. But you look at Baltimore's lineup, especially two through seven, guys like Matt Wieters , Brian Roberts , J.J. Hardy , Manny Machado , Nick Markakis , Adam Jones , Chris Davis … that's pretty good. That's a formidable lineup."

RED SOX: Acquiring Jake Peavy ( Chicago White Sox ) strengthens their rotation, and landing reliever Matt Thornton (White Sox) is a boon for John Farrell's bullpen, too. Ben Cherington already clinched the Most Improved General Manager award for 2013. Just think what he could have done had he held trade discussions outside the Sox species.

DODGERS: Nothing as dramatic as last year ( Hanley Ramirez , Adrian Gonzalez , Josh Beckett , Carl Crawford , Magic Johnson, Cool-A-Coo ice cream sandwiches) but starter Rickey Nolasco ( Miami Marlins ) will help. And how about signing free agent reliever Brian Wilson? The guy might no longer be in his prime -- Pet Sounds was awhile ago, after all -- but Dodger Stadium is rockin' again. They are 27-6 in their past 33 games (into Wednesday night), their best 33-game stretch, according to ESPN Stats & Info, since 1953.

TIGERS: Not only did GM Dave Dombrowski avoid the expected Jhonny Peralta loss, he found long-term security at shortstop in Jose Iglesias ( Boston Red Sox ). Biggest question, as longtime beat man Tom Gage of the Detroit News asks, is how will Iglesias now become Jhose in tribute to Jhonny.

PADRES: They got just what they wanted, a starting pitcher they can control for the next few years, and essentially didn't give up much more than a LOOGY to get him. Ian Kennedy ( Arizona Diamondbacks ) is controllable through 2015. Lefty Joe Thatcher has faced more than four batters in a game only four times this season, and has faced one batter in five of 12 appearances this month. One more thing: With both Kennedy and Carlos Quentin , it will be a miracle if they don't brawl with the Los Angeles Dodgers every single time they play each other the rest of the summer.

BRAVES: Would have been nice if they acquired a starting pitcher to replace Tim Hudson , but they got what they wanted, which was bullpen help. Not only that, but Scott Downs ( Los Angeles Angels ) was the winning pitcher in his first game in Atlanta. Tomahawk Chop that, Angels.

YANKEES: Lots of teams wanted/needed to improve their lineup. Problem: There were fewer bats available than Eskimos in Arizona. The Yanks scooped up Alfonso Soriano (Cubs), easily the only notable bat traded.

ROYALS: They didn't get the second baseman they wanted ( Howie Kendrick , Angels, or Gordon Beckham , White Sox). But neither did they unload Ervin Santana , Luke Hochevar or anybody else, thanks to a well-timed seven-game winning streak. Mild upgrade in outfielder Justin Maxwell (Astros). Keep the faith, Kansas City Royals fans.

ATHLETICS: Alberto Callaspo (Angels) isn't going to send the hearts of Oakland Athletics fans swooning. But he's a nice piece, and the A's are threatening to run away with the AL West. Whaddaya want?

BLUE JAYS: Here's the thing about Toronto – the Jays are having a bitterly disappointing season. But in acquiring Jose Reyes , Mark Buehrle and the rest last winter, they were looking at a two-, three-, four-year window to win. They didn't put all of their Blue Jay eggs in one 2013 basket. No reason to rip things up. Sometimes patience can be a good thing. See the Dodgers, with Don Mattingly.

MARINERS: They could have tried to get something for Mike Morse. Or Raul Ibanez . Or Kendrys Morales . But they're preaching patience, they've got some nice young pieces and there is something to be said for not doing anything rash. But Justin Smoak has gotta go.

ASTROS: They dealt Norris and Maxwell for more prospects. To add to the prospects they already have. Who are playing on top of more prospects. We'll check back in four or five years, 'Stros.

CUBS: Sent Soriano, Garza, Feldman and Carlos Marmol packing. …

WHITE SOX: Sent Thornton, Peavy and Jesse Crain packing … hey, remember when the city of Chicago was an actual baseball destination? Now the whole baseball culture could be sponsored by Samsonite.
BETTER LUCK NEXT DEADLINE

RANGERS: They helped their pitching by acquiring Matt Garza (Cubs) early. But they swung and missed at getting offensive help. No Alex Rios , no Michael Young , no Edwin Encarnacion or Jose Bautista , no nobody. Really, it was a continuation of last winter, when they missed out on Zack Greinke and couldn't complete a trade with Arizona for Justin Upton . And now they're about to lose Nelson Cruz to a Biogenesis suspension. Pass the anti-depressants.

PIRATES: Some clubs should take note of Dombrowski's aggressive deadline moves, colleague Danny Knobler correctly writes, and one of them is the Pittsburgh Pirates . You can argue that the team with the best record in the game is OK standing pat. When that team is the Pirates, who haven't won since 1992, you'd like to see them add another weapon or two.

DIAMONDBACKS: Yes, they helped their bullpen (Thatcher), but they couldn't land the starting pitcher they hoped to get (Peavy, Norris). And the Dodgers are starting to separate themselves.

PHILLIES: They need to get younger. And they did nothing. They didn't move Michael Young, they opted to keep Cliff Lee . And now colleague Jon Heyman reports that they're engaging second baseman Chase Utley in talks for a contract extension. This yesterday's-news team already looks old. If they don't act soon, it's going to be hopeless.

CARDINALS: Anytime you place Yadier Molina on the disabled list, through no fault of your own, you're bound to end up on this list.

RAYS: They couldn't get a bat, then they had to place Matt Moore on the disabled list with a sore elbow while the division-rival Red Sox and Baltimore Orioles improved. Tampa Bay's margin for error just became narrower. Maybe Jesse Crain (White Sox) will become the magic bullet.

INDIANS EQUIPMENT MANAGER: Good luck making sure "Rzepczynski" is spelled correctly on all of those jerseys. The Tribe already blew it Wednesday on the lineup they post in their clubhouse, dropping the second 'z' from new reliever Marc Rzepczynski 's name. Spelling is hard.

ANGELS: At 14 games out – their largest deficit since 2003 – they quickly became sellers in dealing away Downs and Callaspo. Come get your "I Spent All of this $$$ And All I Got Was Humiliated" T-shirts from Arte Moreno soon.

TWINS: Justin Morneau hasn't hit much more than Kent Hrbek during the month of July, which pretty much diluted what little interest the Pirates and Orioles had. Which left GM Terry Ryan unable to help a team that needs help.

NATIONALS: This club is such a disaster, and a weak trade market presented few options for improvement. "World Series or Bust" has become "Let's Just Get Through the Season Without Killing Each Other."

BREWERS: The two players they wanted to trade, they couldn't because Aramis Ramirez didn't come off of the disabled list in time and John Axford didn't pitch well enough to bring a decent offer. A starting pitcher that could have brought a decent return, Yovani Gallardo , stunk – and that was before he limped off of the field with a leg injury Tuesday. Owner Mark Attanasio didn't want to deal Kyle Lohse or fan favorite Nori Aoki . And then there's Ryan Braun. Poor Milwaukee fans. What's the latest with the Racing Sausages?
McCullers was outstanding after battling back problems for most of the second half

The projections continue to favor an Astros-Dodgers World Series

The story centers around a building in Chicago, where Billy Jurges was shot by a jilted lo...
From 1 to 25, the L.A. Dodgers have the squad to overcome the pitfalls of October baseball

After Tuesday night's win over the Cubs, the Dodgers are now 6-0 in the 2017 playoffs

Los Angeles beat Chicago once more in Game 3 of the NLCS in Chicago