Debut with Tigers further proof David Price is good, but not great
David Price made his Tigers debut on Tuesday night, and we saw results in keeping with his recent history.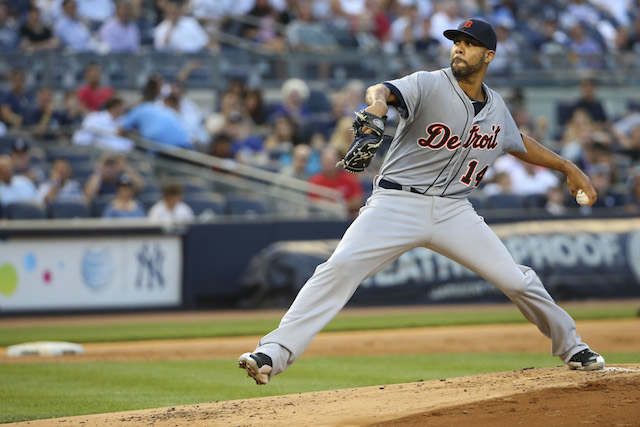 More MLB: Power Rankings | Expert Picks | Latest news & notes | Fantasy news
Lefty ace David Price made his Tigers debut on Tuesday night against the Yankees in the Bronx (DET 4, NYY 3, 12 innings). Here's how that went ... 

Price pitched deep into the game, missed bats, exhibited excellent control but also got knocked around on contact. That's a good outing -- not a great one -- and that's in keeping with what Price has been of late. 
Broadly, the Price we're seeing now isn't the Price we saw early in his career. That's to be expected, of course, as this is a game of constant and thorough adjustments, even with great performers like Price. Specifically, Price in recent seasons has abandoned his slider, varied his hard offerings and become more of a fastball-changeup guy with the occasional curve ...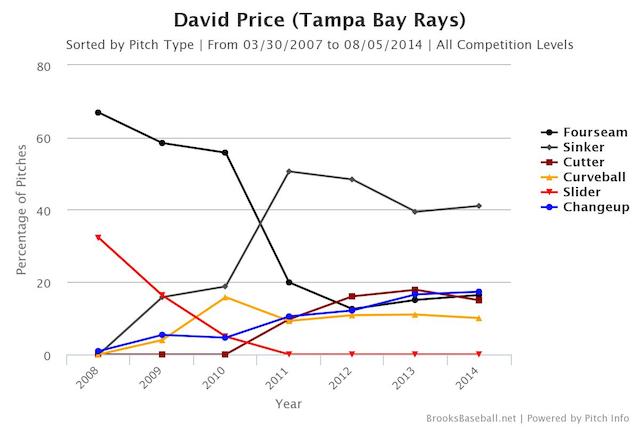 Without question, the approach is working for him, as his "post-slider" span includes Price's Cy Young campaign of 2012 and, of course, his current All-Star season of 2014. 
What's also notable about Price in recent years is his improved command and control. For instance, through 2012 Price walked 8.0 percent of the batters he's faced. Since the start of the 2013 season, however, he's walked just 3.5 percent of opposing hitters. He's done that without any appreciable drop in his strikeout numbers. When you pepper the zone (and the margins of the zone) with five different pitches, you're going to run some impressive command indicators. So it is with Price. 
With the fully evolved Price, however, there's also been a negative trend-line, and that's his ability to induce weak contact. This season, for instance, he's running the lowest ground-ball percentage and the lowest ground-ball/fly-ball ratio of his career. Although a pitcher's home run/fly-ball percentage can be prone to random variation in the short run, Price is headed for a career worst mark on that front. On another level, even though Price is giving up more fly balls these days, he's not showing an increased propensity for infield pop-ups.
Here's more evidence that Price isn't what he once when it comes to managing contact ...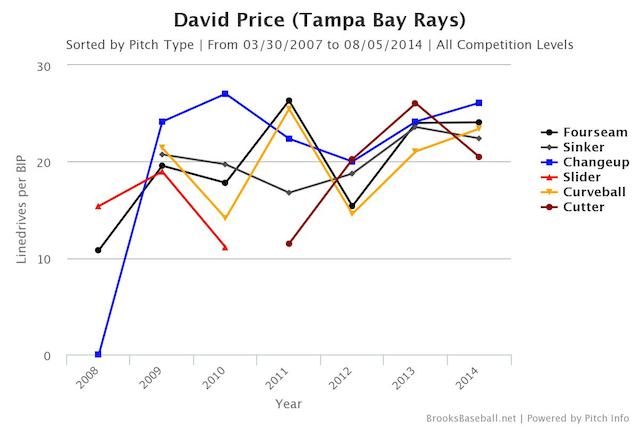 That's Price's percentage of line drives allowed on balls in play (i.e., fair batted balls that don't leave the park). While there's the potential for some classification errors when it comes to line drive data, the overall pattern is pretty clear. The 2013 and 2014 seasons are the only seasons in which Price has allowed a line drive percentage of 20 or greater on all five of his pitches. So not only is Price allowing more fly balls, but he's also giving up a lot of ropes when hitters put the bat on the ball. 
On a "bottom line" level, Price for his career has allowed a slash line on balls in play of .286/.285/.358. This season, it's up to .305/.303/.377, and last year it was .300/.299/.378. Bear in mind that those career numbers include the 2013 and 2014 uptick.
There's nothing wrong with Price's overall run prevention skills, but there's a small gap between his ERAs and what his ERAs should be given the strength of his underlying indicators. That's because Price these days tends to get hit hard when batters make contact, at least relative to his prior standards. 
It's also worth noting that Price is now going to from a home park -- the Trop -- that cuts down on hitter contact rates -- to a new home park -- Comerica -- that increases them. This season to date, Price has benefited from a career low contact rate. Will that remain the case now that he's calling Detroit home? Based on the related trends above, more contact would be a bad thing for the 2013-14 version of Price. 
None of this is to say that Price is anything less than an established ace and a contributor who makes an already good team better. It's possible that he'll come off this disappointing-by-his-high-standards start in the Bronx, cut a swath through the league and pitch the Tigers to the belt and the title. He's that good. However, if anyone's expecting Price to be better than the lowish-3.00 ERA pitcher he's been throughout recent history -- the pitcher he was on Tuesday night against the Yankees -- then they may be primed for disappointment. 
(Data: Brooks Baseball, FanGraphs, Baseball-Reference, Stat Corner)
Get 15 percent off any order of more than $75 at CBS Sports Shop

Get your sports fans something that they'll wear all year

No, you're not imagining things. This MLB offseason has been very slow compared to the last...
Francesa will retire from radio next month, so he'll have plenty of free time next summer

The Twins need help in the rotation, and they may look to the trade market to find arms

Here are the bullet-points of what went down Tuesday regarding MLB and the Braves' punishm...