Dec. 3 rumor and hot stove recap: Busy day of trades and signings
Five trades and six free agent signings headlined a very, very busy Tuesday.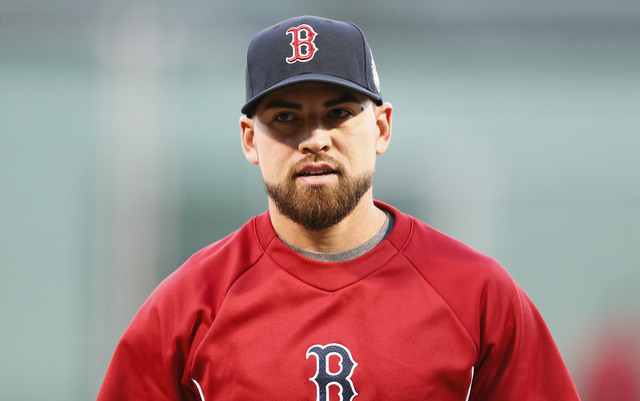 MORE: FA tracker: position players | FA tracker: pitchers
I think there's a decent chance more talent changed teams on Tuesday than another other non-trade deadline day in baseball history. Certainly in recent history, the last 10 years or so. Teams aren't waiting for next week's Winter Meetings to make their moves, they're making trades and handing out huge contracts right now.
Here is a recap of Tuesday's hot stove news, from the signings to the trades to the good ol' fashioned rumors.
SIGNINGS
Marlins: Agreed to sign C Jarrod Saltalamacchia to a three-year, $21 million contract. The deal does not include a no-trade clause.
Phillies: Agreed to a guaranteed major league contract with C Wil Nieves. He'll back up Carlos Ruiz. (Jon Heyman)
Red Sox: Agreed to sign C A.J. Pierzynski to a one-year pact worth $8.25 million. He essentially replaces Saltalamacchia behind the plate.
Rockies: Agreed to two-year deal worth $13 million or so with 1B Justin Morneau. He replaces the retired Todd Helton.
Tigers: Agreed to a two-year, $20 or so million contract with RHP Joe Nathan. Detroit gets the high-end closer they need.
Yankees: Agreed to sign OF Jacoby Ellsbury to a seven-year contract worth $153 million. An option for an eighth year can push the total value to $169 million. (Jon Heyman)
TRADES
Three-Team Deal: Rays get C Ryan Hanigan and RHP Heath Bell, Reds get LHP David Holmberg, Diamondbacks get RHP Justin Choate and a player to be named later. Hanigan signed a three-year, $10.75 million extension with Tampa following the deal.
Padres: Traded RHP Luke Gregerson to the Athletics for OF Seth Smith in a one-for-one swap. San Diego gets the left-handed bat it's been seeking this winter.
Phillies: Acquired RHP Brad Lincoln from the Blue Jays for C Erik Kratz and LHP Rob Rasmussen. Philadelphia has been looking for a setup type reliever.
Rangers: Traded OF Craig Gentry and RHP Josh Lindblom to the Athletics for OF Michael Choice and IF Chris Bostick. Fascinating trade between AL West rivals.
Rockies: Traded OF Dexter Fowler and a player to be named later to the Astros for RHP Jordan Lyles and OF Brandon Barnes.
RUMORS & SPECULATION
LHP Brett Anderson: Likely to be traded during the Winter Meetings next week. The Yankees, Blue Jays, Indians and Mariners are among the interested teams. (ESPN, San Francisco Chronicle, Yahoo! Sports)
OF Carlos Beltran: Has a three-year, $48 million offer in hand from an unknown team. It might be from the Mariners or the Royals. He was in Kansas City on Tuesday meeting with the club.
Dodgers: In talks with RHP Brian Wilson about a new contract. He is willing to setup for Kenley Jansen.
Mariners: May become a "major player" for Robinson Cano. That was before the Ellsbury deal, which surely changed the market for Cano somewhat.
Rangers: Met with OF Shin-Soo Choo. It's said to be a longshot that they will actually sign him, however. (Dallas Morning News)
Reds: Unlikely to trade 2B Brandon Phillips this offseason. I suspect that could change in a heartbeat, however. (Fox Sports)
Tigers: Choo is their top target. He'd provide a significant boost in left field and in the leadoff spot. (New York Daily News)
Yankees: Close to a one-year contract worth approximately $3 million with UTIL Kelly Johnson. Worst case scenario: he'll replace Cano at second base. (New York Post)
Gallardo spent the first eight years of his career in Milwaukee

MLB revenues are at a record high right now, but teams aren't spending it on players

Chicago added Tyler Chatwood earlier this offseason but might not be done adding to the ro...
The Dodgers and Braves pulled off a whopper on Saturday

Sabathia will reportedly spend a 10th season in the Bronx

Fowler suffered a knee injury at Chicago's Guaranteed Rate Field