Declining Alex Rodriguez hip to rehabilitation -- again
Yankees general manager Brian Cashman said the team won't overreact to Monday's news that Alex Rodriguez will likely miss the first three months of the 2013 following surgery on his left hip. But given Rodriguez's precipitous decline in recent years, maybe it*s time the Yankees do overreact.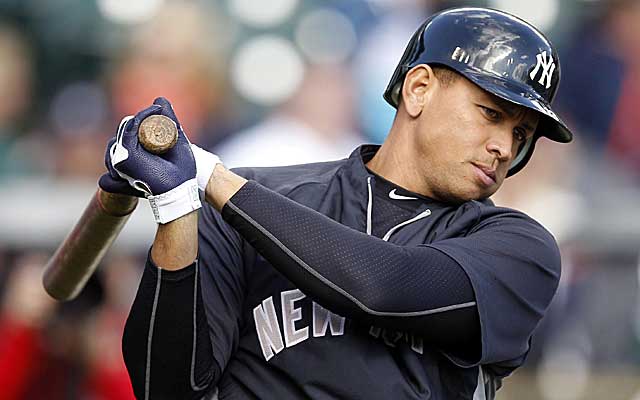 Questions surround Alex Rodriguez, including whether he can resume anywhere close to his usual production. (US Presswire)
NASHVILLE, Tenn. -- Alex Rodriguez was so hopelessly lost during the playoffs that he not only had trouble putting the bat on the ball, he couldn't even correctly identify which of his hips was injured.
Sounds like a bad joke … right?
Not according to the Yankees.
And the saga of A-Rod, who routinely falls out of bed and into perplexing situations, continues.
He will undergo surgery in January to repair a torn labrum in his left hip and is expected to miss at least the first three months of the 2013 season.
That Monday morning news bulletin jolted folks awake more rapidly than that first cup of coffee here on the opening day of the winter meetings.
And the continued and expedited erosion of A-Rod dominated the talk.
"We won't overreact," Yankees general manager Brian Cashman vowed.
But given Rodriguez's precipitous decline in recent years, you wonder if maybe it's time the Yankees do overreact. Maybe they're kidding themselves that Rodriguez can continue to produce at the level expected by a true Yankees contender.
At 37 and following major surgeries on each hip, can Rodriguez even resume his career as an everyday third baseman when he returns?
Will he be capable of reversing his diminishing production at the plate?
And how soon until the next breakdown?
These questions all come into serious play now regarding a player whose best days surely are behind him … and, perhaps by the time he returns, far behind him.
And the Yankees still owe him $113 million over the next five seasons.
Cashman said the hip issue first arose during the American League Division Series, when manager Joe Girardi famously sent Raul Ibanez to the plate to pinch-hit for Rodriguez.
"OK," Rodriguez told Girardi at the time in the dugout, according to Cashman. "I've got to talk to you about something.
"I think my right hip needs to be looked at. I just don't think I'm firing on all cylinders."
The Yankees sent A-Rod for an MRI that evening at New York Presbyterian Hospital, Cashman said, but the test came back "clean."
It wasn't until a subsequent test after the season that a tear in his left hip was discovered.
Even by the standards of A-Rod, who is habitually dogged by non-sequiturs the way Pigpen is trailed by a cloud of dust, this is just plain weird.
Rodriguez went 3-for-25 with 12 strikeouts, no homers and no RBI during the playoffs. And the Yankees now seem in equal parts depressed at opening the season without him and relieved that they now have some sort of tangible proof as a reason behind his postseason flop.
"Watching him" in September and October, Cashman said, "he was all arms and legs. … I do think this gives a real indication of something he was struggling through.
"Sometimes, you find out that the body was going through something that might not declare itself until later on."
Anybody who is nearing 40 and wakes up each morning wondering where some new ache or pain came from can understand that.
But for A-Rod to complain about his right hip, for doctors to MRI it … and then for the injury to actually be diagnosed in his other hip six weeks later … it's just bizarre.
Could the injury actually have occurred sometime during A-Rod's workouts between the end of the season and now?
"I don't know," Cashman said. "I guess it could have.
"But given the way he was looking in the playoffs, this clearly makes the most sense."
What makes little sense is the Yankees' inexplicable confidence that A-Rod will be close to the same player when he returns.
Maybe, but his numbers have been on a downhill toboggan run over the past two seasons. His body more frequently is betraying him.
"When he's healthy, obviously, at one point he was spectacular," Cashman said. "And this past year, he was dealing with a lot of questions regarding to his performance and what to expect and what can he expect going forward.
"Prior to obviously this revelation, he was still providing, although in a different way, above-average-caliber offense at that position, third base. That's just a difficult position to fill."
Cashman says that even after surgery, a healthy Rodriguez is still going to leave the Yankees "better off than what the alternatives could be right now."
That speaks both to the slim free-agent market this winter and to the Yankees' desperation. They are boxed into a corner because of the $113 million still owed A-Rod and because of their insistence in trying to lower their luxury-tax threshold as a consequence of their bloated payroll.
With those fierce October boos toward A-Rod still ringing in everyone's ears.
Former Yankees manager Joe Torre, who now works in the Commissioner's Office and will manage Team USA in this spring's World Baseball Classic, called the A-Rod news "devastating, especially when you consider you're a month away from getting excited about spring training and now you're thinking about rehab again.
"He's done that quite often in recent years."
Seems like he has spent as much time rehabbing as not, and his upcoming surgery on his left hip will be more involved than that on his right. Because of bone impingement, this surgery comes with a three-month recovery time. It took Rodriguez two months to recover following his right hip surgery.
"I've had two hip surgeries," former big league outfielder Chris Duncan tweeted Monday. "Very difficult [to] return from. Slowed my bat down quite a bit. NY still owes A-Rod over 100 mill. Wow! Bad deal."
Torre noted, correctly, that A-Rod is in better shape than most "because he's always paid pretty good attention to his body and working out."
Yet he also theoretically no longer is taking steroids or human growth hormone. And one telltale sign of former users as they grow older is physical breakdowns.
"I have no idea," Cashman said when asked whether he thinks steroids fit into the A-Rod equation.
He added: "Do I wonder if it is? It doesn't matter what I wonder."
What matters is the new Yankees reality, and that includes a broken-down former slugger of a third baseman who might or might not be able to come close to the productive middle-of-the-lineup hitter that he once was.
"We've done it before; we've lost him," Cashman said. "We've lost Derek [Jeter] for a period of time. We've lost a number of guys over the years.
"You just have to figure out a way to get through it."
Gallardo spent the first eight years of his career in Milwaukee

MLB revenues are at a record high right now, but teams aren't spending it on players

Chicago added Tyler Chatwood earlier this offseason but might not be done adding to the ro...
The Dodgers and Braves pulled off a whopper on Saturday

Sabathia will reportedly spend a 10th season in the Bronx

Fowler suffered a knee injury at Chicago's Guaranteed Rate Field