Dempster, Sanchez, Greinke show perils of NL to AL move
Pitching in the NL, Ryan Dempster, Anibal Sanchez and Zack Greinke combined for a 3.26 ERA. In 10 starts for AL teams, the three have a 7.31 ERA. Coincidence? Probably not. The three NL starters acquired by NL teams have basically pitched the same since being dealt. The difference in the two leagues is real.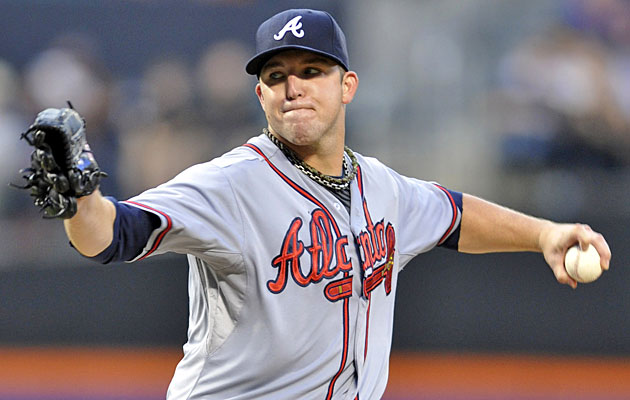 Flip side: Paul Maholm is 1-1 with a 1.69 ERA in two starts for the Braves, including a shutout of the Mets on Friday. (AP)
Ryan Dempster says it's not about changing leagues.

Of course he does.

Jim Leyland says Anibal Sanchez is "a better pitcher than he's shown so far."

Of course he does.

Dempster says it's all about executing better pitches. Sanchez says he has to "keep control of the game."

They're not wrong, but the difference between pitching in the National League and pitching in the American League is very real.

Yes, you need to execute pitches in either league. But when you miss in the AL, as Dempster did Monday night against the Yankees, you can get punished at any point in the lineup. Mistakes against the bottom of most NL lineups are much less likely to get hit out of the ballpark.

Yes, you need to keep control of the game in both leagues. But it sure is easier to keep control when the forgiving bottom of an NL lineup shows up.
"There's no free outs in the American League," said one scout who works for an NL team but sees both leagues. "There's no 'rest' innings."
The stats this year are telling.

There were six starting pitchers acquired in July and August by teams seeking upgrades. For whatever reason, all six came from NL teams.

Three of them (Dempster, Sanchez and Zack Greinke) were traded to AL teams. Three (Paul Maholm, Joe Blanton and Wandy Rodriguez) were dealt within the NL.

Check out the difference:

In the NL, Dempster, Sanchez and Greinke combined for a 3.26 ERA in 56 starts. In 10 combined starts for AL teams, they have a 7.31 ERA (and their teams are 3-7 in those games).

Pre-trade, Blanton, Maholm and Rodriguez combined for a 4.05 ERA in 63 starts. In seven combined post-trade starts, they have a 3.72 ERA.

Small sample size? Perhaps, but when you're dealing with a free agent-to-be starting pitcher dealt in July, you don't get that many starts. Assuming they don't get hurt, the traded pitchers should each make 10 or 11 starts for their new teams.

They're basically one-third of the way through that already, and the results are in, and they tell a perhaps predictable story.

When you play in the AL and you trade for an NL pitcher, proceed with caution.


Maxwell joins a growing movement across sports

The Yankees punched their ticket to the playoffs with a win over the Blue Jays on Saturday

Sabathia's stance seems to be an increasingly popular one among athletes
Plus the A's and Brewers have hope, Giancarlo goes deep again, and much more

Matt Chapman and Matt Olson give the A's hope

Despite an awful month, the Dodgers are again NL West champions