Derek Holland has a good alibi for Twitter faux pas
Someone used a homophobic slur from Derek Holland's Twitter account, but it wasn't Holland because he was pitching at the time it was sent.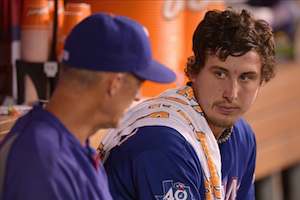 Derek Holland was pitching when an offensive tweet was sent from his account on Sunday. (US Presswire)
Recently we've heard athletes and other public figures claim their Twitter account had been "hacked" as an excuse for an ill-advised tweet. Usually that's a total fabrication, but Rangers left-hander Derek Holland has a pretty good alibi -- he was pitching against the Angels at 9:40 p.m. on Sunday.
A homophobic slur was used by someone using Holland's twitter account on Sunday. He said the only other person who has access to his account is his fiance. She has denied writing the tweet.
The Rangers and Major League Baseball are investigating the tweet.
"I honestly don't know," Holland told Jeff Wilson of the Fort Worth Star-Telegram. "I know it wasn't me. I was blindsided by it. I'm pretty upset with the whole situation."
Rangers general manager Jon Daniels said he doesn't expect Holland to face discipline from MLB for the tweet, since it's obvious Holland didn't send the tweet.
For more baseball news, rumors and analysis, follow @EyeOnBaseball on Twitter, subscribe to the RSS feed and "like" us on Facebook.
Several relievers have signed in the last two days

Several teams are interested in the switch-hitting first baseman

Neshek and the Phillies are closing on a two-year contract
And the team that first drafted Cole is interested

This scout was SUPER into Jeter

Stanton warned Marlins fans about the lean years that are forthcoming