Derek Jeter is 11th greatest leader in the world, per Fortune Magazine
Fortune Magazine ranked the 50 greatest leaders in the world, and Yankees shortstop Derek Jeter checked in at No. 11.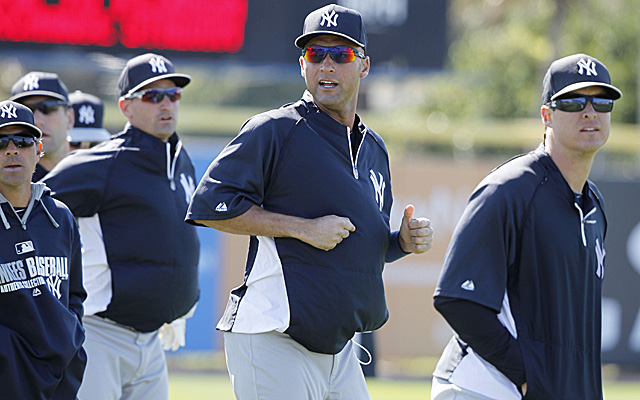 MORE: Spring Training | Scoreboard | Team previews
Fortune magazine has ranked "The World's 50 Greatest Leaders," and among a group of CEOs, politicians, the Pope (No. 1) and the Dalai Lama (No. 9) sits Yankees shortstop Derek Jeter -- at No. 11.
Yes, a baseball player who isn't even a coach or manager nearly cracked the top 10 in the entire planet in terms of being a great leader.
Here's what Fortune had to say about The Captain:
As he begins his 20th and final season in pinstripes, Jeter remains the type of role-model player that even a Red Sox fan must grudgingly respect. It's not the five World Series rings he's won or his team record for career hits. In a steroid-tainted, reality-TV era, Jeter, the son of two Army veterans, continues to stand out because of his old-school approach: Never offer excuses or give less than maximum effort.
No real argument here on that front and I've long been a Jeter apologist in the face of the movement against his value to the Yankees. He's obviously a first-ballot Hall of Famer and truly one of the game's greats. I have no doubt he's been a great voice in the clubhouse and an excellent leader by example, too. If this were a sports-only list, I may even decide to argue he should be higher.
But the 11th greatest leader in the entire world? That's a tough sell for me, considering a few points:
1. He's a captain, yes, but he's not in an actual position of authority. He doesn't have to make decisions that "leaders" in everyday life do.
2. He's the only athlete on the list.
3. He's an athlete.
This is in no way meant to denigrate sports. I have my livelihood thanks to Major League Baseball's existence. I also understand the list is just for fun and, hey, I linked to it and I'm talking about it.
I'm just thinking if we all got together and thought real hard, we could probably find more than 10 better leaders in the world than the esteemed Mr. Jeter.
Hat-tip: Big League Stew
The Red Sox and Cardinals are expected to make trade offers next

The free agent first baseman may be a fit in St. Louis

The front office changes in Atlanta continue
The Marlins are more likely than you think on our list

Judge finished a distant second in the balloting and he paid respect to the winner

Stanton just won the 2017 NL MVP award but could wind up being dealt this offseason