Derek Jeter sits, but when can (or should) Yankees bring him back?
Derek Jeter's surgically repaired left ankle is a problem again. But how big a problem is it?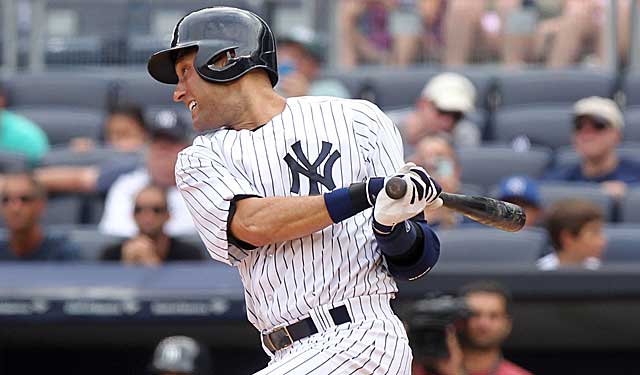 NEW YORK -- For now, all the Yankees will say is that Derek Jeter won't play Sunday or Monday.
And after that?
"He's probably going to want to be out there in a couple of days," Yankee manager Joe Girardi said Sunday morning.
The bigger question is whether he should be out there. The biggest question is whether Jeter's surgically repaired left ankle will ever heal enough to allow him to be anything close to the player he once was.
So far, quite obviously, it hasn't.
Scouts watching the Yankees have been saying all week that he doesn't look right, that his swing has been all upper-body, that he can't move around at shortstop and that his ankle problems even seem to be affecting his throwing.
"When have you ever seen Derek Jeter just throw the ball away?" one veteran scout asked Sunday.
Girardi was concerned enough that he pulled Jeter out of Saturday's game against the Red Sox. The Yankees sent Jeter to get a CT scan, which came back negative. They also sent the results of the scan to Dr. Robert Anderson, who operated on Jeter's ankle last October.
Jeter and the Yankees contended after that surgery that he would be ready for opening day, and that there was every hope he could return as the Derek Jeter we've come to know. But even then, plenty of people outside the organization (and even a few Yankees people) had serious doubts.
It's just not that easy for a shortstop to come back from a serious ankle injury, especially when he's trying to do it as he approaches his 40th birthday. Jeter turned 39 on June 26.
Jeter didn't make opening day, and the Yankees later announced that he had a new break in the ankle. He finally debuted on July 11, but was quickly sidelined again with a quad injury. He didn't return to the lineup for good until Aug. 26.
In 12 games since then, Jeter has batted .182, with seven singles and one double, and 10 strikeouts in 44 at-bats.
Girardi said he met with Jeter Sunday morning, but he said the Yankees aren't yet considering simply shutting Jeter down for the season.
"Not right now," Girardi said. "We've really got to go day by day."
Jeter's contract includes an $8 million player option for 2014, and for a while now it has been a given that he would exercise it. It probably still is now.
But what can Jeter be like next year? What can he be like for the rest of this year? Should he even be playing the rest of this year?
The answers aren't easy. The one thing that's certain is that Jeter's future is in more doubt than ever.