Derek Jeter steals the show in short but touching All-Star sendoff
Derek Jeter plays a brilliant three innings in his All-Star finale at Target Field.
More All-Star Game: Jeter sparks AL to victory | Perry: Wainwright-Jeter drama
MINNEAPOLIS -- Some misguided Minneapolis goofball chanted "overrated" while the remarkable Derek Jeter batted leadoff in the bottom of the first inning -- one of those so-called "Minnesota Nice" folks, perhaps? -- and that was the last we heard of that kind of talk on this otherwise beautiful, pristine All-Star evening.
Jeter, as is his way, quickly shut the mouthy man up, which is one of many things Jeter accomplished Tuesday night here in the 85th All-Star Game (and his 14th All-Star Game). He packed a lot of greatness into three very Jeter-like innings as the AL beat the NL 5-3.
That sole fool notwithstanding, the Twin Cities' sendoff to Jeter was extremely touching. How kind they all were to a man who consistently torched the Twins over the last 20 years, batting .323 against them and sending them home early seemingly year after year.
Jeter left his All-Star finale early, but that was by design. After three innings, which included two hits and one brilliant defensive play (to his left, no less), he walked out of his shortstop position the last time an All-Star.
They played New York, New York, and there were actually no little town blues.
The folks from Minneapolis and St. Paul all seemed quite pleased to honor the Yankees great, and he showed his appreciation by tipping his cap and waving it as he did a 360 (which seemed like his lifetime batting average against the Twins; it is actually .323). Then he disappeared into a dugout to waiting hugs from fortunate players who got to share the special moment with the player who was the face of the game for most of the last couple decades.
If by chance Jeter's great friend Mariano Rivera got to do his All-Star swan song in New York last year, Minnesota made for a fairly special setting under the circumstances. The Twin Citians showed their warmth on a typically cool evening, living up to their rep for niceties.
MLB added some great touches, like the Bob Sheppard intro. "Numbah 2, Derek Jeter, Numbah 2."
And of course, Jeter did the rest, as if he wrote the script.
Right off the bat, Jeter made a diving pickup off Andrew McCutchen's bat, then nearly gunned out the speedy McCutchen at first. The two then exchanged knowing glances. McCutchen is just one of everyone in the game who either grew up idolizing Jeter, or does now.
If there has been one even semi-legit knock on Jeter, at least in his later years, it's that he wasn't so quick on plays up the middle. Grabbing the moment, he turned Ozzie Smith for a sec.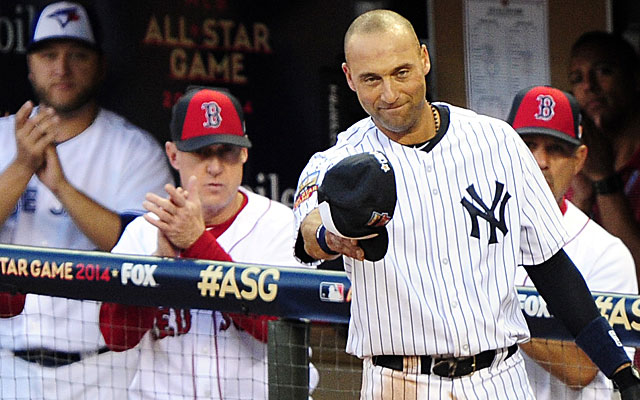 And the Jeter show played on.
Jeter doubled in the first, lining a patented shot down the right-field line off NL starter Adam Wainwright of the Cardinals. In an in-game interview, Wainwright told writers, "I gave him a couple pipe shots. He deserved it," before good-naturedly adding, "I didn't know he was going to hit a double."
If Wainwright let up a bit, though, it wasn't immediately evident with the 90-mph pitch. And he knows (we think) max effort is required now that the exhibition game counts.
Jeter scored moments later on game MVP Mike Trout's triple.
Anyway, there's no evidence Alfredo Simon knew it was Jeter's night, or at least that he was supposed to be in on it, and the Yankees captain lined a hit to right against him, too.
Jeter may or may not have heard the one yutz, but there's little doubt he has heard these sort of ill-informed whines throughout his career.
How he really isn't that good.
How he has no range.
How he never deserved any Gold Gloves.
How he wouldn't have been lucky if any of the five teams who passed on him in the 1992 draft took him instead.
Look at it this way: Not only was Jeter fortunate that scout Dick Groch, scouting director Bill Livesey, scouting guru/Tampa boss Brian Sabean and New York boss Stick Michael picked him for the Yankees, who were just about to get good again, but so were the Yankees equally lucky.
Maybe more so. The Yankees were fortunate that Houston, Baltimore, Cincinnati and the others blew it, missing out on an all-time great.
That he is an all-time great is no fluke, no bit of kismet or good fortune. Jeter doesn't have 3,000-plus hits by accident. He isn't 10th on the all-time runs scored list because he found a lucky four-leaf clover.
His lifetime batting average in All-Star Games finishes up at .481.
Against the rival crosstown Mets, it is .364.
In the postseason, when he's facing only the best of the best, it is .308, three points below his career mark. No hitter does that, at least not one who's in the postseason nearly every year.
One scout I happened upon said Jeter may have been the least talented of the great shortstop era that included Alex Rodriguez, Nomar Garciaparra and some others. But Jeter had the best career of them all. The scout suggested determination, dedication and smarts made up the gaps.
Whatever it was, it wasn't luck.
If anything, we were the one who were all lucky to witness such greatness.
The report also says that Jeter had outgoing president David Samson do the firing

This wasn't a traditional hidden ball trick, but the Blue Jays pulled it off

The Tigers essentially fired Brad Ausmus on Friday, but things are going to be ugly for a...
The club made the announcement on Friday

Plus the Tigers will make a change in the dugout and all of Friday's action

The Rockies are clinging to the second NL wild card spot at the moment