Despite struggles, Jim Leyland not planning changes atop Tigers lineup
Tigers manager Jim Leyland plans to keep Austin Jackson and Torii Hunter at the top of his lineup despite their struggles.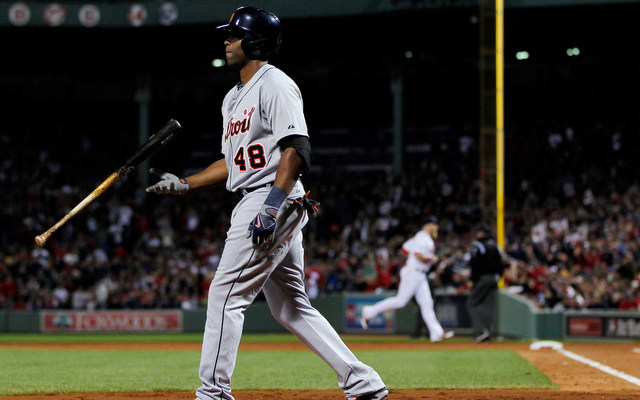 DETROIT -- In terms of runs per game, the Tigers had the second-best offense in baseball this season. Their 4.91 runs per game mark trailed only the Red Sox (5.27), their ALCS opponent. Detroit was a powerhouse.
In the postseason, however, the Tigers have averaged just 3.29 runs per game, a huge drop from their regular-season performance. Obviously you would expect scoring to come down in the playoffs because teams shorten their pitching staffs and only use their best arms, but you wouldn't expect it come down that much.
A big reason the Tigers aren't scoring much at the moment is the performance at the top of their lineup. Leadoff man Austin Jackson and two-hole hitter Torii Hunter have gone a combined 7 for 59 (.119) with two walks and one hit-by-pitch in the postseason. That's a combined .161 on-base percentage by the guys getting the most at-bats.
"Obviously they've been struggling a little bit," manager Jim Leyland said Monday. "I don't know where you go at this point in time, this time of the year. You play somebody else? I don't think that's the answer."
Leyland added that, aside from Jackson's and Hunter's track records, the reason he won't make a change atop the lineup is a lack of options. He simply doesn't have anyone else qualified to bat leadoff or second, at least no one guaranteed to be better than Jackson or Hunter. Omar Infante would be a candidate if he wasn't hitting .200 with a .259 on-base percentage in October.
"Those guys have been good all year for us, and I think we just have to continue to go that way and hope they'll come out of it," Leyland added. "I think they're both trying a little too hard. They're two guys that have been good for use all year. I don't see any reason to change now."
The Tigers will make one small change to their lineup in Game 3 on Tuesday though, replacing Don Kelly with Andy Dirks. Dirks will play left field while Jhonny Peralta starts his second straight game at shortstop after replacing Game 1 starter Jose Iglesias on Sunday.
"I think I am going to play Dirks tomorrow night. He's been away from it a little bit and maybe relaxed a little bit," Leyland said. "But I won't hit him top of the order, probably down."
Detroit's three best hitters in the postseason have been Victor Martinez, Peralta and Alex Avila. Right now they bat fifth through seventh in the lineup, respectively. Miguel Cabrera and Prince Fielder will continue to bat third and fourth because they're still elite players who can change the tone of a game with one swing.
The Tigers have had to scratch and claw for every run in these playoffs, but it's not because of the middle of the lineup. The guys who are supposed to drive in runs are doing their job, they just don't have anyone to drive in because Jackson and Hunter have been so unproductive. For Detroit to advance, those two need to snap out of their funk.
Acuna is arguably the best prospect in baseball

Kent had a good career, particularly with the bat

This would undoubtedly be the worst trade in Miami Marlins history
The Pirates recently shipped Gerrit Cole and Andrew McCutchen to Houston and San Francisco,...

Surely, Martinez and his agent are holding out for more

The reliever had a very good 2017 season with the NL Central champs