Despite unfulfilling season, Yankees intend to offer Cashman contract
While the Yankees appear likely to miss the playoffs a second straight year, team higherups are said sold on trying to bring back longtime GM Brian Cashman, who they don't blame.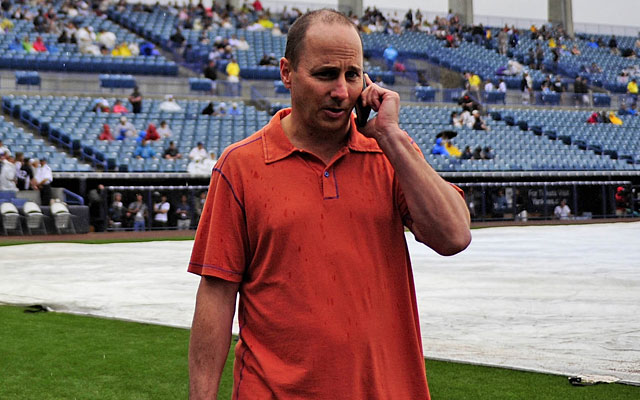 While the Yankees appear likely to miss the playoffs for a second straight season, top team brass isn't about to blame any possible disappointment on long-time general manager Brian Cashman, and by and large give Cashman good or better marks for his performance, assuring that he'll be asked to return for a 18th season as general manager and beyond, according to people familiar with the situation.
Yankees higher-ups are impressed with Cashman's in-season pickups, including starter Brandon McCarthy, infielder/outfielder Martin Prado and third baseman Chase Headley, and sources say they fairly don't blame him for the underperformance of some of their established veteran hitters ("they were all on board with Brian McCann and Carlos Beltran," one league official familiar with their thinking said). Yankees higher-ups, according to one league executive, believe a likely second straight quiet October "isn't [Cashman's] fault."
Yankees managing partner Hal Steinbrenner's comments last month about being focused only on the team when asked about Cashman may have been perceived by some as noncommittal toward the GM. Instead, they apparently only reflect the team's policy of not addressing expiring contracts before their time and show Steinbrenner's disinterest in speaking about them publicly, especially at a time when he and other owners were trying to deal with the commissioner succession issue (Steinbrenner was approached the afternoon Rob Manfred was elected to succeed Bud Selig). Cahsman's three-year deal expires at the end of the year.
Cashman, whose Yankees teams averaged more than 96 wins a year and won four World Series championships in his previous 16 seasons, doesn't seem concerned about the situation.
"We've never done a deal until it's close to being up. There's nothing more to say," Cashman said by phone last week (and presumably would say the same now). "All our focus is to try to win as many games as is necessary to qualify for the postseason. As Hal said, that's his focus. And that's our focus."
The Yankees are 71-66 and four games behind the Tigers in their long-shot efforts to win the second AL wild card. And while the Yankees have a negative run differential, providing more evidence of a team that has at least played somewhere in the realm of average, Cashman's bosses are said to view his moves as logical or better. His overall stellar record also obviously plays into the equation (his four World Series titles rank him in Yankees lore below only Ed Barrow's 10 and George Weiss' seven, though Barrow was technically referred to as the team's business manager, then team president), as might the devastating loss of fourth-fifths of the starting rotation.
Cashman has drawn interest from many other teams in the past when his contracts expired, but he always wound up re-signing with the Yankees. He started as a Yankee intern in the 1980s and took over as GM when Bob Watson resigned after two years following the 1997 season when Watson decided he would prefer not to work for George Steinbrenner.
Cashman notably has not always agreed with upper management on some key player decisions, perhaps most obviously the call to sign free-agent reliever Rafael Soriano, which he publicly admitted at the time, but also on the decisions to go as far as they did to retain Alex Rodriguez, Jorge Posada and some others. Reportedly, he wanted to hold minor-league pitcher Corey Black out of the Alfonso Soriano trade last summer, but he has denied the insinuation that he didn't want Soriano at all. It's undeniable that at times he has provided the more conservative counter balance to first George Steinbrenner and more recently team president Randy Levine, who both believed in the more aggressive pursuit of stars for the Yankees, whose brand and franchise value have flourished/skyrocketed in the Steinbrenner era. George Steinbrenner bought the team for about $10 million in 1972 and it's estimated to be worth between $3 billion and $4 billion, or more, now.
Cashman's longevity may be more amazing than his record, as he worked as GM for more than 10 years under George Steinbrenner before first older son Hank, then Hal, took over. Only Barrow, who held different titles, had a longer tenure. Weiss was GM for 13 years, from 1948-60, and other than Cashman, only Lee Mac Phail (1967-73) and Gene "Stick" Michael (1991-95) lasted as many as five seasons in the past half century. 
It shouldn't be seen as such a surprise that the Yankees hope for a return for Cashman, though there has been some occasional speculation to the contrary, likely triggered by nothing more than the Yankees' unusual circumstance of likely missing the playoffs again. Cashman, based on his history, geography and family reasons, has always been viewed as being interested in a return, and a change there would be a surprise.
The Yankees have consistently waited until contracts expire in the cases of key management people in Hal's regime, and only rarely have veered from that routine when it comes to players. Robinson Cano and Russell Martin were exceptions who were approached early about extensions, and neither ended up re-signing with the Yankees, even after they hit free agency.
When he was approached at the owners' meeting in Baltimore, Hal responded to reporters' questions regarding Cashman by saying, "We're so busy right now, trying to figure out who's going to be playing in any given game, much less that. We'll be talking about that soon enough. But you know me. We've got enough things to worry about during the season. That's where our focus needs to be. Let me get to October -- hopefully the end of October, beginning of November -- and we'll go from there."
The projections continue to favor an Astros-Dodgers World Series

The story centers around a building in Chicago, where Billy Jurges was shot by a jilted lo...

From 1 to 25, the L.A. Dodgers have the squad to overcome the pitfalls of October baseball
After Tuesday night's win over the Cubs, the Dodgers are now 6-0 in the 2017 playoffs

Los Angeles beat Chicago once more in Game 3 of the NLCS in Chicago

The 2017 World Series begins Oct. 24