Despite zero RBI Saturday, Miguel Cabrera on pace to break record
Miguel Cabrera is on pace to end up with 196 RBI. The MLB record is 191. No player since 1938 has had more than 165, either.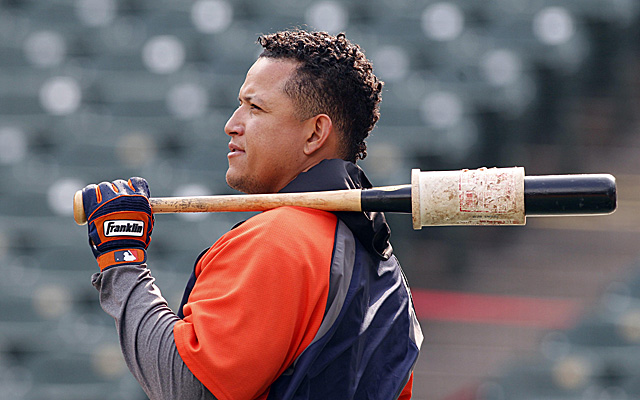 More MLB: Scoreboard | Standings | Probable Pitchers | Sortable Stats | Odds
This just in: Miguel Cabrera is a ridiculously good hitter. There's no question he's the best on the planet right now, and he could do something rather remarkable in the RBI category this season.
He took a zero in the RBI category on Saturday after knocking in 15 in the previous five games. Cabrera's pace for the season is a whopping 196. The major-league record for RBI in a season is 191, held by Hack Wilson (Cubs, 1930). The American League record is held by Lou Gehrig (Yankees, 1931), as he drove home 184 in 1931.
Perhaps most intriguing with the pace, however, is how rare those ridiculous RBI seasons are these days.
To illustrate, here are the top 20 RBI seasons in baseball history. See if you notice anything concerning the year (listed in parentheses):
1. Hack Wilson, 191 (1930)
2. Lou Gehrig, 184 (1931)
3. Hank Greenberg, 183 (1937)
4. Lou Gehrig, 175 (1927)
4. Jimmie Foxx, 175 (1938)
6. Lou Gehrig, 174 (1930)
7. Babe Ruth, 171 (1921)
8. Chuck Klein, 170 (1930)
8. Hank Greenberg, 170 (1935)
10. Jimmie Foxx, 169 (1932)
11. Joe DiMaggio, 167 (1937)
12. Sam Thompson, 166 (1887)
13. Sam Thompson, 165 (1895)
13. Al Simmons, 165 (1930)
13. Lou Gehrig, 165 (1934)
13. Manny Ramirez, 165 (1999)
17. Babe Ruth, 164 (1927)
18. Babe Ruth, 163 (1931)
18. Jimmie Foxx, 163 (1933)
20. Hal Trosky, 162 (1936)

As can be ascertained from the list above, of the top 20 RBI seasons in baseball history, only one came later than 1938 -- Manny Ramirez with 165 in 1999. And that's only good enough to tie for the 13th-best RBI season ever.
Though it's unlikely Cabrera keeps up his historic pace -- then again, I'm not exactly going to be heavily betting against him doing anything at this point -- he has a real shot to do something rare in this day and age. If he gets north of 160, he'll be the first player to do so since 1999. If he gets more than 165, he'll be the first player to do so since 1938.
On a personal level, Cabrera's career high in RBI came last season, when he drove home 139. Assuming good health for Cabrera and the guys around him in the batting order, that's probably in serious jeopardy.
On a franchise level, Cabrera has to do some pretty good work to set the Tigers' record. That is held by Hall of Famer Hank Greenberg, who drove home 183 in 1937.
Still, considering everything above, I think the magic number for the time being is 166. If Cabrera passes Manny and joins a group made up only of players from the pre-World War II era, it's a truly special season.
Again.
They still would much rather grab the AL East, however

Sale becomes the first AL pitcher to reach 300 strikeouts since 1999

Steve Balboni's long-standing record of 36 has finally fallen
Several players called for the netting to be extended down the base lines following Wednesday's...

Maria made landfall as a Category 4 on Wednesday

The players are trying to do their job and don't want to see anyone hurt