Detroit's bats continue to struggle in World Series
In some ways the story for Game 2 was the same as the story for Game 1: the inability of Detroit hitters to handle San Fran pitching.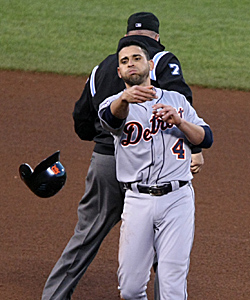 Omar Infante and the Detroit offense have had a rough World Series so far. (US Presswire)
SAN FRANCISCO -- It's never reducible to only hitting or pitching or fielding -- baseball, after all, is about all of them. Where does the lack or wealth of one begin and the according lack or wealth of the others end? Did the hitter whiff, or did the hurler strike him out? Often, those questions are impossible to answer. 
So you can't compliment the Giants' pitchers without simulataneously condemning the Detroit hitters. This thing that you're reading right now, though, is going to be about the Tigers' bats in isolation. 
In Game 1, they pushed across two of their three runs after the contest was essentially over. In Game 2, they were blanked by Madison Bumgarner, Santiago Casilla and Sergio Romo. Across the two World Series tilts in San Francisco, Tiger hitters have gone 10-for-60 with 17 strikeouts. 
To be fair, circumstances have conspired against them. During the regular season, Detroit on offense fared much worse on the road and against lefties, and that precisely describes their straits in Games 1 and 2. 
It happens. During the month of September, for instance, the Tigers managed just three runs across two games on three different occasions. But this time, of course, it matters infinitely more. Doubtless, then, the Tigers are left asking two things: what happened, and can we change it? 
Was it Bumgarner?
"His fastball looked a lot harder than it said on the gun," said Austin Jackson.
"I faced him last year. He looked exactly the same," said Delmon Young.  
Was it the ballpark?
"Not really, other than the crowd getting pumped up and getting you amped up a little bit," said Jackson. 
"No," said Young. "It's smaller than ours, so I'd rather hit here than our ballpark." 
More Tigers-Giants coverage
More World Series Coverage
Was it the five-day layoff between the ALCS and World Series?
"Yeah, when you lose the speed of the game, it's hard to get back right away," said Gerald Laird. 
"No, not at all," said Young. "We had more time off than the Yankees, and we swept."
So Was it bad luck?
"If they'd had seven statues out there, we'd have had 20 hits today," said Delmon Young. 
"Cabrera hit a bullet tonight," said manager Jim Leyland. "We had the unfortunate play at the plate early, so no, I think our offense is fine." 
Surely the prospect of facing right-handers -- even right-handers like Ryan Vogelsong and Matt Cain -- is good thing, right?
"Not these two righties," said Young. 
You can be forgiven if you sense that the Tigers have no answers. That's because they don't. This is baseball, though, and sometimes the ebb and flow of the game provides those answers.
Leyland said earlier in this World Series that he doesn't believe in momentum. That's a good thing, since the Tigers have none of it right now. But, from the Detroit perspective, conditions are about to improve. Will they take advantage of those conditions? Will luck improve? Will the Giants finally have "seven statues" out there? Or at the very least seven mortals? 
The only answer is "maybe." After all, this is baseball, and in baseball things change. Unless they don't.
For more baseball news, rumors and analysis, follow @EyeOnBaseball on Twitter, subscribe to the RSS feed and"like" us on Facebook.
The Marlins are indeed in teardown mode under new ownership

The Marlins still have more attractive pieces

The A's need outfield help, and the Cardinals have a glut
Minnesota has designs on the best starting pitcher available on the free agent market

The Cardinals have long coveted the Miami outfielder

The superstar slugger is eligible for free agency after next season