Diamondbacks beat Pirates on controversial walk-off fielder's choice
The Diamondbacks walked off with a win over the Pirates on Sunday when Nick Ahmed appeared to interfere with a double play.
More MLB: Power Rankings | Expert Picks | Latest news & notes | Fantasy news
The Pirates did not just lose reigning NL MVP Andrew McCutchen to a side injury on Sunday afternoon. They also lost their game to the Diamondbacks (ARI 3, PIT 2) on a controversial walk-off fielder's choice.
Let's set the scene: Arizona had runners on the corners with one out in the bottom of the 10th. Andy Marte (yes, that Andy Marte) hit a tailor-made double play ball to Pittsburgh shortstop Jordy Mercer, who flipped the ball to second baseman Jayson Nix to start the inning-ending 6-4-3 double play. Here's what happened next: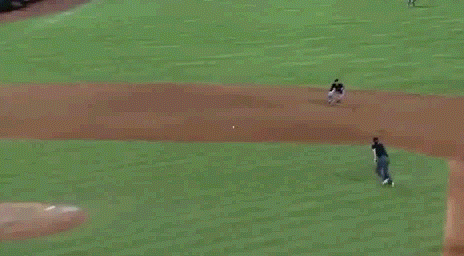 Nick Ahmed, the runner going from first to second, appeared to put his left hand in the air in an attempt to block the throw to first. Even if he wasn't trying to interfere with the throw, he did. The ball never made it to first, Marte was safe, and the runner trotted home from third with the winning run.
Pirates manager Clint Hurdle argued but there was no replay or umpires' conference or anything like that. The call stood and the game ended. After the game, umpire Ron Kulpa told reporters the interference "has to have been willful and deliberate with obvious intent to break up a double play ... Guys slide into second base all the time with their hands up."
On one hand, the rulebook hand, runners are not allowed to intentionally interfere with a throw like that. On the other, almost every runner going into second base on a play like that throws up his arms on the slide, as Kupla says. That doesn't make it right, of course, but Ahmed isn't the only offender here.
I think Ahmed threw up his arm instinctively because that's what he has been taught for years now. It just so happened that he blocked the ball. Does that make it intentional? I guess so. That play happened way too fast for him to throw up his arm in the exact right spot to block the throw though.
Rough day for the Pirates between the loss and McCutchen's injury. The former is bad, the latter would be devastating if it is anything more than a day-to-day issue.
Thursday brings us plenty of stretch-drive MLB action, so keep it right here

The ballparks in Cincinnati, San Diego and Seattle will have expanded netting in place by Opening...

Mondesi spent six years as the mayor of San Cristobal in the Dominican Republic after reti...
The veteran skipper has been Mets manager since the start of the 2011 season

The Baltimore third baseman is eligible for free agency following the 2018 season

The clubs breaks ground on Globe Life Field next week