Diamondbacks resting Trevor Bauer
The Diamondbacks will have right-hander Trevor Bauer skip two starts in the minor leagues, calling it a break for "fatigue." Bauer said he's not happy with the break, but understands and stressed that his arm is fine.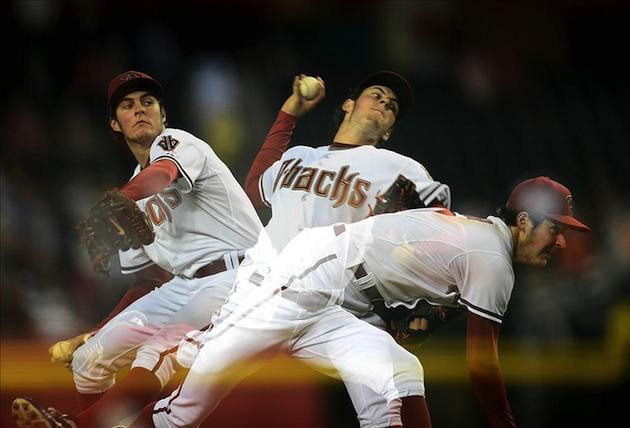 Trevor Bauer made four starts with the Diamondbacks before being sent back to the minors. (US Presswire)
Recently demoted Diamondbacks starter Trevor Bauer is getting what the team is calling a break for "fatigue." Bauer, the No. 3 pick in the 2011 draft, said he's not tired and isn't real happy with the plan, but he does understand it, noting a groin injury as well as his wrist and foot, which were both hit by comebackers in his start for Triple-A Reno on Sunday.

"It was just kind of a natural time to take a break. Let my foot heal, let my wrist heal from getting hit. Get over the nagging stuff that's been going on," Bauer told the Reno Gazette-Journal. "My arm is fine. That's one thing I don't want people to think. My arm is fine, perfectly fine. I'm not tired. But I've had nagging stuff going on all year and it's affecting my workout program and my strength and conditioning. I feel weak and not as explosive simply because I haven't been able to get on a consistent workout routing."

That wouldn't be a big deal with most players -- but it is with Bauer, who is known for his long-toss regimen. Bauer throws every day -- well, nearly as the Diamondbacks have asked him to take three days without throwing on the side -- "I'm not sure how I feel about that yet," he told the newspaper.

Bauer, 21, made four starts for the Diamondbacks -- going 1-2 with a 6.06 ERA -- before being demoted last week. He made one start for Reno after being sent down, allowing two runs on seven hits in five innings, striking out four and walking three. This season he's 11-1 with a 2.30 ERA between 17 starts with Double-A Mobile and Triple-A Memphis, striking out 120 in 98 innings. He also has 51 walks. Batters are hitting just .226 against him in the minors.

Reno manager Brett Butler said a braek is normal for first-year players at this time of the year, "it's just that usually it's in A ball," Butler told the paper.

Bauer started seven games last season after signing with the team. This is his first full season in professional baseball.

For more baseball news, rumors and analysis, follow @EyeOnBaseball on Twitter, subscribe to the RSS feed and "like" us on Facebook.
The Pirates recently shipped Gerrit Cole and Andrew McCutchen to Houston and San Francisco,...

Surely, Martinez and his agent are holding out for more

The reliever had a very good 2017 season with the NL Central champs
We don't need to discuss Chipper's Hall of Fame case, so let's have fun instead

Dioner Navarro still hopes to return someday

Christian Yelich's agent says his client's relationship with Marlins is 'irretrievably bro...