Did A-Rod 'lose it,' as is said, or did he sense he's behind in the game?
Alex Rodriguez storms out of his own hearing, adding to the soap opera surrounding his 211-game ban.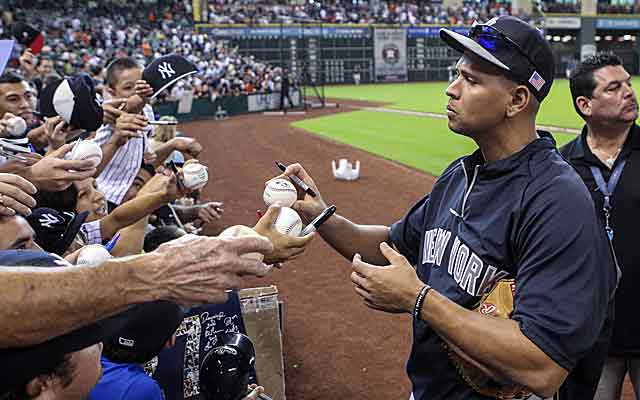 Alex Rodriguez stormed out of his own hearing Tuesday morning, calling it "abusive," an "absurdity," and an "injustice." Or does the suspended Yankees star feel like he is losing ground in his fight against MLB?
At a point while MLB arbitrator Fredric Horowitz was explaining why Baseball Commissioner Bud Selig won't be compelled to testify in the proceedings in which Rodriguez is trying to overturn the 211-game PED suspension MLB levied against him, Rodriguez is said to have slammed his fist on the table in front of him, so loud he startled others in the room. Then A-Rod walked out.
On his way out, he is said by a source to have looked at Selig's top lieutenant Rob Manfred, who oversaw MLB's Biogenesis investigation that led to the A-Rod ban and 13 other Biogenesis bans, "This is bull----, and you know it."
Rodriguez quickly issued a statement saying he would not be returning to the hearings.
"He's tired of it," one A-Rod-connected source said. "He's frustrated.
"He just lost it."
The source of Rodriguez's frustration: He apparently wants badly for Selig to testify, as it was Selig who issued the 211-game ban. However, Manfred, who led the Biogenesis inquiry, testified earlier in the proceedings, and was cross-examined by A-Rod lead attorney Joseph Tacopina.
Before upping the ante later in an interview with WFAN, a CBS Sports Radio station in New York, Rodriguez said in the statement, "I am disgusted with this abusive process, designed to ensure the player fails. I have sat through ten days of testimony by felons and liars, sitting quietly through every minute, trying to respect the league and the process.
"This morning, after Bud Selig refused to come in and testify about his rationale for the unprecedented and totally baseless punishment he hit me with, the arbitrator selected by MLB and the Players Association refused to order Selig to come in and face me. The absurdity and injustice just became too much. I walked out and will not participate any further in this farce."
A-Rod raised the rhetoric later on WFAN, telling host Mike Francesa he was innocent of all the PED charges and suggesting the case is "personal." Rodriguez said of Selig, "He hates my guts. This is one hundred percent personal."
Curiously, Rodriguez suggested he was ultimately expecting an unfavorable ruling in the case from the arbitrator, while his attorney Jim McCarroll told Francesa the opposite after listening to 12 days of the same testimony; McCarroll said MLB presented no credible case. Rodriguez, meanwhile said, "I'm done. I don't have a chance. You let the arbiter decide whatever he decides."
Rodriguez and his attorney said on the radio show he actually had been planning to get on the stand Friday assuming Selig would be compelled to testify, but since the arbitrator said Selig doesn't have to appear, he wouldn't either.
"I'm so pissed off at right now with the system," Rodriguez said.
It did seem a bit odd he was willing to tell Francesa he's innocent but not say it to the arbitrator. But then, a cross examination from MLB lawyers with all the facts at their disposal is different from proclaiming his innocence to a media person (as he once did, famously, to Katie Couric on 60 Minutes.)
It never seemed likely he would testify in the first place.
Now he won't even sit in the hearing.
It isn't exactly clear what Rodriguez is expecting to get out of Selig since his side has cross-examined Manfred -- Selig's right-hand man -- though he offered a snipped on the radio when he said the 211-game call was ultimately Selig's.
MLB issued a statement in response To Rodriguez's walkout, saying, "In the entire history of the Joint Drug Agreement, the Commissioner has not testified in a single case. Major League Baseball has the burden of proof in this matter. MLB selected Rob Manfred as its witness to explain the penalty imposed in this case. Mr. Rodriguez and the Players Association have no right to dictate how Baseball's case is to proceed any more than Baseball has the right to dictate how their case proceeds. Today's antics are an obvious attempt to justify Mr. Rodriguez's continuing refusal to testify under oath."
Team A-Rod has been seeking to make at least two main points as it fights the ban. One is that Biogenesis proprietor Tony Bosch, MLB's star witness, lacks credibility. The other is that MLB conspired to "get" A-Rod. Rodriguez's team may also want to call Selig to attempt to advance this conspiracy theory -- though 13 other players accepted suspensions after a Biogenesis investigation that was launched after the Miami New Times reported that up to 20 players were involved.
There have been past suggestions Rodriguez may sue MLB in federal court, and this looks like it could be the first step toward that end. A press conference planned by Team A-Rod for Wednesday had nothing to do with this, according to the source, and that press conference will now be rescheduled. The source also said Rodriguez's walkout was not orchestrated and was not motivated by any interest in publicity and showmanship on the part of his high-profile attorney, Tacopina, noting that Tacopina wasn't even in the hearing room at the time.
But if the early impressions (it is a closed proceeding) into the procedure are any indication, Rodriguez's defense appears to be relying on some real Hail Marys.
On Day One of A-Rod's defense, the Rodriguez team put on the stand a Blackberry expert who testified that the reams of texts exchanged between Rodriguez and Bosch, his alleged steroid supplier in 2010, 2011 and 2012, could have been "altered" or "faked."
The many texts Bosch kept are said to back up Bosch's testimony that he supplied steroids and other PEDs to Rodriguez those three years. Bosch is said to have saved his text messages, but the blackberry expert testified they may be fraudulent.
That was Hail Mary No. 1.
On Day Two, they tried another.
Tacopina apparently suggested Yankees president Randy Levine may have been part of a conspiracy to get out of Rodriguez's albatross of $275 million contract by conspiring with MLB or A-Rod's doctors. Tacopina is said to have asked a series of questions suggesting as much, with Levine answering "no" to all such queries.
At one point, Tacopina asked Levine, "Did you ever ask Rodriguez to have another player do steroids?"
Rodriguez's side is previously reported to have claimed to possess an email exchange between Levine and Rodriguez suggesting as much. Levine testified that he didn't do anything like that but that it's possible he may have once joked to Rodriguez regarding a player who was struggling at the time something along the lines of, "What is (that player), off the juice?"
Levine said he couldn't be sure such an exchange actually took place and couldn't locate one in his email files, either. Even if he did, it's hard to see why that would matter. Meanwhile, Tacopina did not produce any emails pertaining to his query for a follow-up question, anyway.
Tacopina tried a series of other questions in the apparent attempt to suggest Levine worked behind the scenes to try to get out of A-Rod's record $275-million contract, or at the very least, mitigate the Yankees' exposure to it, by attempting to influence doctors or even top MLB officials.
The exchange between Tacopina and Levine lasted only about 10 minutes, according to people familiar with the testimony. The exchange was said to be "not contentious" with Levine being said to have answered "no" to all those questions suggesting he conspired he tried to get out of all, or part, of Rodriguez's contract, which included:
"Do you get a bonus if you get out of [the Rodriguez] contract?"
"Did you have conversations with [MLB officials] about having his penalty increased?"
"Do you get a bonus if the Yankees' payroll goes below [the luxury-tax threshold] $189 million?"
"Did the Yankees send investigators from Cleveland to investigate Biogenesis?"
"Did the Yankees investigate [Rodriguez's cousin] Yuri Sucart?" (Sucart was originally fingered as Rodriguez's PED mule by Rodriguez himself while confessing to his failed 2003 MLB survey test.)
"Did you order Dr. [Bryan] Kelly [A-Rod's hip surgeon] or anybody to keep him off the field?"
So to this point, it appears Team A-Rod may only have theories and allegations.
It's early in the proceeding. But apparently, not too early for A-Rod to storm out.
Maybe A-Rod's legion of lawyers is saving the better for later, but so far a glimpse of their case from two of their leadoff hitters (the procedure is closed) suggests little evidence to support their accusations. The Blackberry guy might cause a jury of fools to pause but the A-Rod hearing is presided over by an experienced arbitrator. This is his first MLB case, but he is a veteran jurist.
Some believe even if found guilty that Rodriguez's penalty could be reduced simply because 211 games is an unprecedented number of games for a "first" offense. First is in quotes because Rodriguez admitted failing a 2003 survey test, which drew no penalty. And because MLB's claim is that A-Rod bought steroids and PEDs throughout 2010, 2011 and 2012.
MLB believes there is precedent for discretion for greater than 50 games for a so-called first-time offender. According to sources familiar with the proceedings, they cited the 105-game penalty for Neifi Perez and his back-to-back failures for stimulants. Ryan Braun's acceptance of a 65-game suspension would also appear to bolster MLB's contention that 50 games isn't hard and fast.
But for Rodriguez to be cleared entirely, and Team A-Rod is going for the home run here, Rodriguez and his lawyers may have to hit on one or more of the Hail Marys. A small glance at the early testimony so far provides an idea about exactly how long of a long shot that may be.
Rodriguez may believe he isn't getting a fair shake. But he also may sense that he was well behind in the game. So perhaps he is readying for the next battle with baseball -- this one perhaps in federal court.
Gallardo spent the first eight years of his career in Milwaukee

MLB revenues are at a record high right now, but teams aren't spending it on players

Chicago added Tyler Chatwood earlier this offseason but might not be done adding to the ro...
The Dodgers and Braves pulled off a whopper on Saturday

Sabathia will reportedly spend a 10th season in the Bronx

Fowler suffered a knee injury at Chicago's Guaranteed Rate Field