Did Diamondbacks' Goldschmidt leave $75 million on the table?
Paul Goldschmidt said he's happy with his new $32 million, five-year extension, but his torrid start is making the deal look like a bargain.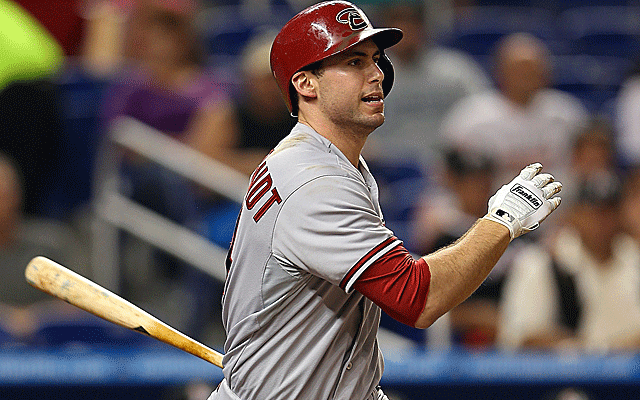 MIAMI -- Diamondbacks star Paul Goldschmidt signed a very long and extremely secure deal that will keep him in Arizona into his 30s. Then almost immediately, he went on about the biggest tear in baseball.
Naturally, the deal was done during spring training, before it could possibly deter from Goldschmidt's work. For Goldschmidt, the work is the thing.
It certainly isn't the money.
Of course things could have "gone the other way," as he put it, meaning he might have struggled. But since he instead turned into close to the top all-around power threat in the game, some might easily wonder how much money he left on the table by agreeing to a $32 million, five-year extension that begins next season and includes a team option to make it a potential $46.5 million for six years.
Not Goldschmidt.
"One less thing to worry about," is the way he put it.
With a baseball-best 50 total bases, .926 slugging percentage and 1.402 OPS in May, some might wonder whether he shortchanged himself.
But not him.
"You make the best decision at the time," Goldschmidt said, revealing not one regret. "I love it in Phoenix. I was happy we got a deal done. And I'm happy to get it done in spring training, so it didn't become a distraction."
The first baseman, who had made well less than $1 million total at the time he agreed to the deal (even including his signing bonus out of the draft), noted that he understood the deal could look like a Diamondbacks bargain a year from now. Or it could look pricey.
At the moment, thanks to his torrid bat, it's starting to look a little bit like a steal. But that tends to happen when a player takes off like this.
At the time it was signed late this spring the deal seemed pretty well in line considering the Cardinals' Allen Craig, with one more year service time, signed earlier in spring for $31 million over five years. But some say Goldschmidt's power separates him.
According to one competing agent, Goldschmidt left as much as $75 million on the table, although anything along those lines would take not only Goldschmidt taking off into a new echelon -- he had 20 homers, 82 RBI and a .286 batting average his first full season in the big leagues last year -- but a totally new power market, as well. Also, of course, Goldschmidt would have had to be willing to go year to year to maximize his take.
Goldschmidt, though, doesn't give it a thought. Not a chance, because that would only take away from the work.
"He's a very unique guy. He's an all-around player who works at it very hard. He's very humble and he's very diligent," Diamondbacks manager Kirk Gibson said of the likeable 25-year-old. "He's a sponge for information, and he's really just developing."
That might be a scary thought to opposing pitchers, who see he already leads the National League in total bases (100), slugging percentage (.645) and OPS (1.049)  and is second in home runs (12) and RBI (35) to go with a .335 batting average, which isn't too bad for an eighth-round pick out of Texas State who signed for just under $100,000 out of college.
"It's been a good start to the year," Goldschmidt allowed. "I've had some success and the team's played well. That's all you can hope for. You are going to have a lot of ups and downs."
Quite obviously, he isn't taking anything for granted. His dad David, who was in flooring, told him at a very young age, "You're not going to get better just by showing up."
And so, he set out to work.
"This is a very humbling game," he said. "Just when you think you have it figured out, this game knocks you down."
To prevent too many downs, Goldschmidt, a straight-arrow sort who bears a slight resemblance to Clark Kent, keeps working, and he keeps studying. No surprise, he was an A student through high school at The Woodlands (Texas), a baseball factory that's produced Kyle Drabek, Jameson Taillon and others (though he didn't easily cop to the top grades).
Goldschmidt seems to be getting stronger as he's picking up info. Diamondbacks first base coach Steve Sax said he hits moon shots that remind him of former Dodgers slugger Mike Marshall but also can line balls down the right-field line.
"That's a tough guy to pitch to," Sax said.
The negotiation apparently wasn't quite as difficult. The team prioritized locking up Goldschmidt through his arbitration years, and the extra couple years were just a bonus.
"It's a good deal for both," Diamondbacks president Derrick Hall said. "He is not the kind of kid you worry about getting comfortable after a contract."
Some others see the deal as especially good for the Diamondbacks, who have kept a middle-of-the-order stalwart at the least, and a budding superstar at best, at a reasonable cost. He's making $500,000 this year, and the deal starts with a $1 million salary next year, ascending to $11 million in 2018, which would have been his first free-agent year. The competing agent thinks he could be close to $20 million light for the final year alone.
That doesn't matter to Goldschmidt.
"Like I said, I'm happy," Goldschmidt said. "You can't look back six weeks later and change your mind, Whatever happens, I made the decision I wanted too make. Hopefully, it works out."
Gallardo spent the first eight years of his career in Milwaukee

MLB revenues are at a record high right now, but teams aren't spending it on players

Chicago added Tyler Chatwood earlier this offseason but might not be done adding to the ro...
The Dodgers and Braves pulled off a whopper on Saturday

Sabathia will reportedly spend a 10th season in the Bronx

Fowler suffered a knee injury at Chicago's Guaranteed Rate Field