Did hiring Yankees fan Jay-Z tell the team where Cano wants to be?
Star second baseman Robinson Cano may just have handed the Yankees leverage in negotiations by hiring a self-proclaimed Yankees fan to represent him.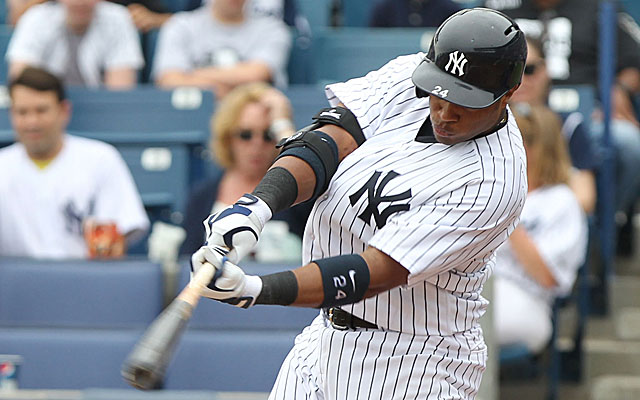 Yankees star Robinson Cano roiled the baseball world by switching his representation from baseball's most celebrated agent, Scott Boras, to a much bigger celebrity, the rapper/entrepreneur Shawn "Jay-Z" Carter, who announced Tuesday he has launched a sports agency, Roc Nation Sports, with Cano as his one client.
Of course, if you're going to have one client, that's a pretty good one to have. Cano, who will be baseball's marquee free agent after the 2013 season, is expected to receive a contract that could exceed $200 million.
The implications for the business of baseball won't be known for a while, but the immediate reaction around the game is that Cano just sent the biggest hint to the Yankees that he wants to stay a Yankee, no matter what. Jay-Z, a lifelong New Yorker and part-time owner of the Brooklyn Nets, is a self-proclaimed major Yankees fan who often wears a Yankees hat around his native town.
"That's a big blow to Scott. But it certainly doesn't hurt the Yankee position," one competing general manager said in summing up the situation.
Jay-Z, obviously an ultra-successful businessman, at least had the good sense to enlist veteran baseball agents, and he will be joined in the representation by CAA's highly successful baseball arm, which represents a number of major stars, including Buster Posey, Ryan Braun, Matt Cain and Ryan Zimmerman.
CAA has gotten some excellent contracts, if not the biggest record setters to this point, but it enters this particular negotiation with one major hurdle. That will be to convince the Yankees (as well as other teams if he becomes a free agent at year's end) that Cano is open to leaving the Yankees. Cano's apparent interest in celebrity and the New York scene can't work in his favor in negotiations.
"He's not going anywhere,'' said one ex-teammate who knows Cano well. "He'll be a Yankee.''
The Yankees, understandably, aren't saying much of anything, even if you could easily imagine them celebrating their good fortune behind the scenes.
"I have no idea what any of it means," Yankees general manager Brian Cashman said, declining further comment.
That may be so, but he also knows that negotiations with Boras weren't leading to a quick resolution. The Yankees made what Cashman publicly deemed a "significant" offer several weeks ago, and it appeared the sides were still about $100 million apart, or more.
Boras has represented Cano for a of couple years, but his current deal, which pays him $16 million this year and expires after the year, was done by Cano's previous agent, Bobby Barad. Asked about this latest development, Boras only said, "I've yet to speak with Robinson."
Of course, if Cano wants to sign back in New York, as this move seems to suggest, it probably doesn't matter who his agent is. The Yankees had tough negotiations with Boras and Alex Rodriguez six years ago, and they still retained A-Rod for a record $275 million deal.
However, this could save the Yankees some heartache -- and perhaps a few dollars, as well. Nothing against CAA, which is a proven agency, but normally players have to at least present the possibility that they could leave to get the biggest deal possible. Does anyone see Jay-Z taking the Yankees' biggest star (going forward, anyway) to the Los Angeles Dodgers or Chicago Cubs? Real baseball agents aren't fans of one team or another; it's bad for business.
The other big question is whether Cano will have Jay-Z doing the negotiating. CAA baseball head Brodie Van Wagenen and their other top baseball agents are obviously more than capable, but Jay-Z, who now has a picture of himself up with Cano on his website, may not be the type to defer to the experienced agent. One competing agent not involved in this scenario suggested this may not serve Cano well, saying, "(Yankees president) Randy Levine will eat (Jay-Z) alive" in negotiations. Levine knows Jay-Z but mostly as a celebrity Yankees fan.
"Because of my love of sports, it was a natural progression to form a company where we can help top athletes in various sports the same way we have been helping artists in the music industry for years," Jay-Z said in a statement issued by CAA.
CAA's already-strong baseball brand will be enhanced further by having baseball's biggest free-agent star. But other agents aren't thrilled with the precedent, even if means a loss for Boras.
"It's like a total entertainment business circus," said one other agent, who's also not involved.
Yet another veteran agent wondered if this could potentially be a repeat of the Master P disaster, when the rapper misrepresented Ricky Williams to the point where the superstar running back received pennies on the dollar. (Though that really isn't fair as long as CAA is actively involved.)
Cano is said by a source to have met in Miami with basketball superstar LeBron James, who is friendly with Jay-Z, while playing in the World Baseball Classic. That may have helped get the ball rolling.
"At this point in my career, I am ready to take a more active role in my endeavors both on and off the field," Cano said in a statement issued by Jay-Z's new company. "I am confident that the pairing of Roc Nation Sports and CAA Sports will be essential in helping me accomplish my short- and long-term goals. I am making this important decision now so I can keep my focus on helping the Yankees succeed in 2013, while minimizing any distractions for me and my teammates."
Cano has talked behind the scenes about wanting to press the envelope, and maybe get an A-Rod type contract. But CAA will have plenty of work to do to get anywhere near that now.
The Yankees' one offer, while deemed "significant" by Cashman during spring training, is believed to have been for nine figures but nowhere in that A-Rod range. The Yankees understand Cano is their best and most vital player for the next half decade but have questions about whether he should be considered in the class of A-Rod, or Derek Jeter, who 12 years ago received a $189 million, 10-year deal from the Yankees.
The Yankees can't lose Cano, even if they still want to get below the $189 million luxury tax threshhold. But this move begs the question: Is Cano as desperate to stay?
Jay-Z's public relations person didn't answer an email (or his phone many times), and Van Wagenen wasn't immediately available to answer questions Tuesday afternoon.
"Robinson Cano is an extraordinary all-around talent who has established himself as one of the game's best and most consistent players," Van Wagenen said in a statement. "Our mandate is to minimize his distractions while helping him achieve his goals on and off the field in both the short and the long term. His immediate concern is continuing to show respect for the Yankees organization, his teammates and the fans."
Cano has always been respectful of the game and his teammates, and he has in all ways been a credit to the Yankees organization. But the question is whether he has done them an unintended favor by enlisting a celebrity Yankee fan to represent his interests.
The Yankees may not be done collecting stars

The team could instead use a closer by committee approach

Both Seung-Hwan Oh and Trevor Rosenthal are free agents
The Yankees may plug their third base hole with a familiar face

Darvish's poor World Series hasn't scared the Dodgers away

GM Sandy Alderson said he followed his manager's recommendation