Did the 1994-95 strike cost Fred McGriff the Hall of Fame?
Fred McGriff ended his career seven home runs short of 500. It's likely the 1994-95 player strike cost him at least 10 homers, too. So can we say the strike cost him the Hall of Fame?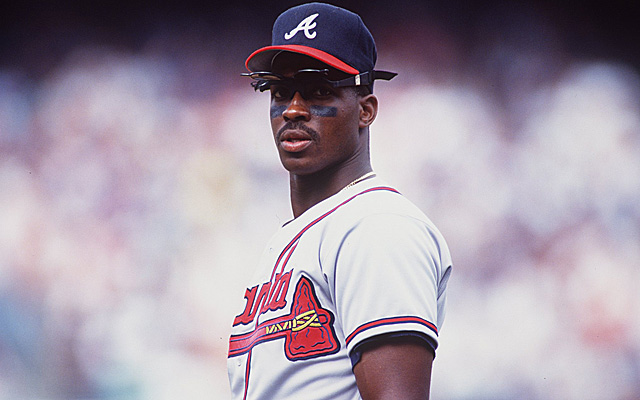 Hall of Fame: Cox, La Russa, Torre get in | Miller snubbed | Steinbrenner's complicated case | One-and-done candidates | Luis Gonzalez's case | Moises Alou's case | Lee Smith's case
Is is possible that the 1994-95 MLB players strike cost Fred McGriff induction into the Baseball Hall of Fame?
I happen to think it's a rather distinct possibility. In fact, if pressed for a yes or no answer, I'm going with yes -- yes it absolutely did.
Unless special circumstances dictate otherwise, there is a trio of statistical plateaus in MLB history that essentially guarantee enshrinement in the Hall of Fame: 3,000 hits, 300 wins and 500 home runs. Basically, if you get to one of those three, you have to be banned from baseball or suspected of PED use to not get into the Hall of Fame.
McGriff ended his career with 493 home runs and has thus far been unable to garner even 1/4 of the BBWAA annual vote. He's been on the ballot four times prior to this go-round and his highest percentage of votes was 23.9 percent in 2012. Last year he dropped down to 20.7 percent.
Am I crazy to believe things would be significantly different if he had hit just seven more homers? Possibly, but I firmly believe that's the difference -- a difference we can attribute to the strike. 
[NOTE: I'm discussing how I believe the voting body would react, not how I personally believe they necessarily should react.]
At the time of the strike, McGriff was the best home run hitter in the majors. The 1994 season was McGriff's sixth full season in the bigs. In those six seasons, he led the majors -- by a rather large number -- in home runs. He was one of only eight players to hit at least 175 homers and one of only four to hit at least 200 homers in those six seasons. His 242 dwarfed the 218 longballs off the bat of Barry Bonds, who had the second most during those seven seasons.
In that 1994 season, McGriff ended with 34 homers and had played in 113 of the Braves' 114 games. That's a full season pace of 49 homers, so we could reasonably say that the strike cost Fred McGriff 15 home runs in 1994 alone. 
Are we sure McGriff was going to hit 15 more? Of course not. He could have gotten injured or slowed down, obviously.
The likelihood he would have fallen injured was pretty small, though. He averaged 154 games played per season in his previous five years, missed only one of 114 games in 1994 and then appeared in all 144 games in 1995. He was very durable.
In terms of slowing down, McGriff was actually heating up. In his last 10 games before the strike, McGriff hit .421/.476/1.026 with seven homers in just 42 plate appearances. Given that he was swinging a hot bat and very durable, it's plausible to argue McGriff was going to get to 50 home runs in that season.
On the flip-side, even if we don't want to say he would have hit 15 homers, what if we drop it down to 10? McGriff is still sitting with 503 career dingers right now. 
And, as mentioned above, we also have the 1995 season to discuss, in which McGriff hit 27 homers in 144 games. Without a strike, he would have had the chance to play in 18 more games. He also wouldn't have had a shortened spring training, but we can't even begin to predict the impact that had, especially since every other player in the majors had a shortened spring training.
Thus, let's assume McGriff would have had the same pace of home runs throughout the 1995 season. That means in 18 games, he lost out on about three more homers. Had he hit three more, that would have given him another 30-homer season -- running his career total to 11. 
Yes, we are making assumptions, but they are realistic assumptions, and it appears the strike cost McGriff around 18 homers. Let's say there was no strike and he hit exactly those 18 homers. That would have meant McGriff ending with 511 home runs. It also would have given him a 40-plus homer season -- and not having one of those in his career has been a complaint by some BBWAA voters. Not only that, but McGriff was probably cost two more 100-RBI seasons by the strike (he ended with 94 RBI in 1994 and 93 in 1995).
Now, the million-dollar question: Would a guy with 511 career home runs, 11 30-plus homer seasons, 10 100-plus RBI seasons and a 49-homer year have any trouble getting into the Hall of Fame?
Assuming he doesn't have PED ties, I'd think that guy is a slam-dunk. Not only has McGriff never been credibly attached to any PED rumors whatsoever, but his peak years were from ages 24-30 with a slight decline in his thirties. He had a few outlier years in his mid-to-late 30s, but nothing huge. I don't personally get into trying to analyze body types, but many voters do -- and those who do so with McGriff will see a dude that was essentially the same size at age 40 as he was at age 26.
So, yes, I'm thinking the hardliner BBWAA Hall of Fame voters when it comes to possible PED suspicions would be OK with McGriff.
And that means the 500 homers are an automatic induction to the Hall of Fame for McGriff -- which also means that the 1994-95 strike very likely cost McGriff the Hall of Fame.
Get 15 percent off any order of more than $75 at CBS Sports Shop

Get your sports fans something that they'll wear all year

No, you're not imagining things. This MLB offseason has been very slow compared to the last...
Francesa will retire from radio next month, so he'll have plenty of free time next summer

The Twins need help in the rotation, and they may look to the trade market to find arms

Here are the bullet-points of what went down Tuesday regarding MLB and the Braves' punishm...