Dipoto and Scioscia return with united front, to plenty of questions
Owner Arte Moreno remains silent, but Angels general manager Jerry Dipoto and manager Mike Scioscia say they're back for 2014 in a conference call to announce the firing of two coaches. The bigger questions remain, like will their working relationship improve and will Scioscia have a larger voice?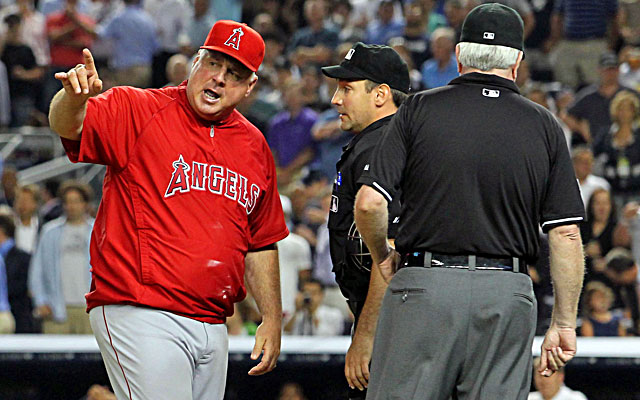 In an extraordinarily worded news release that was the baseball version of the puff of smoke appearing over the Vatican, this is what the Angels finally had to say for themselves late Tuesday afternoon:
"General manager Jerry Dipoto and Manager Mike Scioscia today announced bench coach Rob Picciolo and hitting coach Jim Eppard will not be retained for the 2014 season. …"
So the intramurals are finished for now and a couple of coaches got sacrificed. Business as usual there, coaches get taken out with the recyclables annually at this time of year.
No, the extraordinary part is that not only is owner Arte Moreno bringing both his GM and manager back for 2014, and not only are the Angels clearly taking great pains to publicly display a united front … but I have never, ever seen a news release from a club in which the manager announces something.
The clear takeaway not only is that Scioscia is back, but he's not back as a lame duck, or even as a slightly wounded duck. There was some speculation during the last week of the season around the Angels that Scioscia would return with a larger voice within the organization, and it is difficult to read this news release and come to any other conclusion that that's part of the fallout of the lost season of 2013.
The two participated together in a conference call with reporters early Tuesday evening, during which Dipoto said that the duo learned of their fates "very recently."
"We've gone through a variety of meetings at season's end both internally and sitting down with Arte," Dipoto said. "Obviously, it was a disappointing season and difficult to deal with on the field. … There are some things we need to improve on internally."
Dipoto said he and Scioscia have met "a number of times" during the past week or so, and that they have sat down with Moreno as well.
"One thing with Jerry and I, there is absolutely no philosophical gap," Scioscia said. "That is real. There's a lot of chatter out there and it's just not accurate.
"The one thing we moved on from, that obviously was talked about when Mickey [Hatcher] was let go, we've moved on from that. We want work as team to get better, and that's what we're going to do.
"We're going to continue to enact these ideas and harvest them and work together, and that's how we're going to get better."
In Eppard and Hatcher, the Angels now have fired two hitting coaches in a span of 17 months. Dino Ebel will move from the third-base box to replace Picciolo as Scioscia's bench coach, and the organization will conduct a search for its next hitting coach. There is the possibility, Dipoto said, that the Angels will hire a hitting coach and an assistant hitting coach.
Dipoto said that his contract was not extended. His current deal is up after next season, with club options for 2015 and 2016. Scioscia is signed through 2018 and is owed roughly $25 million over the next five years. A clause allows him to opt out of the contract after the 2015 season if he desires.
"From a personal level, I want this challenge," Scioscia said. "This is where I want to be, and I certainly want to get things going in the direction they can be. I'm happy to have another opportunity at that, and I'm going to continue to do the things, hopefully, to get us going in the right direction."
Said Dipoto: "I agree with that. The season presented enough adversity that, in the end, and never moreso than in the last week, we've been able to sit down and come to an understanding of how we're going to get through this together. And [we] will succeed."
The two said that the biggest point of emphasis this winter is to improve a pitching staff that ranked 11th in the American League in ERA – and, in particular, a bullpen that ranked 13th in the AL in ERA and blew 17 save opportunities.
"Our ability to hold leads and close out games is where you're going to see the big improvement," Scioscia said. "And I'm excited about that."
Keep tabs on the top 50 free agents right here

Your one-stop shop for all things MLB Winter Meetings-related

The Angels knew about the first-degree sprain and still wanted to sign the potential ace, of...
The run on relievers continues with two more signings

The Yankees added Giancarlo Stanton in a blockbuster trade, though they now have openings at...

Smyly is currently on the mend from Tommy John surgery