Dipoto or Scioscia will lose Angels blame game, but owner isn't clean
Someone will pay for this disastrous Angels season, probably Mike Scioscia or GM Jerry Dipoto. But Jon Heyman says when Arte Moreno looks to hand out blame, he should start with a mirror.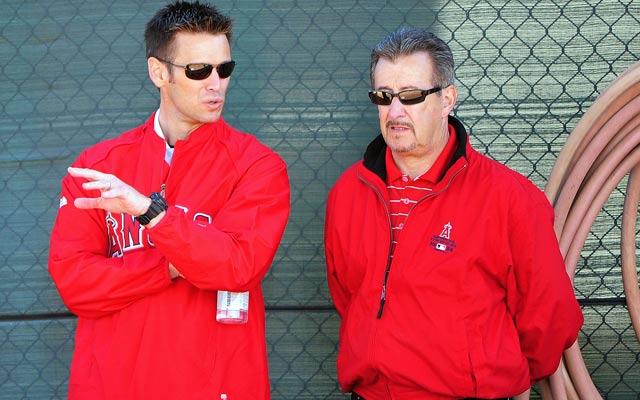 Owner Arte Moreno is having one of those "look in the mirror" moments during the Los Angeles Angels ' incredible season of underachievement, in the words of one person who's close to him.
Ultimately, though, it's very likely to be a big mirror that includes room for others in the background -- quite possibly general manager Jerry Dipoto and/or manager Mike Scioscia.
"I'd be shocked if one or the other, or both [Dipoto and Scioscia], isn't let go," one person familiar with the Angels' situation said.
Indeed, there's little question something drastic will be done following a season of all-time underperformance, and while Moreno -- who watched the Angels just get swept at home by the Indians to fall 16 games below .500 -- may be spying a mirror, his choices for blame almost certainly will come down to Scioscia or Dipoto, if not both.
With Scioscia and Dipoto bringing very different styles and priorities, it has become apparent to those involved that their relationship has frayed again this year in the midst of the Angels' stunning failure. Keeping them together would seem to be folly, not that Moreno is known lately for doing what's logical.
This could easily go either way, as some believe Dipoto, the second-year GM, is the one likely to go, while others think it's Scioscia, the 14-year manager.
Although baseball officials outside the organization suggest Moreno has been heard to say things less than flattering about Dipoto, this may not be nearly an easy call as one might imagine. This talented group of players, with a top eight to match almost any other, clearly has not clicked with Scioscia.
One Angels person said while he doesn't know for sure, he wouldn't be at all shocked if Scioscia was the one readying for the "guillotine."
One baseball official with another team, who also is convinced one or the other will go, said he believed Scioscia's standing gives him an ever so slight edge, with the caveat that Scioscia is apt to go into an end-of-year meeting with "guns blazing" and not give a care about the repercussions. (An easier tact to take when you have five years to go at $5 mil per, of course.)
Meanwhile, Scioscia's well-known "my way or the highway'' style has worn thin in trying times with some team officials, not just Dipoto. One Angels person said there is at least one high-ranking club executive who wanted Scioscia gone after last year. Ken Rosenthal of Foxsports.com reported two weeks ago that "tension persists" between Scioscia and Dipoto, and it isn't getting better.
The other wild card is Moreno himself. He is said to be ultra-emotional behind the scenes, with one ex-employee likening him to "Mt. Vesuvius," as someone who is apt to blow. The last couple years have been marked by two emotional mega buys that helped put them in this bind, so who's to say there's a lot of logic to this.
Moreno told MLB.com he'll be in an evaluation period but hasn't spoken specifically about his thought process regarding either of the two high-profile decision-makers. Moreno declined to return a call for this story.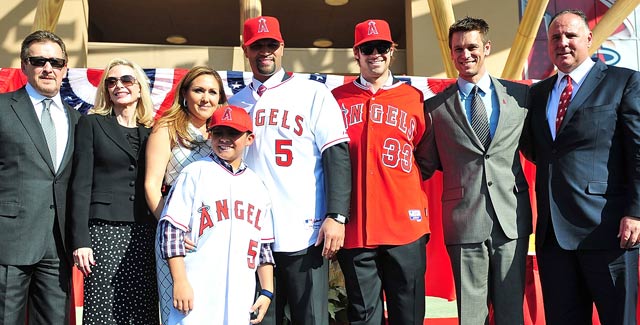 Normally, in a situation where there's such stark underperformance, it's the manager who'd have more to worry about. But Moreno is a longtime admirer of Scioscia, who has a big-time resume as player and manager, and most significantly, has $25 million to go on his contract.
It'd be shocking to waste exactly half a $50-million, 10-year managerial contract. But in the baseball circles, it would be looked upon even more unfavorably to abandon a bold new GM plan two years into it -- not that Moreno operates to please.
Dipoto's contract runs through only 2014, relatively negligible in the waste-a-million world of the Angels. And while a GM is ordinarily given three-to-five years at the absolute minimum, the bright young Dipoto -- who pitched in the majors -- has been caught in Moreno's crosshairs for a variety of seemingly minor things, according to baseball people outside the organization, including something as minute as a $650,000 deal last year for 40-year-old reliever Jason Isringhausen.
It's hard to imagine Moreno could be so upset about a small expenditure on a formerly prominent reliever that produced mild results when Moreno's own mega deals for Albert Pujols and Josh Hamilton look like nothing short of disasters at the moment. People familiar with those two deals, which amounted to $365 million in total (or $364.35 million more than Izzy), say Moreno was the driving force behind them, but it isn't known to what degree Scioscia and/or Dipoto supported them.
Not only are both the Angels superstar free agents underperforming their salaries (in Hamilton's case, badly underperforming it, with some Angels people wondering whether Hamilton is suited for the quiet Angels clubhouse after succeeding so wildly in the tight-knit, more raucous Rangers locker room), but those deals hamstrung the budget for years, leaving little wiggle room to full out this year's pitching staff.
After Hamilton was imported for $125 million over five years, that left only around $17 million to fill out a pitching staff with two starters pitchers and three relievers, with the result of the scrap-heap purchases being predictably bad. Pujols, out for the year with plantar fasciitis, incidentally has eight years and $212 million left on a deal that will make Alex Rodriguez's contract look like money well spent by the end.
That's where the mirror comes in. In the end, though, it likely only exists for a brief glances.
One high-ranking baseball official with another team said there was no way Scioscia, the longtime Dodger who got away, was going to be let go when it appeared the Dodgers might have a managerial opening. But now that Don Mattingly looks like he might be on his way to a manager of the Year trophy and possible World Series appearance, that person wondered if Scioscia was quite as secure. An Angels person also wondered aloud whether Scioscia could wind up managing his hometown Phillies, who currently have interim Ryne Sandberg, but the expectation has been that Sandberg is likely to guide the Phillies next year.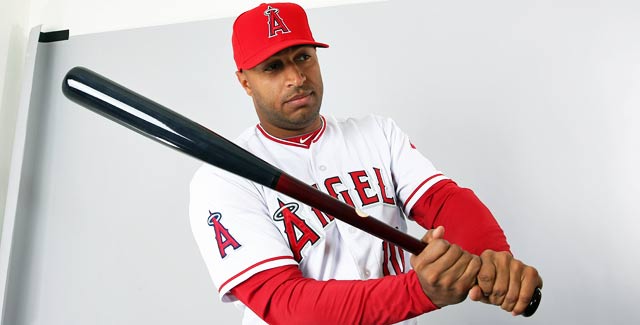 Normally a 14-year manager who isn't clicking with a talented, expensive group of players is the one who would be in trouble, but Moreno has left an impression with several people outside the organization he hasn't necessarily been clicking with Dipoto, who's only in his second year at the helm after serving as a top executive with the Diamondbacks, where he was interim GM before Kevin Towers was hired.
"Arte has been down on [Dipoto]," one person outside the organization said.
But others suggest Scioscia as the more likely target.
"There's a lot of talent on the field compared to what Oakland has. It's hard to believe we're 30 games (15 1/2 actually) behind Oakland," one mid-level Angels official said.
Sometimes it seems you can almost read Scioscia's anger on his face in the dugout. He has long favored a National league style team that emphasizes pitching, a strong bullpen back end, speed and defense and has had various complaints about this roster, sometimes to the point of demanding a player release. He wasn't taken up on it. Angels rookie, J.B. Schuck, a grinder, is seen as the one player who personifies what Scioscia favors.
The idea to hire Dipoto came when Moreno and president John Carpino made the big step to bring in a GM from outside after an experiment with Tony Reagins, a pliable marketing/farm man, failed. Moreno and Carpino tried first for Andrew Friedman, the Tampa Bay Rays' highly successful young GM, who turned the job down, before deciding on Dipoto. Carpino still seems to be in the GM's corner, according to people in the organization, and that could be one factor that saves him.
But Dipoto seemed to be caught in something of a squeeze from the start. Scioscia had been highly involved in making the key baseball calls for years (the one to bring in Vernon Wells was a notable failure), and he wasn't used to someone bringing his own ideas. For years, Scioscia, and Scioscia alone, had the ear of the owner.
"Mike was used to being king," one competing GM observed.
Dipoto had to know he was entering a scene with two strong personalities when he took the job over a possible opportunity with the Orioles. But at the time, the Angels seemed to have better talent and a much better future.
Plus, they didn't have Peter Angelos, the owner of the Orioles, who had quite the rep for meddling.
The reality is, Moreno is pretty involved, too.
"He wants to pick everything, from the carpeting to the pictures on the walls, to the players on the roster," one former Angels employee said.
Not only did Moreno decide to sign Pujols and Hamilton (Dipoto is said to have preferred going after Zack Greinke , though it's hard to imagine them outbidding the cross-town rival Dodgers, who signed the free-agent pitcher for $147 million over six years), he also wields a strong veto power.
Word is, he nixed a trade of Ervin Santana that would have freed up some money following the one-day record MLB expenditure of Pujols, C.J. Wilson and LaTroy Hawkins . And sources also say Moreno was the one who put the kibosh on an agreed-upon spring deal that was already in the hands of the commissioner's office and would have sent Bobby Abreu to the Indians and saved them close to $3 million.
A month later, the Angels had to release Abreu since they had no room for him on a team that had Wells, Torii Hunter , Mark Trumbo and Peter Bourjos , plus Mike Trout on the way.
To be fair, sometimes Moreno's meddling pays off. Way back at the 2007 draft, the Angels were all set to take local high school star Phil Hughes when Moreno nixed that idea, directing them to select a different right-handed pitcher, Jered Weaver , another local star, from Long Beach State.
In the new setup, Dipoto frequently has been relegated to acting as a middle manager as GM, according to observers.  But at least that's a couple steps up from Reagins, the former marketing man and farm director who as GM watched Scioscia engineer the deals a few years before being canned.
Dipoto's one big buy, Wilson, generally has worked out. But this year, he was left with only around $17 million to fill five vacancies on the pitching staff after the Hamilton outlay, and those pitchers have not come up big. Joe Blanton has been a bust. Tommy Hanson hasn't worked out and Jason Vargas , after a nice start, suffered a blood clot. Relievers Sean Burnett and Ryan Madson got hurt. The Angels were forced to dig deep into a weak farm system, helping to further torpedo their season.
It would seem unusual, even bizarre, to abandon a plan to employ a strong GM after only two years. But the firing game has been an odd one with the Angels under Moreno, who has fired an unusual number of mid- and lower level people in his regime. Among those let go include Eddie Bane, the scouting director who drafted Mike Trout, and Ned Bergert, the beloved trainer who was elevated to head trainer after saving lives on the team bus after it crashed on a trip on the East Coast in 1992.
Realistically, blame for the abject failure that is the 2013 Angels should fall on Moreno first, Scioscia second and Dipoto a distant third.
But in the end, who knows whether that matters?
Despite an awful month, the Dodgers are again NL West champions

The record of 38 previously belonged to Hall of Famer Frank Robinson

The report also says that Jeter had outgoing president David Samson do the firing
This wasn't a traditional hidden ball trick, but the Blue Jays pulled it off

The Tigers essentially fired Brad Ausmus on Friday, but things are going to be ugly for a...

The club made the announcement on Friday