Disappointing Angels will sell, could move Kendrick, Aybar
The Angels are a mess, and they want to see if they can begin fixing it with some trades before Wednesday's non-waiver deadline.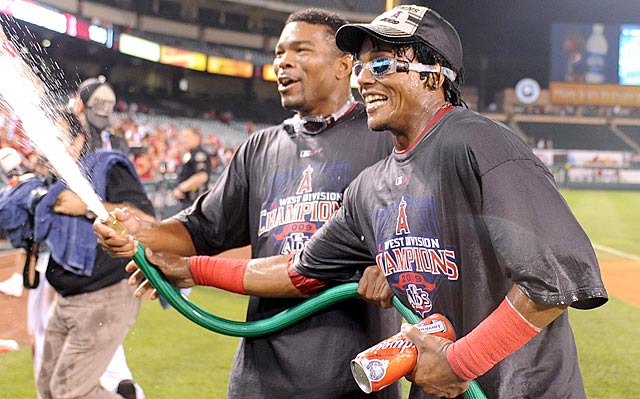 As one Angels person said recently, they've got a mess on their hands, and it's not going to be easy to fix it.
They would like to get started this week.
As Jon Heyman wrote Saturday, the Angels have now moved strongly towards selling. Left-hander Scott Downs is very available, but the Angels will listen on Howie Kendrick, Erick Aybar and others, sources confirmed Sunday night.
The Angels lost three of four to the first-place A's over the weekend, and also found out that Albert Pujols will likely miss the rest of the season because of the foot problem that has bothered him all season. The Angels are now 13 games behind the A's and 8½ games out of a wild-card spot; the website coolstandings.com gives them only a 2.5 percent chance at making the playoffs.
Not all the Angels are equally available. As Heyman reported Saturday, the Angels aren't at all anxious to move Mark Trumbo, and don't really want to trade Peter Bourjos.
Aybar and Kendrick are both signed to long-term contracts, with Kendrick due about $24 million through 2015 and Aybar owed about $30 million through 2016. Kendrick has a limited no-trade clause.
The Angels' willingness to listen even on them indicates that beyond simply acknowledging they're not going to win this year, they realize that they have a flawed roster that will require work to build a contender for next year and beyond. They obviously need to build a better rotation, and it's a safe bet that they'll be looking for major-league ready starting pitching in any deal.
Jeff Passan of Yahoo was the first to suggest that Kendrick and Aybar could be available.
Keep tabs on the top 50 free agents right here

Your one-stop shop for all things MLB Winter Meetings-related

The Angels knew about the first-degree sprain and still wanted to sign the potential ace, of...
The run on relievers continues with two more signings

The Yankees added Giancarlo Stanton in a blockbuster trade, though they now have openings at...

Smyly is currently on the mend from Tommy John surgery