Do Chase Headley's splits mean a change of scenery helps?
We'll hear a lot about ballpark changes and statistical splits when it comes to discussing the trade of Chase Headley to the Yankees. Will those arguments be valid?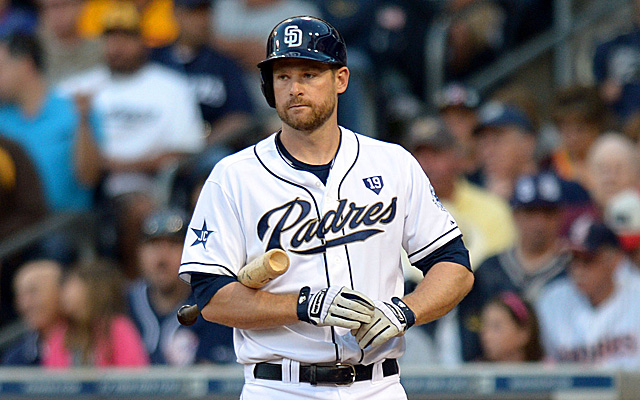 SD sends Headley to NYY for Solarte, De Paula
The trade deadline is over a week away, but things are obviously heating up. The rumor mill is churning and Chase Headley was traded to the Yankees Tuesday. Now, since it's the Yankees and we have our 24/7 news cycle/social media combination, there are going to be overreactions everywhere. And since it's Headley, there will be much focus on where he's called home for his entire MLB career.
Specifically, as a member of the Padres, Headley was playing 81 games a season in the offense-stifling Petco Park. Since it opened in 2001, the stadium has ranked in the bottom five of average runs scored per game in all of baseball every single season. It's been last several times, including 2013 -- after the fences were moved in. It has generally been toward the bottom in home runs, too. It moved up to 17th last season, but is 26th this year.
So Headley should be skipping around singing about "FREEDOM," right? That'll be at least part of the narrative. Lets look and see.
Here's Headley at home and on the road in his huge 2012 season, which will also be a big part of the narrative (" ... if the Yankees get 2012 Chase Headley ... "):
Home: .272/.357/.455, 16 2B, 0 3B, 13 HR, 51 RBI
Road: .300/.395/.541, 15 2B, 2 3B, 18 HR, 64 RBI
That's definitely a significant gap, considering most players hit better at home.
How about last season, though, after the stadium dimensions were altered:
Home: .253/.356/.406, 23 2B, 1 3B, 5 HR, 24 RBI
Road: .247/.337/.394, 12 2B, 1 3B, 8 HR, 26 RBI
So he was better at home, actually. It wasn't a difference in playing time, because he had 303 home plate appearances and 297 on the road.
And this season, heading into Tuesday:
Home: .250/.303/.357, 9 2B, 0 3B, 2 HR, 18 RBI
Road: .209/.290/.353, 3 2B, 1 3B, 5 HR, 14 RBI
Again, the difference is just three plate appearances (more on the road this time, though). And, again, he's actually hit better at home. Simply, we cannot attribute Headley's disappointing follow-ups to 2012 to Petco Park struggles.
Let's take note of the home runs, though, because that matters, even if only slightly.
Though Yankee Stadium doesn't play as a hitters' paradise every season, in terms of runs scored (it's been toward the top a few times, but it's also been below average several seasons, including 2014), it is a home run hitters' paradise, specifically to right field.
Can we cling to the fact that Headley has 52 career homers on the road compared to just 35 in Petco Park, and in doing so, surmise that his move to Yankee Stadium as his home will mean he's going to get much better or even return to 2012 form?
If one were so inclined, there's at least a little something. Headley is a switch hitter and 58 of his 87 career homers have come from the left side.
There's also something to be said for how mentally a player can get messed up when playing half his games in such a cavernous stadium. People all too often write off something like that these days, since mentality can't be measured with a number, but players are still human beings. It's worth wondering what being freed from the confines of Petco Park could do for Headley, especially if he hits a home run to the short right field porch in Yankee Stadium in one of his first games wearing the pinstripes.
On the other hand, I can't imagine that a ballpark would so thoroughly, mentally whip a player who once had a season in which he hit .272/.357/.455 there that he'd all of a sudden forget how good he can be at age 30. We also have to mitigate any "change of scenery" type allowances by admitting the league switch has to be factored in as well. So while I'd be open to getting on board a "mentality" or "change of scenery" argument with some, I'm not seeing Headley as being one of those guys.
Essentially, we're talking about a guy who was disappointing last season and has been pretty bad this season. His splits the last two years don't show a guy who was crushed by his home ballpark and instead just show a guy who had an outlier of a season in 2012. He may well play better for the Yankees, but let's resist the urge to scream about how much better he'll be by using splits and ballpark arguments. There's just not enough there to make a valid, factual argument.
There's no reason to run over the cases for and against Bonds, so let's have fun instead

The coveted right-hander would certainly be a fit in Milwaukee

We rate the best mustaches from random baseball cards because, why not?
Colon wants to break a Dennis Martinez record

The Twins have been rumored to be interested in Darvish all winter

Rolen is one of the best third basemen of all time, but you wouldn't know it based on this...