Dodgers are a favorite to land Dempster from Cubs -- but they could also go for Garza
The Los Angeles Dodgers are expected to be big players in this trade market, thanks to their new aggressive ownership team.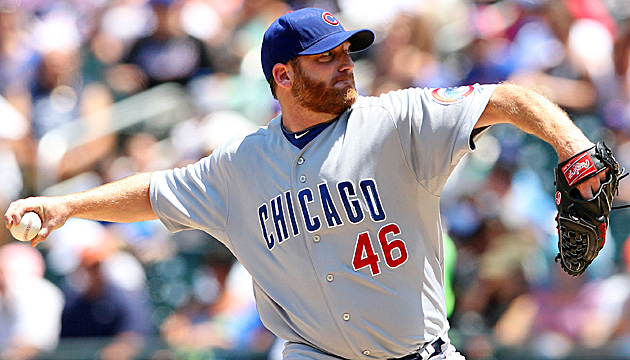 Dempster, set to make his second start since coming off the DL, has thrown 27 straight scoreless innings. (US Presswire)
KANSAS CITY -- The Dodgers are talking to the Cubs about acquiring either one of their two coveted starting pitchers, Ryan Dempster or Matt Garza, sources say.
The Dodgers have long been known to be targeting Dempster and are seen as a favorite for him. But it turns out they've had conversations about Garza, as well.
Either one would make a nice addition to the Dodgers, who've managed to hang onto first place despite a long absence by superstar Matt Kemp and several other injuries (Kemp is due back Friday, and Andre Ethier is expected back if not Friday, then a day or two after that). Ted Lilly, who is injured for the Dodgers, is close to Dempster from his Cubs days and would presumably recommend him highly.
The new Dodgers' ownership team is expected to be aggressive this July in their first year in Los Angeles.
Dempster has throw 27 straight scoreless innings and will make his second start since returning from the disabled list Saturday. Garza isn't having a great year for the Cubs, but is sought by several teams, many who recall his effectiveness in the tough A.L. East, with the Rays. The Red Sox, Yankees and Blue Jays are three more teams that could have interest in Garza -- and yet another A.L. East team, the Orioles, who seek a veteran pitcher, could look at either Cub, as well. The Braves are yet another team said to have interest in Dempster.
The Dodgers have the money to take a decent-sized contract, but the Cubs prefer to get talent back from their top chips. Young pitcher Zach Lee is considered the Dodgers' top prospect.
Sale becomes the first AL pitcher to reach 300 strikeouts since 1999

Steve Balboni's long-standing record of 36 has finally fallen

Several players called for the netting to be extended down the base lines following Wednesday's...
Maria made landfall as a Category 4 on Wednesday

The players are trying to do their job and don't want to see anyone hurt

The child is receiving medical attention at an area hospital, the Yankees said in a statem...