Dodgers-Cardinals NLCS Game 3 grades: Ryu earns an A high marks
The Dodgers had to win NLCS Game 3 on Monday night, and Hyun-Jin Ryu delivered a gem. That earns him an A for Monday.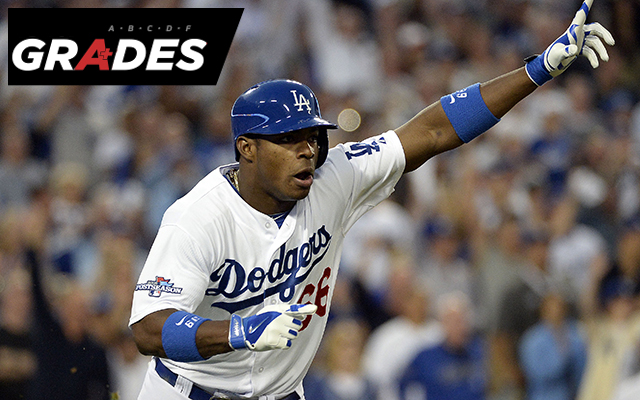 More NLCS: Game 3 recap | Game 3 quick hits | Game 3 game-ending audio
Things looked pretty bleak for the Dodgers coming into NLCS Game 3. They were preparing to face Adam Wainwright after losing starts by Zack Greinke and Clayton Kershaw, so the prospect of being down three games-to-none in the best-of-seven series was very real. Instead, they rallied for a 3-0 win to make this a series. Let's hand out some Game 3 grades.
| Team | Grade | Analysis |
| --- | --- | --- |
| | A | Hyun-Jin Ryu, the third Dodgers starter to turn in an excellent outing in as many NLCS games. He held the Cardinals to three singles, one walk and zero runs while striking out four in seven innings in Game 3. So far in the series, the three Los Angeles starters have allowed three runs (two earned) on nine hits and three walks while striking out 19 in 21 innings. Hard to believe they're down two games-to-one in the series with a collective performance like that. |
| | B+ | Two Dodgers, specifically, get the B+: Hanley Ramirez and Yasiel Puig. Hanley went 2-for-4 with a RBI in despite playing with a hairline fracture in his rib while Puig went 2-for-3 with a triple and a RBI after going 0-for-10 with six strikeouts in the first two games of the series. Los Angeles has a very tough time scoring when those two don't contribute, and they finally came through in Game 3. |
| | B | Ryu's opposite number was pretty impressive as well, so we're handing out a second B. Wainwright surrendered two runs in seven innings of work, a strong effort and a winnable game by just about any objective measure. Four of the six hits he allowed went for extra-bases, which can be a bit of a problem. Wainwright was pretty darn good regardless. |
| | D | Wainwright was good, the Cardinals bullpen wasn't. Kevin Siegrist and Seth Maness combined to retire just one of four total batters faced, surrendering three hits and one big insurance run in the eighth inning. Veteran lefty Randy Choate bailed them out, otherwise it would have been a lot worse. |
| | F | Ugh, Jon Jay's center field defense. He made several poor plays in Game 3, most egregiously allowing Mark Ellis' fly ball drop in for a leadoff double in the fourth. That was a communication issue and led to the first run of the game, ultimately the only run the Dodgers would need. Jay also dropped a fly ball at the wall and came up short on a dive. Not a night for his career highlight reel. |
The Nats will host the All-Star Game in 2018

The Orioles are looking to trade Machado heading into his walk year

The Cardinals have been linked for a while to the Baltimore star
Gallardo spent the first eight years of his career in Milwaukee

MLB revenues are at a record high right now, but teams aren't spending it on players

Chicago added Tyler Chatwood earlier this offseason but might not be done adding to the ro...