Dodgers, Clayton Kershaw agree to seven-year, $215M deal
Clayton Kershaw has agreed to a seven-year, $215 million deal with the Dodgers, which includes an opt-out clause for Kershaw after five seasons.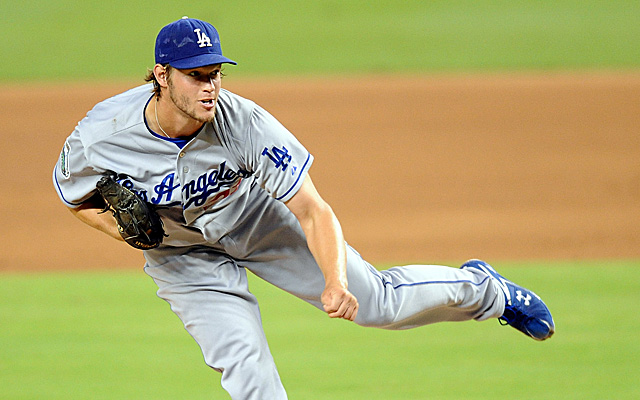 MORE: FA tracker: position players | FA tracker: pitchers
The Dodgers and ace pitcher Clayton Kershaw have agreed to a seven-year, $215 million contract, confirms Jon Heyman of CBSSports.com. Here is the year-by-year breakdown:
• 2014: $22 million ($4 million salary plus $18 million signing bonus)
• 2015: $30 million
• 2016: $32 million
• 2017: $33 million
• 2018: $33 million
• 2019: $32 million
• 2020: $33 million
Ramona Shelburne of ESPN Los Angeles first reported the news and she also reports that there's an opt-out clause in the contract after five seasons, meaning Kershaw could hit free agency at 30 years old. That also means this contract might not be Kershaw's one big pay day. It may merely be one of two.
Kershaw wasn't yet a free agent, as he had one year of arbitration remaining. This deal buys out the final year of arbitration plus up to six years of free agency -- though, again, Kershaw can opt out of the deal after five years and test free agency if he so chooses.
The contract is a record-breaker, as the previous largest contract for a pitcher was Justin Verlander's seven-year, $180 million extension to stay with the Tigers. Kershaw shatters that, and rightfully so.
Kershaw was 16-9 with a 1.83 ERA (194 ERA+), 0.92 WHIP and 232 strikeouts in 236 innings last season. He won the Cy Young for the second time in the past three seasons, with the other season resulting in a runner-up finish. He's led the majors in ERA in each of the past three seasons and has easily established himself as the best pitcher in baseball. And he's still only 25 years old.
Heavily involved in charity work, too, Kershaw has won both the Roberto Clemente Award (2012) and Branch Rickey Award (2013) due to his involvement in Kershaw's Challenge, Arise Africa and other ventures.
With Kershaw anchored atop the rotation, the Dodgers now have excellent depth in premium starting pitching for years to come. Zack Greinke and Hyun-jin Ryu are both locked up through 2018. That's quite a trio at the top.
The Dodgers have also been rumored to be in on talks to land Japanese ace Masahiro Tanaka, but that appears to be a luxury at this point while not even close to a necessity. Heading into next season, the Dodgers also have Dan Haren, Josh Beckett, Stephen Fife and Chad Billingsley as options behind the aforementioned top three and that's before even getting into prospects like Zach Lee.
The Dodgers are set to have the top payroll in baseball for the 2014 season if nothing changes and it's expected to be in excess of $200 million. They now have at least $17.5 million committed to six different players, respectively, as far out as the 2017 season.