Dodgers elect to start Zack Greinke on Wednesday
Dodgers starting pitcher Zack Greinke will be activated from the disabled list and start Wednesday. He hasn't pitched since breaking his collarbone just over a month ago.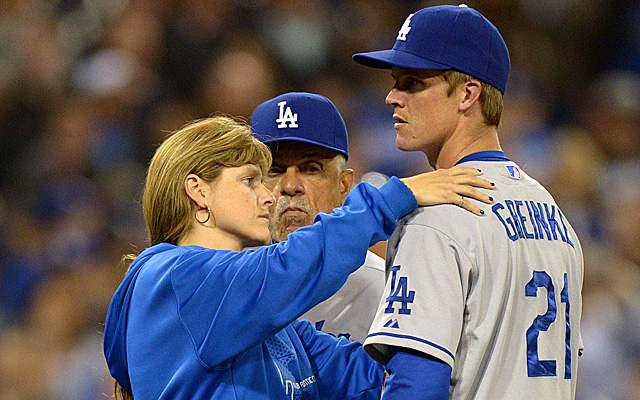 More MLB: Scoreboard | Standings | Probable Pitchers | Sortable Stats | Odds
Just over a month since suffering a fractured clavicle (collarbone, in layman's terms) in a much balleyhooed brawl with Padres outfielder Carlos Quentin, Dodgers pitcher Zack Greinke will return to the rotation Wednesday night against the Washington Nationals in Dodger Stadium.
"He feels like he's ready," manager Don Mattingly said (MLB.com). "His stuff kind of tells us he's ready. He wants to pitch."
The collarbone injury was to the right-hander's left side, and he kept his arm in shape while injured. He made only one minor-league rehab start (4 1/3 IP, 6 H, 3 ER, 4 K, 0 BB) and the bone isn't fully healed by Greinke's own admission. Still, he says he's ready to get on the hill.
"I'm sure there's a lot of risk every day," he said (MLB.com). "If it makes sense, you do it. If I didn't feel ready, I wouldn't do it. If it was 50/50, you don't do it. I say it's well worth the risk we're taking. If everyone in baseball had the same feeling I have, everyone would be playing. It's nothing superhero-ish. If you felt what I feel, you'd do the same thing."
Greinke was initially given an eight-week timetable to recover from the injury, so this will be a quick return. The only concern is avoiding a collision, such as when he's forced to cover first base on a ground ball.
The Dodgers have yet to activate Greinke -- they'll do so Wednesday -- but MLB.com reports that placing fellow starter Josh Beckett on the disabled list with a groin injury is possible. If not, rookie pitcher Matt Magill is a candidate for demotion.
Greinke, 29, is 1-0 with a 1.59 ERA through two starts in the 2013 season. He signed a six-year, $159-million contract with the Dodgers this past offseason.
The lefty starter is coming off a terrible season

After acquiring Ian Kinsler and Zack Cozart in recent days, the Angels are trending upward

Cozart's coming off a big season as the Reds' shortstop
The veteran slugger spent the last eight seasons with Cleveland

The Padres may be poised for an active winter

Yes, Bryce Harper is going to make a lot of money next winter