Dodgers facing pitching crunch before Sunday's roster deadline
There is no such thing as too much pitching, but the Dodgers need to whittle their staff down to 12 in less than 24 hours.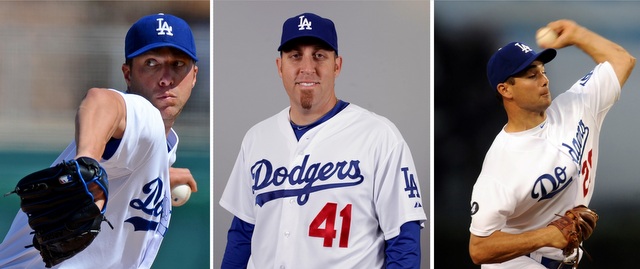 The Los Angeles Dodgers have acquired a lot of players and spent a whole bunch of money over the last 12 months, especially on the pitching side. They have a logjam of arms to clear before Sunday's 3 p.m. ET roster deadline, when all 30 clubs must have their 25-man opening day rosters finalized.
We can fit all of Los Angeles' big-league-ready pitchers into four categories:
1. Definitely on the roster (8): LHP Clayton Kershaw , RHP Zack Greinke , RHP Josh Beckett , RHP Chad Billingsley , LHP Hyun-Jin Ryu , RHP Brandon League , RHP Kenley Jansen , LHP J.P. Howell
This is the easiest group. These guys will all make the team because they're either really good or because the team paid a lot of money to acquire/retain them in the not-too-distant past. As easy as it gets.
2. Injured (1): LHP Scott Elbert
Elbert resumed throwing this week after receiving PRP treatment on his elbow. He'll begin the year on the DL and appears to be a few weeks from returning.
3. Can go to Triple-A (3): RHP Josh Wall , LHP Paco Rodriguez , RHP Stephen Fife
In another year, these three would have been fighting for a bullpen spot during spring training. Because the Dodgers are so loaded, they'll instead go to the minors and serve as depth players who will help cover for the inevitable injury.
4. Extra arms (6): LHP Chris Capuano , RHP Aaron Harang , LHP Ted Lilly , RHP Ronald Belisario , RHP Matt Guerrier , RHP Kevin Gregg
Assuming the Dodgers carry a typical 12-man pitching staff -- five starters and seven relievers -- four of these guys will make the team while two others will be left on the outside looking in.
Gregg is on a minor-league contract. Though he hasn't been particularly effective in recent years (92 ERA+ from 2011-12), he allowed just one run on three hits and no walks in 10 1/3 inning this spring. Guerrier had a rough spring (6.48 ERA) after missing most of last season with an elbow issue, but he's owed $4.75 million in 2013. Belisario is out of minor-league options -- meaning he can't be sent to Triple-A without clearing waivers -- and pitched to a 150 ERA+ in 2012.
Capuano, Harang and Lilly are where it gets really interesting. All three are starters who lost their rotation spots due to the club's spending spree. Capuano, 34, finished the spring strong after a rough start (7.20 ERA overall). As a lefty, he could move into the bullpen to complement Howell. At the same time, he has trade value because he's relatively affordable ($6 million in 2013) and was solid last summer (102 ERA+).
Harang, 34, has also had a rough spring overall (8.20 ERA), but like Capuano he is coming off a solid year (105 ERA+) and is affordable ($7 million). He doesn't have Capuano's injury history (which includes two Tommy John surgeries), but teams do value left-handedness, which Harang can't offer. He also doesn't have much experience pitching out of the bullpen.
Lilly, 37, has pitched to a 14.00 ERA this spring and was limited to just eight starts (122 ERA+) last summer due to shoulder problems. Between that and his salary ($12 million), he lags considerably behind Capuano and Harang in the trade-value department. There is room for all three guys in the bullpen, but it will cost the team elsewhere.
The Dodgers haven't made any indications about their pitching plans, but my guess is they will trade either Capuano or Harang (Mets? Rockies?) before Sunday's deadline and somehow cut ties with Guerrier. That could mean a trade, a release or a trip through waivers. Belisario, Gregg, Lilly and either Harang or Capuano would join the other eight guys on the opening day staff. Injuries (Lilly's shoulder? Guerrier's elbow?) could change things, obviously.
That is all just a guess on my part. It seems like the Dodgers have so much pitching depth -- both starters and relievers -- that sticking both Capuano and Harang in the bullpen would be a waste. Some team will surely give up a prospect for one of those guys. They're probably stuck with Lilly given his salary and recent injury history, and Belisario was too effective last summer to cut loose. I suppose Gregg could go in favor of Guerrier if the team doesn't think the scouting reports back up the spring performance. Something has to give, though. Los Angeles simply has too many arms for too few spots right now.
L.A. manager Dave Roberts indicated that Puig's benching was related to more than one inci...

Manager Torey Lovullo said so on Monday
Let's see how SportsLine forecasts the race for MLB's 10 playoff spots

Monday kicks off the final week of MLB action. Let's take a look at everything that went d...

No other rookie in baseball history has hit more home runs than Judge has this year