Dodgers get Ricky Nolasco in trade with Marlins
Ricky Nolasco is headed for the Dodgers, with the Marlins getting three minor-league pitchers in a deal completed Saturday.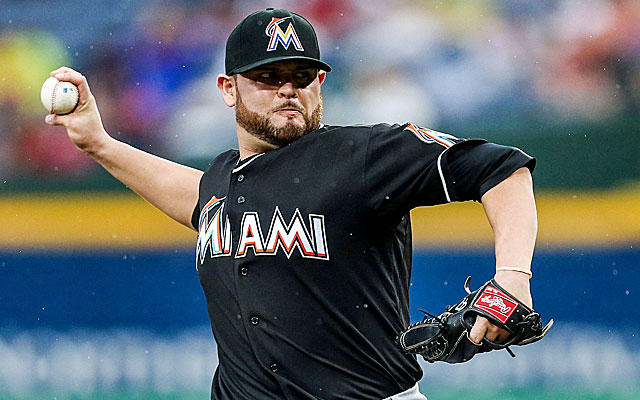 The Dodgers, already the hottest team in the National League West, have solidified their starting rotation by acquiring Ricky Nolasco from the Marlins.
The Marlins get minor-league pitchers Steven Ames, Josh Wall and Angel Sanchez in the deal, which was announced Saturday night. The Dodgers will pay the remainder of Nolasco's $11.5 million salary, and will also get an international signing slot valued at $197,000 from the Marlins.
Nolasco, a Southern California native, has been a target for at least four of the five NL West teams. He's eligible for free agency at the end of the season, but could be an easier player to re-sign for a West Coast team. The Rangers also showed interest in Nolasco.
The 30-year-old right-hander is 5-8 with a 3.85 ERA in 18 starts this season for the Marlins.
The Dodgers entered play Saturday with 11 wins in their last 13 games, the best record in the major leagues in that span. The only two losses came in starts by Chris Capuano, who Nolasco will likely displace in the rotation.
"Going to play for the Dodgers, the team that I have always rooted for, is a dream come true," Nolaso said in a statement. "The team is packed with talent and an ownership group that is committed to winning, and I'd like nothing more than to play a part in bringing a World Series back to L.A."
With Clayton Kershaw, Zack Greinke and Hyun-jin Ryu at the top of their rotation, the Dodgers didn't need to trade for an ace. But they have wanted to add another solid starter, and Nolasco fits the profile. He also made sense for a team with a big budget, because the Marlins did not want to pay any of the remaining salary.
The Nolasco trade continues an amazing purge of salary by the Marlins. Adeiny Hechevarria and Placido Polanco, who both make $2.75 million, are now the team's highest-paid players (and Polanco could be dealt away later this month).
The money isn't a problem for the deep-pocket Dodgers, even though they already have baseball's highest payroll. By taking on all of the money, the Dodgers acquired Nolasco without parting with any of their top prospects.
Ames (25) and Wall (26) are right-handed relievers who have been pitching at Triple-A Albuquerque. Sanchez is a 23-year-old right-handed starter who has been in Class A.
The Rockies were said by sources to have made a strong offer for Nolasco, at least in terms of prospects, but Rockies ownership wasn't willing to take on more salary.
Ken Rosenthal of Foxsports.com was the first to report that the teams were close to a deal.
Get 15 percent off any order of more than $75 at CBS Sports Shop

Need a gift for someone who loves baseball? We're here to help as the holidays approach

Several prominent Japanese-born Mariners and ex-Mariners have said they will help as well
Get your sports fans something that they'll wear all year

No, you're not imagining things. This MLB offseason has been very slow compared to the last...

Francesa will retire from radio next month, so he'll have plenty of free time next summer