Dodgers keep on clowning, keep on clouting, push NLCS back to St. Louis
Adrian Gonzalez ripped two homers and Carl Crawford and A.J. Ellis also knocked the ball over the fence as the Dodgers saved their season with a 6-4 Game 5 victory. Now, Zack Greinke passes the baton to Clayton Kershaw, and the Dodgers still believe. ...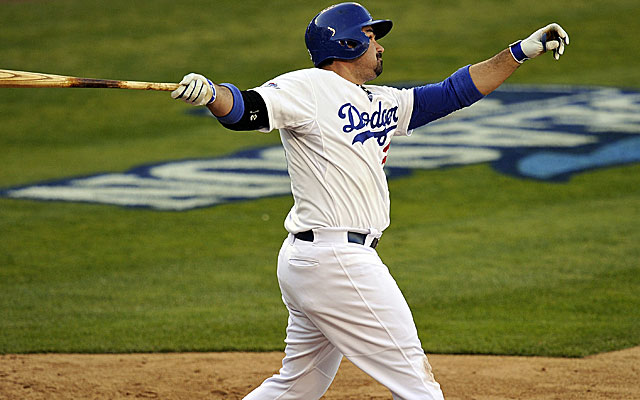 LOS ANGELES -- M-I-C … see you in St. Louis (ka-boom!).
K-E-Y … why are the A) Dodgers behaving like cartoon characters; B) Cardinals so grumpy?
M-O-U-S-E (thwack!)
Who's the leader of the National League club that's made for this 2013 World Series? No telling yet, but by the time the Dodgers and Cardinals settle this thing, we all may be drinking from juice boxes and snacking on goldfish while watching Saturday morning cartoons.
From Adam Wainwright's lips to Adrian Gonzalez's head, and for the love of all things Tony La Russa, how did this NL Championship Series turn so Goofy so quickly?
Gonzalez slugs two home runs and keys the defensive play of the game from first base, but after the Dodgers' season-saving 6-4 Game 5 win here Wednesday afternoon, all anybody is about isn't his flashing of the Gold Glove ... but his flashing of the Mickey Mouse ears.
It was impromptu and it was unique, to say the least. It was the craziest thing this side of Donald Duck replacing the Dancing Bear atop the Cardinals' dugout. Many in La-La land saw it and quacked up. Many in the Redbirds' dugout saw it and saw red.
"The Mickey Mouse ears, I was just having fun with the comment that was made earlier," Gonzalez said. "Nothing against them or anything. It was just to have fun."
Uh-huh. No offense? Surely none taken by the Cardinals.
And if you believe that, I've got an Arch planted near the banks of the Mississippi River to sell you.
It was Wainwright who accused Gonzalez of performing Mickey Mouse antics after Game 3 here Monday night, noting Gonzalez's body language following a big hit and then chirping at him from third base.
Gonzalez quickly confirmed it's a small world, after all, when Wainwright's comments were relayed to him, noting that Disneyland, after all, is right down the road.
Which brings us to the third inning on such a gorgeous Wednesday afternoon, it could only have been created by Vin Scully.
The Cardinals wasted a chance to end the Dodgers' season early in the first inning by getting nothing out of a no-out, bases loaded situation. Matt Adams had no chance at a Zack Greinke 77 m.p.h. curve for strike three. Then Yadier Molina bounced into a 5-3 double play on which Gonzalez brilliantly scooped Juan Uribe's long one-hopper from third base.
Dodgers' second baseman Mark Ellis called that "the biggest play of the game."
Well, maybe for those who prefer their viewing to be in forms other than animation.
Which brings us back to Fantasyland.
Gonzalez, who had keyed the Dodgers' two-run rally in the second with a leadoff single, drilled a 96 mph. Joe Kelly fastball over the right-field fence to snap a 2-2 tie and push the score to 3-2.
That's when, on his way back to the dugout, Gonzalez paused, raised both hands to his head, placed his thumbs on his batting helmet and issued his teammates the international symbol for Mousketeers everywhere.
And?
"I didn't even see it," Mark Ellis said. "I must have missed that. Whatever. Everybody does what they want to do."
"I'm not sure what was going on with that," Dodgers utilityman Skip Schumaker said. "I watched it and smiled. Then I watched the next batter hit."
The Cardinals, already livid, must be in orbit (near Pluto, perhaps?) by now. Not only were they already upset with Gonzalez, they continue to seethe at the antics of Yasiel Puig. He flamboyantly flipped his bat after cracking a stand-up triple the other day. He pumps his fists and gestures to the crowd. Wednesday, angry over a called third strike, he stood in the box for a good 10 seconds or more glowering and chirping at Ted Barrett as the ump dusted off the plate.
Manager Mike Matheny did not address the issue after the game. He said the other day that the Cardinals simply "take care of our business" and "play the game that we think we should be playing in a way that we think it should be played."
You can be sure there was plenty of talk on their charter flight home. And guaranteed, the Busch Stadium denizens will have a special greeting for Gonzalez and Puig when the Cardinals try again to close out this series Friday night with Michael Wacha.
Skipper Don Mattingly mounted a defense of his team the other day, noting he had "zero problems" with Molina's emotional Game 1 reaction after Carlos Beltran threw out Ellis at the plate in a turning point in the 10th inning. Molina pumped his fist three times and then slapped the dirt behind home plate.
Wednesday, Gonzalez whacked a second home run in the eighth against John Axford. This time, he made it back to the dugout without riling Disney's copyright lawyers or the baseball Fun Police.
"I'm going to retire them so they're not talked about again," Gonzalez said of the ears, and good luck with the last part of that. "It's just something that doesn't need to be talked about. It was just for fun … I don't need it to get out of hand, because it shouldn't."
Even teammate Carl Crawford, who mirrored Sleeping Beauty for the past couple of years in Boston, knows a daffy (duck) idea when he hears it.
"Once you start it, you've got to keep going," Crawford told Gonzalez in Wednesday's interview room. "I'm pretty sure it rubbed [the Cardinals] the wrong way and they're going to use that as some kind of fuel, so you might as well keep doing it, Adrian."
To which Gonzalez replied: "Hey, if Carl wants them. It's for him, not anybody else."
The Dodgers genuinely seem perplexed at how they could be pushing the Cardinals' buttons. That, or they're doing a mighty fine snow job of acting all innocent.
"You're in the playoffs," Gonzalez said. "You've got to have fun. If you're not having fun in the playoffs, then you don't deserve to be here."
Their fun count increased the longer Greinke pitched. After six of the first 13 Cardinals hitters he faced got knocks, he finally left Adventureland and retired the next 13 hitters in a row. It took him awhile to find his groove, but once he did, it took him no time to lead his mates to the Magic Kingdom (Greinke even wore a "Magic" tee shirt after the game, though, Aladdin, er, alas, that was a nod to Dodgers owner Magic Johnson).
Good as Greinke was – and yes, his Bugs Bunny curve helped keep the Cards off balance – he was only one of a cast of characters on an afternoon that only increased the St. Louis ire.
"Having a good time," is how A.J. Ellis explained Gonzalez's mouse ears. "It was a big, emotional home run for us. It gave us the lead back.
"We have so much respect for the Cardinals organization and how they play the game. He probably got caught up in the moment. I'm happy he didn't do it a second time."
So now the Cardinals go home and try to close this thing out a second time on Friday in Game 6. It will not be easy, with presumptive NL Cy Young winner Clayton Kershaw starting for the Dodgers.
You know, the man whose great-uncle was the astronomer who discovered Pluto. The planet, not the Disney character.
Phew.
Boston wants to add two big bats to their lineup, not just one

Even more relievers signed on the final day of the Winter Meetings

Keep tabs on the top 50 free agents right here
The league is not happy Ohtani's medical information leaked

Kansas City and Baltimore were quite busy at the Rule 5 Draft

Piscotty's mother was diagnosed with ALS earlier this year