Dodgers look for relief, might find it in Milwaukee
After trading for Ricky Nolasco to help their rotation, the Dodgers still need bullpen help and have been scouting the Brewers this week.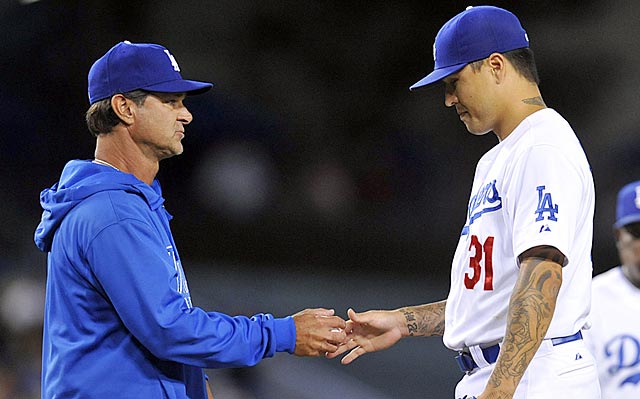 The Dodgers got the starting pitcher they needed when they traded for Ricky Nolasco.
The next task: Improving what statistically has been one of baseball's worst bullpens.
A Dodgers scout was dispatched to Milwaukee this week, sent to look at the three relievers the Brewers are currently marketing. While the Brewers have told teams that closer Jim Henderson won't be dealt, they are more than willing to discuss John Axford, Francisco Rodriguez and left-hander Mike Gonzalez.
The Dodgers aren't alone in their need for bullpen help, and their scout wasn't alone in watching the Brewers trio. The Red Sox, Orioles and Tigers also have scouts in Milwaukee this week. The Dodgers' four National League West rivals have also shown interest at times in the Brewer relievers, as well as in starter Yovani Gallardo.
Axford (3.86 ERA), Rodriguez (1.25) and Gonzalez (3.19) have all pitched well enough to tempt teams in need of bullpen help. Axford's $5 million contract will scare off some teams, but the Dodgers haven't been shy about taking on money.
"Axford's a risk," said one scout from another team who saw him recently. "His stuff is good, but the command isn't there. I'd be worried about putting him in the eighth inning. K-Rod's changeup is really coming back. He might help someone."
Kenley Jansen is 7 for 9 in save situations and has a 2.38 ERA in the month since taking over for Brandon League as the Dodgers closer, but the rest of Don Mattingly's bullpen has been unreliable. Dodger relievers have combined for a 4.31 ERA, which ranks 27th in the big leagues, ahead of only the Mariners, Phillies and Astros. The Dodgers have 16 blown saves, two behind the Cubs and Diamondbacks, who lead the majors with 18 apiece.
The Giants rotation is suddenly in shambles after injuries to Bumgarner and Jeff Samardzij...

Wright gets 15 games while MLB ruled there was insufficient evidence in the Sano case

Cabrera said that he's been like that his entire career, which makes it better?
The Phillies haven't had a winning record since 2011, but are they primed for a turnaround...

Souza is tasked with replacing J.D. Martinez in the Arizona lineup

Samardzija had the MRI done on Thursday following a poor start