Dodgers look to finish off Braves with Kershaw tonight, and why not?
Clayton Kershaw has never before started on short rest, but that ends tonight in Game 2 of the NL Division Series against the Braves. At 25, it's time for Kershaw to step up and do what aces do in the month of October: Carry his team forward. ...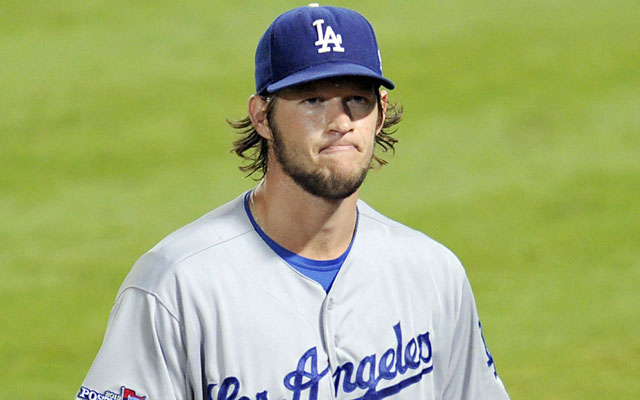 LOS ANGELES -- Smelling blood, the Dodgers will go for the kill: After playing it coy for the past 48 hours, they announced early Monday afternoon that Clayton Kershaw will start Game 4 tonight instead of Ricky Nolasco.
It is a bold move for the Dodgers, who clearly want to finish this series in Los Angeles tonight and not return to Atlanta for Game 5. Kershaw has never before pitched on short rest, and he is doing it after throwing 124 pitches in Thursday's series opener.
Kershaw, in fact, has only thrown more than 124 pitches in a game once this season, when he threw 132 against the Nationals on May 14.
But for a team that hasn't reached the World Series since 1988, the pitching shuffle makes every bit of sense. Not only does Kershaw give the Dodgers a better chance to win tonight -- Nolasco's ERA over his final three regular season starts was over 12.00 -- but in the event that they don't, Zack Greinke can start Game 5 on regular rest.
Furthermore, if the Dodgers can finish off the Braves tonight, Kershaw would be available to start Game 2 of the NL Championship Series against the Pirates or Cardinals on regular rest Saturday. That would set up Kershaw and Greinke to make two starts each in the NLCS.
Manager Don Mattingly, speaking Monday afternoon, said the decision was made by "committee", including general manager Ned Colletti and his staff, and pitching coach Rick Honeycutt. Presumably, Dodgers president Stan Kasten had input as well.
"This scenario is something we talked about before the season even ended," Mattingly said, noting that a Kershaw-Greinke tandem in Games 4 and 5 made far too much sense to ignore, whether the Dodgers were up 2-1 or down 2-1 after the third game.
Kershaw was involved in the discussions, Mattingly said, and "after Game 1, he was barking right after the game that he was ready for Game 4.
"We said, 'No, no, no, no, no. Let's see how you're doing tomorrow. And after that, it was a matter of waiting until he responded to everything and after that, making sure he was 100 percent with it.
"If he wasn't, and if everybody wasn't, we wouldn't do this."
The Dodgers made their final decision late Sunday night following Game 3, Mattingly said, after speaking one more time with Kershaw and telling him that he had to be on board 100 percent, otherwise, they would not do it. Once Kershaw eagerly assured them he wanted Game 4, they told Ricky Nolasco that they were passing on him.
At 25, Kershaw is one giant pillar in the Dodgers' plans to contend for the next several seasons. The club is expected to lock him up this winter to a deal that could run seven or eight years and $200 million or more. Mattingly said the club would not start him in Game 4 if there were any health concerns, because he is too important to the future of the franchise.
Greinke's presence and availability for Game 5 also was a major factor in the decision.
"No question," Mattingly said. "You've got two aces. I think it's the reason you come up with this scenario, for this game, when you're ahead 2-1.
"If you're behind, it's easy. For me, if you're ahead, without Zack being there, I don't think you make the same decision."
Statistically, using a starter on short rest in the playoffs often backfires: Since 2000, as noted on Twitter by longtime Dallas Morning News baseball writer Gerry Fraley, pitchers who start a postseason game on fewer than four days rest are 30-32 with a 4.97 ERA in 82 starts.
Kershaw, who almost certainly will be named as this year's NL Cy Young winner in November, was the winning pitcher in Game 1 in Atlanta. He held the Braves to one run over seven innings, striking out 12 and allowing just three hits.
The Dodgers telegraphed this possibility by having Kershaw throw his between-starts bullpen session on Saturday, instead of Sunday. Kershaw is a creature of strict routine, and he always throws his bullpen session two days before his next start.
Clearly, even after the 124 pitches, Kershaw felt good on Saturday.
And now we'll see how good he feels tonight, fear of failure at such a bold move be damned.
"Honestly, if you save everything for one game. …" Mattingly said. "I think I'd question myself a lot more if you've got two aces and you don't use both."