Dodgers look unlikely now for Cano, but here are 10 teams that may call
Los Angeles' signing of second baseman Alex Guerrero hurts Cano's market. But don't worry too much about him.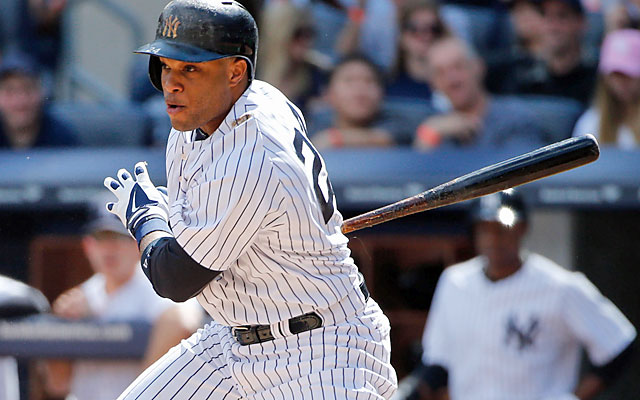 BOSTON -- Robinson Cano likely lost a big potential suitor when the Dodgers agreed to a $28-million, four-year deal with Cuban second baseman Alexander Guerrero.
Folks figured once Cano hired Jay-Z as one of his agents he'd be likely to stay in pinstripes, anyway. But don't assume he won't have outside opportunities just because the big-spending Dodgers seem like a less likely fit now.
Cano, the top free agent on the market, could possibly draw interest to varying degrees from about 10 outside teams, including the Rangers, Tigers, Cubs, Mariners, Blue Jays, Orioles, White Sox, Nationals, Angels and Giants, in addition to the Yankees.
Now, obviously, some of these teams seem less likely than others. But that's a pretty fair list of teams that have the resources and could potentially make the room.
In the case of many of these teams, there's a reason or two Cano may not be a perfect fit (mostly, it's the money). But with a player of this stature, teams have been known to make room.
The Rangers don't have much of an infield need since they have Ian Kinsler and Jurickson Profar for second base. The Tigers already have a high payroll for their market. While the Angels are expected to consider trades for second baseman Howie Kendrick, their bigger need would still be pitching.
The Orioles haven't spent for a top-tier free agent in years. The Nationals like Anthony Rendon, who'll presumably have to stay at second since Ryan Zimmerman bounced back to finish strong at third base. The Cubs seem to prefer even younger players for their major expenditures.
Guerrero could possibly play shortstop for the Dodgers, with Hanley Ramirez possibly moving to third base. However, Dodgers GM Ned Colletti said today that Guerrero would "probably" fit at second base for them.
The Yankees and Cano, who hit .314 with 27 home runs and 107 RBI and made his fourth All-Star team, are seen as far apart in negotiations, with him asking $310 million over 10 years and them believed to be offering about $163 million over seven years. So there will be plenty of time to talk with any other suitors.
But just because it likely won't be the Dodgers, no one should assume Cano won't stir strong outside interest.
Gallardo spent the first eight years of his career in Milwaukee

MLB revenues are at a record high right now, but teams aren't spending it on players

Chicago added Tyler Chatwood earlier this offseason but might not be done adding to the ro...
The Dodgers and Braves pulled off a whopper on Saturday

Sabathia will reportedly spend a 10th season in the Bronx

Fowler suffered a knee injury at Chicago's Guaranteed Rate Field