Dodgers love Hanley and are talking about big deal, but work remains
L.A. appreciates Hanley Ramirez, who is believed to seek well in excess of $100 million, but the Dodgers may have some concern about his recent injury history.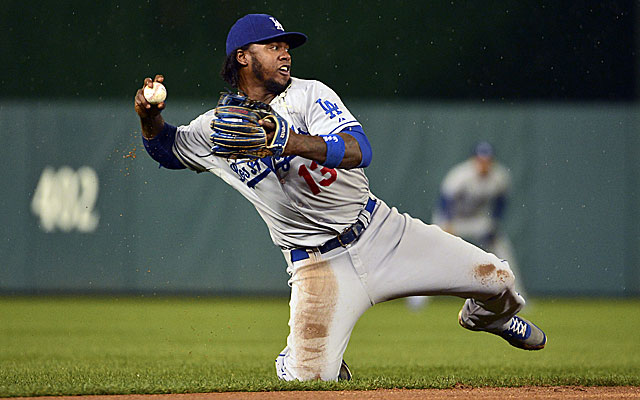 More MLB: Power Rankings | Expert Picks | Latest news & notes | Fantasy news
The Dodgers and star shortstop Hanley Ramirez have been discussing a potential mega contract for weeks, but even with the Dodgers' well-known love for Ramirez and clear intention to sign him, word seems to be that there's still a significant enough gap that it may take awhile to do a deal, assuming one will get done.
Ramirez, eligible for free agency after this season, is seeking a contract in excess of $100 million, and probably well north of that figure. While no exact numbers have gotten out, it is thought that he is actually seeking something in excess of $130 million. With Jacoby Ellsbury getting $153 million and Shin-Soo Choo $130 million as free agents, the figure as an asking price for Ramirez wouldn't be a surprise.
While Ramirez's play suggests he's worth something in the range of $25 million a year, one big question could be the length of the contract due to his recent injury history. Compromises may be needed on the part of both parties, but there's still probably ample reason to work hard to bridge any differences, as both sides have flourished since he came to LA in the summer of 2012.
Dodgers people have only great praise for Ramirez's play for them, his so-so start to this season notwithstanding, and team officials are said to have loved his attitude, as well. The clubhouse question was big enough with the Marlins that the field of suitors at the time was limited to the Dodgers, A's and maybe one or two others, with only LA willing to absorb his $16 million annual salary. Now it's not even a mention.
Ramirez, 30, has had quite a renaissance with the Dodgers, and he posted an eye-popping .345 batting average and 1.040 OPS in his first full season there last year. Amazingly, he finished eighth in NL MVP voting even though he barely played more than half the games. What's more, everyone from the front office to manager Don Mattingly to teammates are said to love him, a big change from his final days in Miami.
The one big concern the Dodgers may have is Ramirez's ability to stay healthy. He failed to play 100 games in two of the past three seasons after hardly ever getting hurt his first several years in Florida. While Ramirez's talent suggests he's a nine-figure player as a free agent, there isn't a big history of players receiving $100 million deals after missing as many games as he has since 2011.
Another issue could be how long Ramirez will remain a shortstop, though he's a very good athlete who could possibly slide over to third base in a couple years.
Ramirez's agent Adam Katz declined comment, as did Dodgers GM Ned Colletti. From the start there's been agreement on at least that point. The sides have said they are determined to keep the talks as private as possible.