Game 2 of the Dodgers-Nationals NLDS came a day late thanks to weather, but it was worth the wait for the home team. The Nationals took down the Dodgers in Game 2 on Sunday afternoon, 5-2.
The Dodgers jumped out to an early lead with a Corey Seager home run in the first and then strung a few hits together in third, using an RBI single from Josh Reddick, to take a 2-0 lead.
Everything turned around in the third inning, though, with backup catcher Jose Lobaton's three-run home run. A torn ACL to Wilson Ramos toward the end of the regular season forced Lobaton into the starting lineup, and now he's a hero.
The Nationals would extend the lead with two separate RBI hits by resident Dodger Killer (at least in the playoffs) Daniel Murphy.
On the mound, Tanner Roark wasn't great, but the Nationals got 4 2/3 scoreless innings from Marc Rzepczynski, Sammy Solis, Blake Treinen and Oliver Perez to get the ball safely into closer Mark Melancon's hands.
The series now heads to Los Angeles for Game 3, which happens Monday night. Here are six more things to know about Game 2.
1. Seager responded to getting buzzed up high
The very first pitch Roark threw Seager on Sunday afternoon was high and tight. He buzzed him up high, near his head, and no hitter likes that. Was it intentional? Eh, probably not. Roark was likely trying to bust Seager inside, but I doubt he intended to come close to his head.
A few pitches later, Seager responded in the best possible way: with a home run. His solo shot gave the Dodgers a quick 1-0 first inning lead. Here's the video.
Seager homered to open the scoring in the first inning of Game 1 on Friday, remember. He's the first Dodger to homer in back-to-back postseason games since Carl Crawford and Juan Uribe both did it in Games 3-4 of the 2013 NLDS. There's also this:
Believe it or not, it hasn't been all that long since the last time a rookie homered in his first two postseason games. Cubs outfielder Jorge Soler did it just last year. Still doesn't make what Seager did any less impressive. Goodness is that kid something special.
2. The Nats haven't miss Ramos thus far
The Nationals suffered a devastating blow late in the regular season, when Ramos injured his knee jumping for a throw from the outfield. He needed surgery for a torn ACL, his second in the last four years. Rough.
Ramos hit .307/.354/.496 with 22 home runs during the regular season, so on top of his very good defense, he was an impact hitter. That's a tough injury to overcome, but thus far, replacements Pedro Severino and Lobaton have done the job:
Severino in Game 1: 1 for 3 with a double
Lobaton in Game 2: 1 for 4 with a homer and 3 RBI
Lobaton's three-run home run Sunday turned a 2-0 deficit into a 3-2 lead in the fourth inning. He made Rich Hill pay for a walk and a hit-by-pitch earlier in the inning.
In the long run, the Nationals will dearly miss Ramos. For now, Severino and Lobaton have filled in capably in Games 1 and 2.
Lobaton, by the way, is only the second catcher in franchise history to go deep in the postseason. The late Hall of Famer Gary Carter did it back in the day when they were still the Expos.
3. The Dodgers blew so many great chances
At one point the two teams managed to load the bases with one out in three consecutive half-innings, but no runs scored. It was pretty amazing. Each team had a chance to break things open, but nope. Here's the breakdown:
Top of the second: Hill struck out and Chase Utley grounded out to leave the bases loaded.
Bottom of the second: Lobaton hit into an inning-ending 1-2-3 double play.
Top of the third: Yasmani Grandal banged into an inning-ending 4-6-3 double play.
The Dodgers also had the bases loaded with one out in the fifth inning and failed to score because Grandal struck out and Howie Kendrick lined out. Ouch.
Howie Kendrick pinch hitting is #Dodgers 5th at-bat with bases loaded in 5 innings. So far -- 0 for 4 with 2 Ks, 1 GIDP

— Bill Plunkett (@billplunkettocr) October 9, 2016
Boy, that's rough. The Dodgers loaded the bases three times in the first five innings and got zero runs out of it. Zero! They managed six walks and seven hits in the first six of the inning and scored only two runs.
Run expectancy at @baseballpro shows bases loaded, 1 out producing an avg of 1.5691 runs. Dodgers had that 3 times (~4.7 exp. runs), 0 runs

— Eric Stephen (@truebluela) October 9, 2016
It wasn't like they loaded the bases with two outs each time either. They could have scored runs with outs in those situations, but didn't. When the Dodgers think back about Game 2, all those blown bases loaded opportunities are going to haunt them. The game was there for the taking early on.
4. Hill threw everything from everywhere
Hill went from journeyman reliever to ace-caliber starter last year thanks to a few adjustments, most notably pitching off his curveball -- most pitchers pitch off their fastball -- and varying his arm slots. He gives hitters all sorts of different looks.
Here are Hill's release points from his Game 2 start Saturday, via Brooks Baseball: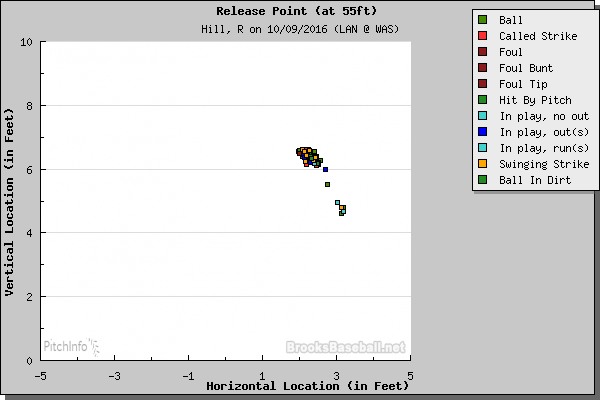 Hill threw his various pitches from all sorts of arm angles, so even though he is basically a two-pitch fastball/curveball pitcher, it plays up. He's got an overhand curve, a sidearm curve, so one and so forth. Hill's a five or six-pitch pitcher trapped in a two-pitch pitchers body.
5. The Nats' bullpen was dominant
Neither starting pitcher completed five innings -- Hill and Roark both threw 4 1/3 innings, in fact -- so this game was decided by the bullpens. Dodgers southpaw Grant Dayton allowed an insurance run on a Murphy single in the seventh inning to give the Nationals a 5-2 lead. That was a run Los Angeles couldn't afford to give up.
Five Nationals relievers (Rzepczynski, Solis, Treinen, Perez, Melancon) combined to throw 4 2/3 innings following Roark. Rzepczynski walked three in his 1 1/3 innings of work, and that was pretty much it. Ten of the final 11 Dodgers to bat to made outs, so there was no late threat. Both bullpens did a nice job Sunday. Washington's was a bit better though.
6. Pigeons were all over the place
The Nationals and Dodgers played Game 2 around a swarm of pigeons on the field. Players had to chase them at various points. For example:
The pigeons didn't interfere with any plays, thankfully, but they were all over the place all afternoon.