Dodgers no slam dunk, but full-court press with Greinke should pay off
GLENDALE, Ariz. -- Basketball is for Duke and North Carolina. It is not for Zack Greinke. Not any more. With a big contract comes big responsibility. So, begrudgingly, Greinke over the winter traded in his basketball kicks for running shoes. What six years and $147 million does for lifetime security, well, it sort of does the opposite for frivolity and carelessness. ...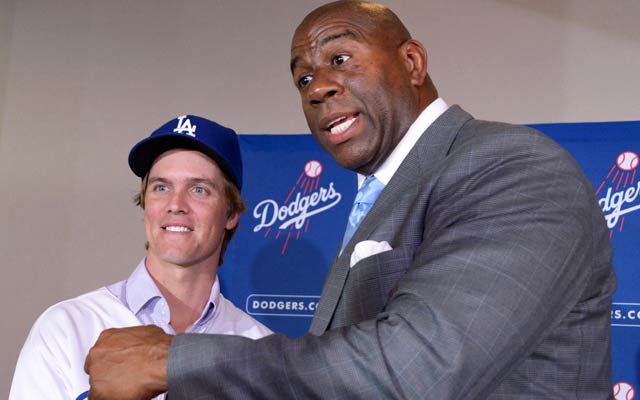 Zack Greinke won't be learning any new basketball moves from Magic Johnson anytime soon.
(US Presswire)
GLENDALE, Ariz. -- Basketball is for Duke and North Carolina. It is not for Zack Greinke. Not any more.
With a big contract comes big responsibility. So, begrudgingly, Greinke over the winter traded in his basketball kicks for running shoes. What six years and $147 million does for lifetime security, well, it sort of does the opposite for frivolity and carelessness.
And jump shots.
It was two springs ago, shortly after Milwaukee acquired him from Kansas City in a blockbuster offseason trade, when Greinke suffered a hairline crack to one of his ribs during a pre-spring training pickup basketball game. It cost him most of the spring and the entire month of April.
The Brewers were aggravated. Greinke was helpless. You only get one chance to box out and make a first impression.
So, basketball now appears to be as much in the rear-view mirror for Greinke, 29, as it is for Dodgers owner Magic Johnson, 53.
Whether that's a contractual stipulation or not, Greinke left that vague.
"Just a normal thing," he said. "I probably shouldn't be doing it. That much is for sure."
Manager Don Mattingly said the subject came up over the winter, insinuating that the Dodgers essentially asked (told?) Greinke to put his dribbling on ice.
"He likes basketball," said Mattingly, who, as an Indiana native, knows a few things about the hardcourt himself. "He talks a lot of basketball."
But as Greinke this winter prepared for his first Dodgers season, he changed his workouts, replacing basketball with more sprint work.
"I don't like to do it," Greinke said of sprinting. "But you've got to train your fast-twitch muscles.
"That was the main thought process. I don't like it. Basketball, in the past, has been my explosive movement [training]."
Greinke joined the rest of the Dodgers' pitchers and catchers on the field for the first time Wednesday, running through the basic stuff on another chilly Arizona day. He arrived in town about a week ago and has been working out at the Dodgers' facility ever since.
But Wednesday was the day the spotlight began to glare and the expectations began to rise here in Dodgertown II (and, rest assured, this is no Vero Beach).
There will be a major league-record payroll north of $200 million.
There will be a target on the backs of Greinke and the Dodgers every night of the season.
"I feel like that," Mattingly said. "That's just something that's there. Why deny it? Why run away from it? It's the way it's going to be.
"I think us being realistic, hopefully we can spell out what to expect. We don't want to get surprised by situations. We'd like to be able to lay out the expectations."
Mattingly will begin doing that over the next several days, particularly in a team meeting before the first full-squad workout on Saturday. He admits that his message to this team will contain some different elements from his message to previous teams.
One significant difference for Mattingly personally, and it ties into the extraordinarily high expectations around this team, is that the Dodgers declined to pick up his contract option year over the winter.
Meaning, Mattingly is entering the final season on his deal.
Meaning, the Dodgers had better win.
"It can be a part of the noise," Mattingly said of his situation. "But I'm not going to be a distraction for this club. That's one thing I've never been. I feel like I'm going to be a part of the solution, not a part of the problem.
"It's not a big deal to me. I'm happy. I've played under one-year contracts. That's the game."
Mattingly met with Greinke over the winter, and the two stayed in touch with occasional text messages. Nothing significant.
"He's kind of the least of my worries," Mattingly said.
Greinke won the 2009 AL Cy Young award while pitching for the Royals and has notched double-digit victory totals for five consecutive seasons. That said, he's never been able to match his level of dominance in '09, at least, not consistently over an entire season. It's come only in flashes.
Paired with 2011 NL Cy Young winner Clayton Kershaw atop the rotation, Greinke is surrounded by a clubhouse of All-Stars and a largesse like nothing he ever saw in Kansas City or Milwaukee.
Not long after he was dealt from Milwaukee to the Angels last July 31, with free agency screaming in the distance, Greinke watched from afar as the Dodgers followed up their Hanley Ramirez acquisition by trading for Adrian Gonzalez, Josh Beckett and Carl Crawford from the Red Sox.
"I thought it was crazy," he said. "I thought it was definitely bold.
"At first, it's a lot of money. But when you're looking at talent, same with the Blue Jays' guys, you have to pay more than you want to get it.
"That was such a crazy trade, going back to that time. Mainly because just so much money was involved."
It wasn't long afterward when Greinke allowed himself to be swept up in the Dodgers' tide of greenbacks. When he became a free agent, he figured a few things. One, he likes the National League better than the American League. Two, he likes Los Angeles as a city. And three, he figures the Dodgers are awash in so much cash they should remain a threat through the end of his contract.
"If something doesn't go right, they have enough [cash] to do something to keep the team competitive," he said. "I don't see the team not being competitive for awhile, at least.
"Hopefully until after my contract is up."
Is that a slam dunk? No. Nothing is a slam dunk these days. Look at last year's Angels, who watched the playoffs from their couches despite adding Albert Pujols.
But if Greinke does what he should do, and if Kershaw, Matt Kemp, Gonzalez, Ramirez, Andre Ethier and Carl Crawford – who is expected to be ready for opening day – do what they should do. …
Yes, the pressure is immense.
But is it insurmountable?
"Every year, there's pressure," Greinke said. "My first contract I had to do that [perform under pressure]. After my good year in '09, I had to do that.
"When I was traded to Milwaukee, I had to prove I was worth all the people they gave up. Last year, it was repeating for a playoff-caliber team [in Milwaukee] and free agency coming up.
"Every year, it's something different."
Only way to bounce past it, he said, is to go and do what he does, give it his best shot.
"If I suck and did everything I can do, I can't be mad about that," he said.
His first Dodgers workout was in the books as he spoke. And up in Seattle, coincidentally, the Mariners were closing in on a news conference with ace Felix Hernandez, whose new seven-year, $175 million deal far eclipsed Greinke's.
"He's worth it," the Dodgers' newest free agent expenditure said, smiling. "I'll tell you right now, he's a better pitcher than I am."
No question, though, Greinke could take him on the basketball court.
If, uh, he still played.
Get 15 percent off any order of more than $75 at CBS Sports Shop

Get your sports fans something that they'll wear all year

No, you're not imagining things. This MLB offseason has been very slow compared to the last...
Francesa will retire from radio next month, so he'll have plenty of free time next summer

The Twins need help in the rotation, and they may look to the trade market to find arms

Here are the bullet-points of what went down Tuesday regarding MLB and the Braves' punishm...