Dodgers now World Series favorites, per Bovada gambling odds
The Dodgers have passed the Tigers as favorites to win the World Series, per bovada.lv gambling odds.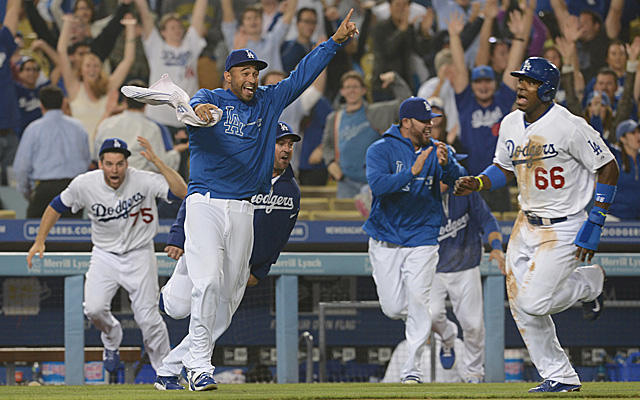 More MLB: Scoreboard | Standings | Probable Pitchers | Sortable Stats | Odds
After winning 40 of their last 48 games, the Los Angeles Dodgers are now the favorite to win the World Series, at least according to Bovada.lv.
"For the first time during the regular season, the Detroit Tigers have been surpassed as World Series favorites by none other than the hottest team in baseball the LA Dodgers," said sports book manager Kevin Bradley in a statement. "The amount of liability we have incurred on the Dodgers over the last month, combined with their stellar play as of late, forced us to drop them to 9-2 favorites just ahead of the Tigers who still sit close by at 5-1."
Note the statement about liability. A common misconception is that odds are predictions of the final result. They aren't. It's all about the sports book seeing the amount of action as spread around as possible, so the odds are more a reflection of public betting action than of someone's prediction.
Here's the full rundown of how things currently shake out with teams still on the board:
Los Angeles Dodgers 9-2
Detroit Tigers 5-1
Atlanta Braves 13-2
Boston Red Sox 15-2
St. Louis Cardinals 10-1
Tampa Bay Rays 11-1
Texas Rangers 11-1
Cincinnati Reds 12-1
Oakland Athletics 12-1
Pittsburgh Pirates 12-1
Baltimore Orioles 18-1
New York Yankees 40-1
Arizona Diamondbacks 45-1
Cleveland Indians 45-1
Kansas City Royals 45-1
Washington Nationals 75-1
Los Angeles Angels 250-1
Toronto Blue Jays 250-1
Colorado Rockies 350-1
San Francisco Giants 350-1
Seattle Mariners 350-1
New York Mets 500-1
Philadelphia Phillies 500-1
San Diego Padres 500-1