Dodgers outfield logjam plot thickening by the day
The Dodgers have Yasiel Puig as a star, three extremely overpaid outfielders, Scott Van Slyke playing well, and a top prospect CF starring in Triple-A right now. What to do?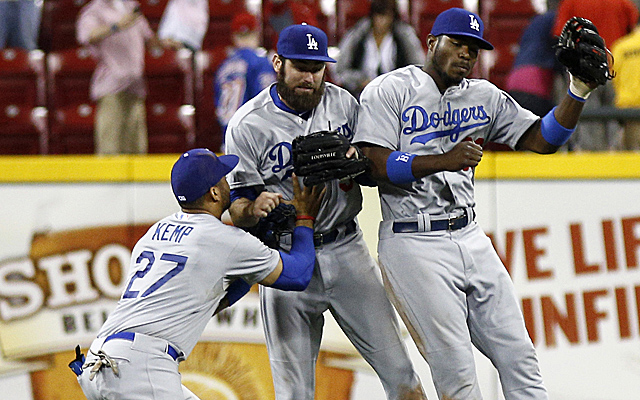 More MLB: Power Rankings | Expert Picks | Latest news & notes | Fantasy news
The Dodgers entered the season with a bit of an outfield predicament. Yasiel Puig is clearly the best outfielder on the team and even if he needed to answer some questions this year, he's done so to this point and then some. Aside from the star, there are three guys for two spots -- all three of whom are handsomely compensated.
Matt Kemp is making over $21 million this season and still has five years left (after this season) on his eight-year, $160 million deal.
Carl Crawford is making more than $21 million per season through 2017.
Andre Ethier is in the second year of a backloaded five-year, $85 million deal.
If everyone is playing well, it's a nice problem to have and the Dodgers could certainly afford it. Instead ...
Kemp is hitting .254/.318/.430 (109 OPS+) with very poor defense and a strikeout problem. Ethier is hitting .251/.309/.377 (92 OPS+) and can't hit lefties. Crawford is hitting .267/.293/.400 (93 OPS+).
So I guess it's not awful, even if not ideal, to try and play matchups with two of those three, so long as one can stomach the salaries. But this is where things get complicated ...
Scott Van Slyke is hitting .278/.435/.625 (195 OPS+) with five doubles and six homers in just 92 plate appearances this season. Considering the Dodgers' overall struggles -- they have a losing record since May 1 -- there's something to be said for riding the hot hand, or giving someone else a shot ...
Top prospect Joc Pederson can handle center field -- in fact, scouting reports call him above average there -- which would be nice since none of the guys on the roster at this point should be playing there. He's also hitting .327/.437/.615 with 16 homers and 14 stolen bases for Triple-A Albuquerque right now. He's only 22, but he's handled every stop in the minors well so far.
So the Dodgers conundrum is how to balance everything moving forward while still trying to make the playoffs and win the World Series.
They could probably trade at least one of the Ethier, Crawford, Kemp group, but they'd have to eat a ton of salary in doing so -- in Kemp's case, an unprecedented amount, in all likelihood. They also probably couldn't get much back and it would be a veritable salary dump. Keeping all of the guys means there's a chance eventually one or two of the players would bounce back to at least close to previous form. After all, Kemp is 29 while Ethier and Crawford are 32.
If they did trade, though, what happens if Van Slyke stops hitting well, the guys they keep don't improve, Puig runs into a wall again (literally) and Pederson struggles in his first big-league stint? All of a sudden they're searching for outfielders.
Meantime, the Dodgers could trade Pederson as part of a package -- many teams would be very interested in him -- that would land a nice return. What if he then becomes a star and the Dodgers continue to struggle with overpaid outfielders? Again, Pederson seems like the best center field fit, defensively.
There are some chess pieces to be moved around in L.A., with the most attractive ones being the cheap ones and three starting to more resemble albatrosses. All this needs to be done while keeping in mind this season is one the Dodgers entered with the realistic goal of winning the World Series.
Your move, Mr. Colletti.
The Marlins got a better return for Ozuna than Stanton or Gordon

The two teams are going about things in very different ways

The Marlins are indeed in teardown mode under new ownership
The Marlins still have more attractive pieces

The A's need outfield help, and the Cardinals have a glut

Minnesota has designs on the best starting pitcher available on the free agent market