Dodgers, Phillies, D-Backs head list of teams with early interest in Youkilis
Talks so far are said to be preliminary but a trade of Kevin Youkilis seems very likely.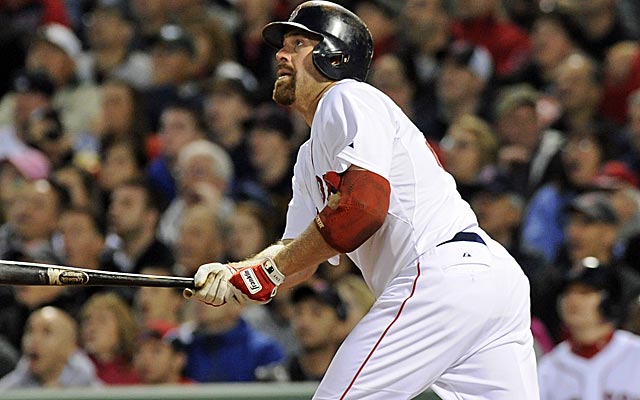 Kevin Youkilis has $9 million remaining on his contract for this year.
(Getty Images)
The Dodgers, Phillies and Diamondbacks are among teams showing early interest in longtime Red Sox star Kevin Youkilis, according to people familiar with the situation.
Although one Red Sox person called talks "very preliminary'' to this point, others familiar with their thinking say the Red Sox envision an eventual need to trade him, barring more injuries.
Red Sox people are telling others they'd require something of value back for Youkilis, but word is their demands would lessen if an acquiring team is willing to pay the $9-million-plus remaining on his contract that pays $12 million this year and carries a $1 million buyout on his $13-million 2013 option.
More on MLB
Related links
Boston's chances to get its asking price are enhanced by the third-base needs of several teams. The White Sox, with a baseball-low .451 OPS for their third basemen, are among other teams expected to join the derby for now believed headed by the Dodgers, Philadelphia and Arizona.
Other teams that have been connected in at least some way (i.e. a scout was spotted at a Red Sox game) or make some sense for Youkilis, who is batting .313 with a .913 OPS since his return and .253 overall, include the Indians, Angels, Rangers, Giants, Reds and Brewers. (A full rundown of all the teams is below.) 
Red Sox people are saying publicly they aren't shopping Youkilis, and while there is indeed no urgency to trade him immediately, some club officials do see a Youkilis trade as the likely solution to alleviate a crowded positional situation that becomes much more crowded once Jacoby Ellsbury and Carl Crawford return. The emergence of rookie Will Middlebrooks at third base has made Youkilis expendable. First baseman Adrian Gonzalez helped alleviate the crowd by playing right field capably, but one club official called that scenario "not a permanent solution.''
Here is a look at the best possibilities ...
1. Dodgers. They recently increased their scouting of Youkilis, though one club official, asked to characterize their interest in Youkilis, used the phrase "a little.'' Dodgers third basemen have complied only a .665 OPS, good for 22nd in baseball, and hit only two home runs.
2. Diamondbacks. Ryan Roberts, who had a very nice year last year, has fallen off to .220 this year for the Dodgers' rival.
3. Phillies. They wouldn't seem like the most obvious choice but are believed to like Youkilis. Plus third baseman Placido Polanco has been nicked up and star first baseman Ryan Howard hasn't returned from his Achilles injury yet.
4. White Sox. They are establishing themselves as a contender and buyer, and third base has been an offensive black hole. Orlando Hudson replaced injured Brent Morel, but the lack of production continues.
5. Angels. Their .571 OPS (27th best) and one home run is even weaker than their crosstown rival.
6. Brewers. They're set at third with Aramis Ramirez (though he left Saturday's game with a quad injury) but could use help at first with Mat Gamel out for the year and Travis Ishikawa on the D.L.
7. Giants. With Pablo Sandoval starting his rehab, they don't seem like the best fit, though first base isn't completely settled, with the beloved Brandon Belt batting just .230 with no home runs (and Aubrey Huff and Brett Pill also producing little so far).
8. Rangers. The Rangers were said to have a scout at a Red Sox game, but they are pretty well stacked on the infield and the righanded bat they seek is much more likely to play the outfield.
9. Indians. Youngster Lonnie Chisenhall has a chance to solve third base. Jack Hannahan is defensively strong.
10. Reds. Scott Rolen's return is undetermined, but Todd Frazier has filled in ably (six homers .258).
The Grapefruit League and Cactus League seasons started on Friday

Data will be collected and then used to determine whether humidors are necessary in 2019

Spring training play began on Friday, and the Stoneman Douglas tragedy was on the mind of MLB...
Baseball players forced to take pictures usually lead to fun for all of us

One of the most celebrated programs in baseball is looking to continue its run

A closer look at the teams in the Cactus League and Grapefruit League