Dodgers plan to bring Don Mattingly back as manager for next year
Team owner Mark Walter had praise for the job Dodgers manager Don Mattingly has done this year.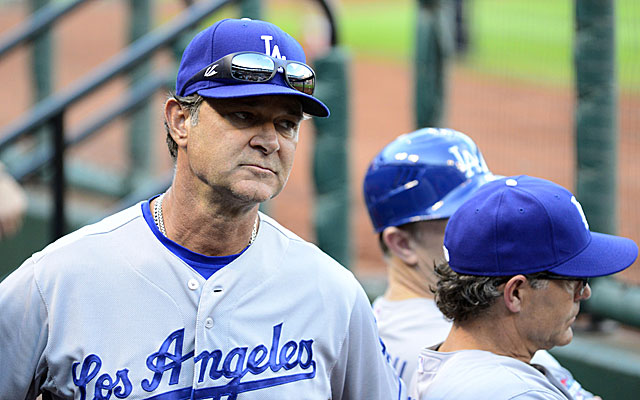 LOS ANGELES -- The Dodgers intend to bring Don Mattingly back to manage the team next year, people familiar with the situation say.
Mattingly's lack of a signed contract for 2014 combined with some much-debated postseason strategy decisions have fueled media speculation that the team could possibly make a change. A return always seemed more likely than not  after the team went on an almost unprecedented 42-8 run at one point to run away in the NL West following a painfully slow start that left them in last places 9 ½ games out and in last place in early June.
Still, speculation about a possible change grew in recent days, as a few of Mattingly's October moves have been dissected. Team sources have always called Mattingly's situation a "non-issue" suggesting he wasn't in trouble. But some wondered.
The team holds an option for 2014 for a reported $1.4 million, but it isn't known how exactly how many years they play to commit to Mattingly.
Dodgers managing partner Mark Walter maintained the team's consistent public stance that they will address Mattingly's situation after the season. Walter also said that, ultimately, it isn't his call; but he left not much doubt where he stands.
"I think he's done a good job," Walter told CBSSports.com before Tuesday night's NLCS game vs. the Cardinals. "We're in the NLCS."
Mattingly could technically go elsewhere since he'll be a free agent, and a few managerial jobs are open, in Seattle, Cincinnati and Washington. But Mattingly wants to stay. "I want to be here," he said earlier in the postseason.
Mattingly was rumored to be in potential trouble with a few more losses when the team was at its low point in early June. General manager Ned Colletti remained a consistent supporter through that time, and ultimately, president Stan Kasten and Colletti decided not to make a move.
Mattingly, who's likely to finish in the top two or three in NL Manager of the Year voting, seems to have support in the clubhouse, as well, not a surprise since the management of players/people is seen as a major strength.
"I sure hope so," catcher A.J. Ellis answered when asked if Mattingly will be back. "The way he navigated this season, he's definitely earned it. It isn't my call, but all I cay say is, I hope so. I've never been around a more consistent person in my life. He brings the same attitude every day. He's an eternal optimist."
Ellis said he'll never forget his spring speech and how it moved players. "When he stood up he said, "I'll make you one promise. I'll never forget how hard this game is,"' Ellis recalled.
Walter noted the number of injuries that have plagued the team. Implicit is that Mattingly played a role in overcoming major ailments that impaired to different degrees key players Matt Kemp, Hanley Ramirez, Andre Ethier, Chad Billingsley, Ted Lilly and others. The team spent $220 million on payroll, but far less than that was available most times. There wasn't one game where Kemp, Ethier, Carl Crawford and rookie sensation Yasiel Puig all were available and healthy for all nine innings.
Walter apparently doesn't ascribe to the "World Series or bust" motto advanced by part owner Magic Johnson, the NBA icon, in a spring interview.
"We can't feel bad about where we are," Walter said. "Only four teams make it to the LCS. You can't feel bad if you don't win the World Series every single year. Do we want to go further? Sure."
Walter said the call isn't his. But he also said the ones who will make the call, presumably Kasten and Colletti, won't be listening to all the second guessing and negative chatter surrounding some of Mattingly's postseason decisions, including the call to set up a show down between Paco Rodriguez and Braves star Jason Heyward in Game 2 of the NLDS vs. the Braves and the decision to remove Adrian Gonzalez for pinch runner Dee Gordon in the eighth inning of Game 2 against the Cardinals. We don't listen to (the second guessers) Stan's way too professional to listen."
Walter continued, "Ask Joe Torre. People like to second guess, and they're allowed to. You play 162 games and a manager makes many moves. If you had a manager who makes no mistakes that'd be great." But that's not realistic, Walter suggested.
Apparently referring to Mattingly's call to remove Gonzalez, Walter suggested he wasn't necessarily against it.  "When you've got a shot, you've got to take it," Walter said. "We're not going to be careful. We're going to go for it."
One of the most celebrated programs in baseball is looking to continue its run

A closer look at the teams in the Cactus League and Grapefruit League

Spring training baseball gets underway Friday
Christopher Crawford weighs in on all things prospects

Pawol is expected to umpire in the minors again come the regular season

No. 3 Texas Christian is looking to ruin Long Beach State's return home