Dodgers remake roster without big payroll hike, trading top prospects
The Dodgers aggressively remade their roster on Wednesday. They did it without trading top prospects or significantly increasing payroll.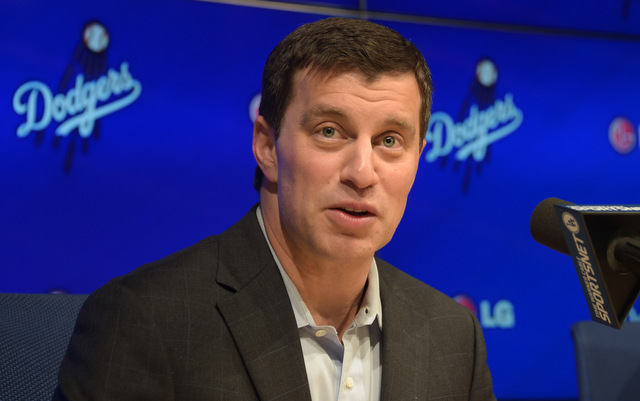 When the Dodgers named ex-Rays GM Andrew Friedman their president of baseball operations a few weeks ago, we all knew the team was headed for a facelift. He was brought in because he's shown he can find value where other teams can't, and Los Angeles wanted a more well-rounded roster better suited for World Series contention.
Friedman and new GM Farhan Zaidi have made a series of smaller moves -- minor trades, waiver claims, etc. -- in recent weeks to improve the margins of their 40-man roster, but, at the Winter Meetings on Wednesday, they had their busiest day yet, swinging a trio of big trades. Let's recap quickly:
To Dodgers: SS Jimmy Rollins
To Phillies: Two undisclosed minor leaguers
To Dodgers: LHP Andrew Heaney, UTIL Enrique Hernandez, RHP Chris Hatcher, C/IF Austin Barnes
To Marlins: 2B Dee Gordon, RHP Dan Haren
To Dodgers: 2B Howie Kendrick
To Angels: Heaney
On top of all of that, the Dodgers are also close to a four-year contract agreement with free agent RHP Brandon McCarthy. So that's a new double play combination, a new fourth starter and some depth players all in the span of about seven hours.
None of the three trades are official just yet -- there are still I's to dot and T's to cross -- but they have reportedly been agreed to and will be finalized soon. There were indications the trades could overlap, which they did with Heaney being flipped to the Halos for Kendrick.
That's not all either. Our own Jon Heyman reports the Dodgers are still working on a trade to send OF Matt Kemp to the Padres for a package fronted by C Yasmani Grandal. "It has legs," Heyman's source said. As we saw with the Rollins and Gordon trades, these things can come together very quickly, especially when the two front offices are able to meet face-to-face at the Winter Meetings.
All of these moves are designed to improve the team (duh), but none of them would have been possible without the other move. Each transaction set up the next. Rollins slides right into Haren's salary slot* and dealing Kemp will free up cash for McCarthy and Kendrick. My initial thought was they would use the Kemp savings on a $20+ million per year starter like, say, Cole Hamels or James Shields, but the Dodgers opted to split the savings on a new starter and a second baseman instead.
* The Dodgers actually agreed to pay Haren's $10 million salary in 2015, but he has said he will retire if he is traded away from Los Angeles, so they'll be off the hook. It was a salary dump in which no one has to actually pay anything. Creative!
The Dodgers used the trade with the Marlins to dig up a trade chip in Heaney. According to MLB.com, Los Angeles temporarily had the No. 13 (SS Corey Seager), No. 14 (LHP Julio Urias), No. 15 (OF Joc Pederson) and No. 18 (Heaney) prospects in all of baseball in the organization. They've been reluctant to trade Seager, Urias and Pederson in the past, but Heaney was easier to part with. Prospects are like kids -- everyone loves their own more than everyone else's. The team wasn't invested in Heaney. They could flip him and not miss him whatsoever.
Assuming Kemp is eventually traded -- all signs are pointing that way at the moment -- the Dodgers will have cleared up their outfield logjam, replaced Hanley Ramirez at shortstop, upgraded at second base, and upgraded both the bullpen and the bench to a smaller degree. Friedman and Zaidi reshaped their roster by creating financial flexibility and acquiring a spare top prospect, two things they didn't have before the Winter Meetings.
Once everything falls into place -- a big if because the Kemp trade isn't done -- and the Dodgers manage to complete these moves as expected, the club will have managed to improve the rotation, improve the infield and clear up the outfield logjam without significantly increasing payroll or gutting the farm system. A series of moves like that is exactly why the Dodgers brought in Friedman.
CBS Sports HQ Daily Newsletter
Get the best highlights and stories - yeah, just the good stuff handpicked by our team to start your day.
Please check the opt-in box to acknowledge that you would like to subscribe.
Thanks for signing up!
Keep an eye on your inbox for the latest sports news.
Sorry!
There was an error processing your subscription.
The Brewers' bullpen will try to finish out NLCS Game 4 in Los Angeles

Steve Pearce hit the go-ahead home run and Jackie Bradley Jr. hit the insurance grand slam...

The ALCS starts Oct. 13 in Boston
The postseason is underway and the World Series starts Oct. 23

The Red Sox wouldn't take the bait and expand the zone against Keuchel

The Red Sox take a 2-1 lead in the best-of-seven series