Dodgers sign Edinson Volquez for some reason
The Dodgers signed Edinson Volquez, a player recently let go by the Padres. He hasn't been good since 2008.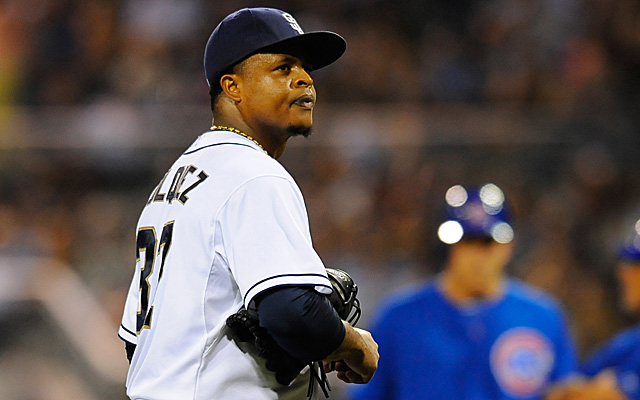 More MLB: Scoreboard | Standings | Probable Pitchers | Sortable Stats | Odds
The first-place Los Angeles Dodgers have signed right-handed pitcher Edinson Volquez to a major-league contract, CBSSports.com's Jon Heyman has confirmed.
Volquez was recently designated for assignment by the 59-73 Padres after posting a 6.01 ERA and 1.67 WHIP in 27 starts. He leads the majors in earned runs allowed. He hasn't been a good pitcher since 2008. He was horrible on the road last year while his Petco Park numbers brought him close to respectable, but with the fences moved in this year he was awful.
The Dodgers have four pitchers who are absolutely untouchable in the rotation in Clayton Kershaw, Zack Greinke, Hyun-Jin Ryu and Ricky Nolasco -- who has thrived since joining the Dodgers. With Josh Beckett and Chad Billingsley out, Chris Capuano is serving as the fifth starter.
Though Capuano isn't great by any stretch, he's better than Volquez. Since re-joining the rotation in the middle of June, Capuano has a 4.35 ERA in 12 starts. The Dodgers have won nine of his 12 starts.
Stephen Fife is in the minors now, but in nine starts for the Dodgers, he went 4-3 with a 2.47 ERA.
So there's no reason to put Volquez in the rotation as far as I can see. He's only made four appearances in relief in his career and none since 2008. That doesn't mean he can't do it, but why displace a current reliever in favor of a transition period?
I'm lost. Not that it really matters much in the grand scheme of things. The Dodgers are going to head into the postseason with ease. They might even be the favorites to win the World Series. They have money to throw around for no reason (and they only owe the pro-rated minimum to Volquez, Padres have to pay the rest).
I'm simply finding a hard time figuring out why Volquez was signed. Now watch him go revert to '08 form and troll us all.
News of the signing was first reported by Ken Rosenthal of Fox Sports.