Dodgers starting to wonder whether Greinke prefers Texas
No deal has been struck yet, but the big-monied Dodgers don't appear to be quite the shoo-in folks thought.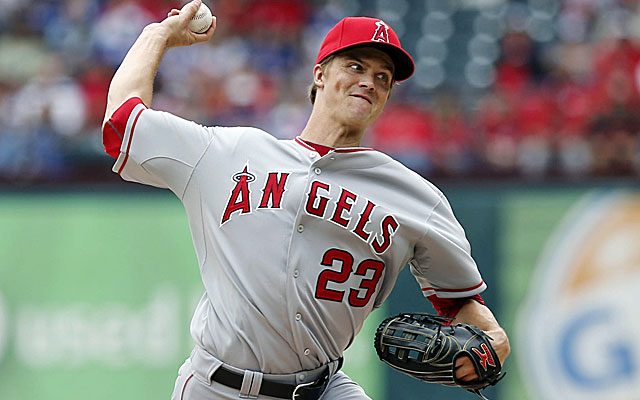 The Dodgers' discouragement may only reflect a slow pace of negotiations with pitcher Zack Greinke. (US Presswire)
NASHVILLE, Tenn. -- Dodgers people have begun to sound a bit less optimistic within the last day or so about their pursuit of star free-agent pitcher Zack Greinke. And although there's no evidence anything is close or decided in Texas' favor, a couple of Dodgers people even suggested that they are beginning to wonder whether Greinke may simply prefer the Rangers.
But while some Dodgers people are starting to seem slightly discouraged, Rangers officials are suggesting that they are unaware that they even lead the derby and are still wondering whether their division rival Angels could pull a last-minute surprise, like they did last year with Albert Pujols. Texas people suggested they believe it's at least a two-team battle (with the Dodgers), and maybe a three-team skirmish.
The Dodgers' discouragement may only reflect a slow pace of negotiations. However, folks believe there is an attractiveness for Greinke to the Rangers' situation, from their recent successes to their ultra-deep farm system to the slower-paced lifestyle of Texas to the relative proximity to his home state of Florida (at least compared to L.A.).
The derby for Greinke, by far the top free-agent pitcher, has been thought for at least a couple days to be a big-money showdown between the Dodgers and Rangers, with even Texas' seeming new-found equal footing a surprise in light of the fact that Los Angeles has started to be seen as a team with an unlimited budget.
Bidding was suggested by sources to have gone into the $160-million range, and while the Dodgers are assumed to have the capability of winning any huge bidding competition, Dodgers people are starting to wonder whether financial might is necessarily going to determine this race. The Rangers have spent liberally in recent years, but their ownership has balked before at giving ultra-long contracts to pitchers; they stretched to make a six-year offer to their own free-agent starter Cliff Lee a couple years ago.
While the big free-agent derbies usually become a bidding battle, Greinke is an unusual person who once turned down $100 million from the Nationals to stay on his two-year deal with Milwaukee. He quietly met with Rangers people about a week ago on his way out to LA for meetings with both the Dodgers and incumbent Angels, and people who heard about his Texas meeting say it went extremely well.
Though the Dodgers are spending hundreds of millions to win, the fact that the Rangers have made the playoffs the past three seasons and are thought to have perhaps baseball's best organizational talent (the Dodgers weren't allowed to spend for years under Frank McCourt), top to bottom, is the sort of thing that could influence Greinke, the type who studies organizations and knows what's going on around the game. It also can't hurt that his wife, a former Dallas Cowboys cheerleader, has Texas ties.
That isn't proof, of course, that he's going to spurn the Dodgers, and he still could well wind up in LA. But through early Thursday evening, with the winter meetings over, baseball's newest big spenders didn't seem as confident as you'd expect, or even as they had in previous days.
Meanwhile, Rangers managing partner Nolan Ryan told Rangers writers in a media session here that signing both Greinke and their own superstar free-agent outfielder Josh Hamilton can't be ruled out. While Ryan stopped far short of saying they would end up doing that, his words didn't reflect any presumed underdog status. Hamilton's first choice is to return to play in Texas, though the Rangers have also spent a lot of time in recent days looking into a trade for Diamondbacks outfielder Justin Upton.
While it's a little early to call the Rangers the favorite, there did appear to be at least a bit of momentum in their direction.
Dioner Navarro still hopes to return someday

Christian Yelich's agent says his client's relationship with Marlins is 'irretrievably bro...

The free-agent market has been slow and one player is bracing for an even longer wait
The Mets didn't want to trade a young outfielder for an older one

Josh Harrison doesn't sound pleased Gerrit Cole and Andrew McCutchen have been traded away

The team's media contracts expire following the 2019 season