Dodgers still undecided on Zack Greinke's next start
Zack Greinke may be return to the Dodgers rotation Wednesday, but the club is still undecided, as there are some lingering concerns.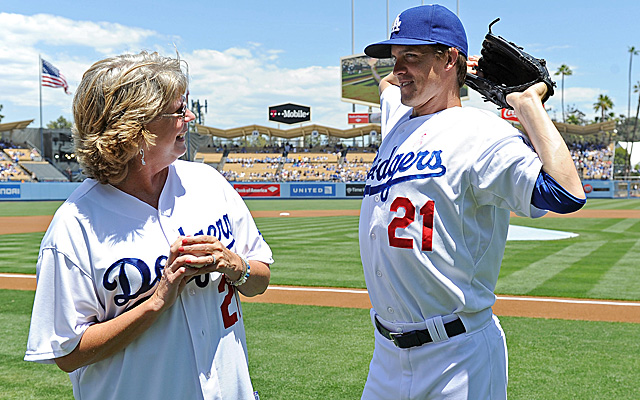 More MLB: Scoreboard | Standings | Probable Pitchers | Sortable Stats | Odds
Saturday morning, we passed along the news that Dodgers starting pitcher Zack Greinke might return to the rotation Wednesday against the Nationals in Dodger Stadium. And that possibility is still on the table, though the Dodgers have yet to make a final decision.
"We know he's going to pitch on Wednesday, we're just not sure where," manager Don Mattingly said, via the Associated Press. "We don't want to wait too long but we want to make sure everybody's on the same page. We want to get Ned's [general manager Ned Colletti] input, the doc's input, the trainer's input, Zack's. We're kind of putting together, if he's going to be able to pitch, what we don't want him doing and what we want to do. We just haven't got all that together so we're not ready to say 'Yes, we're going forward.' "
Greinke, 29, is 1-0 with a 1.59 ERA through two starts in the 2013 season. He signed a six-year, $159 million contract with the Dodgers this past offseason. He's been on the shelf since breaking his collarbone in the infamous brawl with Padres slugger Carlos Quentin back on April 11. 
In one rehab start, Greinke allowed six hits and eight runs (but only three earned) with four strikeouts and zero walks in 4 1/3 innings.
Initial reports from the Dodgers were the Greinke would miss upwards of eight weeks, but instead he may return to the hill in less than five. Greinke's throwing arm is not a concern, as the injury was to his left side, but the Dodgers still have concerns.
"I think his arm strength is going to be good enough," Mattingly said. "It's just the little worries about covering first, running into somebody, hitting and sliding, covering home plate and blocking home plate, diving for a bunt; a lot of little things can happen where he lands on his shoulder."
If the Dodgers decide to have Greinke start in the minors again, rookie Matt Magill would get the nod for the big-league club.
Mark Appel was one of the players being moved about on Monday night

Garrett Cooper is the answer to a trivia question

We still don't know if Ohtani will be jumping to the majors yet
Kinsler is a free agent next winter

Opening Day will be Thursday, March 29 -- the earliest opening day in MLB history

The World Series champion and big-time wrestling fan was on hand Sunday night