Dodgers take must-win NLCS Game 3 over Cardinals: Quick hits
The Dodgers had to win, and Hyun-Jin Ryu gave them what they needed.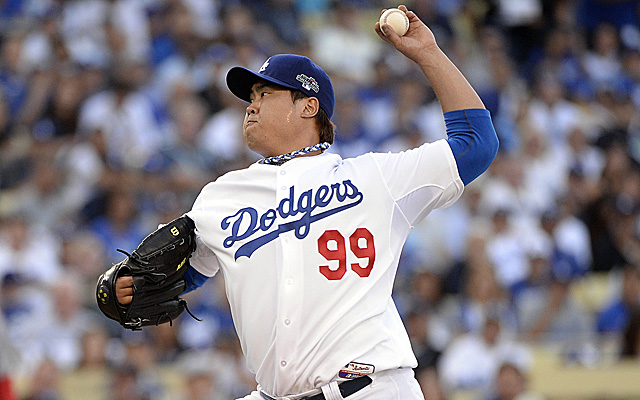 MORE: Game 3 box score
LOS ANGELES -- Game 3 of the NLCS between the Cardinals and Dodgers has concluded, and L.A. prevailed 3-0 in what was in essence a must-win for the NL West champs. Now let's have a closer look ... 
Hero: Hyun-Jin Ryu. The Dodgers haven't been lacking for starting pitching all series, but Ryu distinguished himself in Game 3. He worked seven shutout innings, didn't give up a hit until the fifth, struck out five against only one walk and at one point retired 11 in a row. Of his 108 pitches, 69 went for strikes, and he also notched 10 ground-outs. That's a gem -- a gem in a game the Dodgers had to had to win.
Goat: Jon Jay. There's no obvious and glaring wearer-of-goat-horns in this one, but the dishonor falls to Jay. He notched a hit on the night, which is something given Ryu's dominance, but his lack of communication on the Mark Ellis double to lead off the fourth set the tone for the inning that changed the tenor of the game. Jay's a good player, but his instincts and routes in center are often problematic. 
Turning point: Adam Wainwright is Adam Wainwright, and Ryu is a quality hurler facing a Cardinal offense that has established problems with lefties. All of that meant runs were likely to be scarce in Game 3. As such, it was critical when Yasiel Puig's third-inning triple plated Adrian Gonzalez for the second run of the game.
It was over when: When Carl Crawford came around to score in the bottom of the eighth, it pushed the lead to 3-0 Dodgers. With shutdown closer Kenley Jansen ready to work the ninth, it was done. 
Next: Game 4, in which Lance Lynn of the Cardinals opposes Ricky Nolasco of the Dodgers, goes down Tuesday in L.A. First pitch is slated for 8:07 pm EST.
Gonzalez was reportedly killed in a car crash in Cuba

Our Black Friday FA shopping guide includes a starting pitcher, slugger, super sub, and re...

Get 15 percent off any order of more than $75 at CBS Sports Shop
Need a gift for someone who loves baseball? We're here to help as the holidays approach

Several prominent Japanese-born Mariners and ex-Mariners have said they will help as well

Get your sports fans something that they'll wear all year