Does a Johan Santana reunion make sense for Twins?
The whispers about Johan Santana returning to the Twins via free agency are growing louder. But would that really be a great idea for the Twins?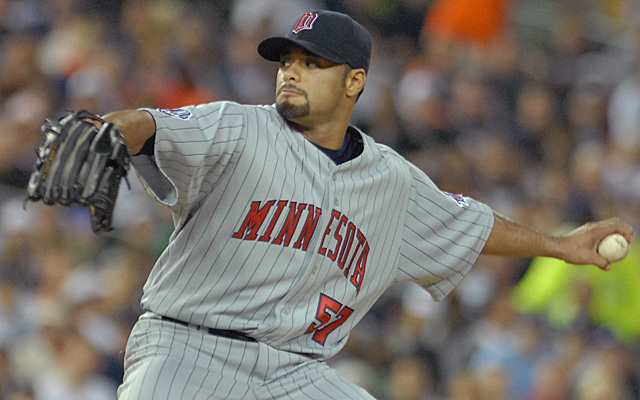 When Johan Santana last pitched for the Twins, he was one of baseball's best. In the four seasons leading up to his trade to the Mets, he won two Cy Youngs, finished third once and finished fifth the other season. He led the AL in WHIP all four seasons, strikeouts three times and ERA twice.
Now, having been completely saddled with injuries since 2010 at soon to be 35 years old, will a reunion with the Twins be in order?
The whispers are growing louder.
Wednesday, on the Twins official site, beat writer Rhett Bollinger answered some questions from readers, and buried in those answers came the following:
As far as reclamation projects go, former Twins ace Johan Santana is perhaps the most likely target given his history with the club. He could help serve as a mentor for the club's younger pitchers and has a strong relationship with manager Ron Gardenhire, pitching coach Rick Anderson and bullpen coach Bobby Cuellar. It was Cuellar who helped Santana develop his changeup as a Minor Leaguer in the Twins system. It's just speculation at this point but it could make some sense.
There was also a report from ESPN's Minneapolis affiliate that the Twins have "called on" Santana.
Friday, startribune.com's La Velle Neal reported that the Twins have contacted Santana's agents and requested a look at his medical information.
Where there's smoke, there's fire. The Twins are at least interesting in discussing a return of the once-elite left-hander.
The question is, how much would he actually help them?
There's little question the Twins are desperate for starting pitching. They had the worst rotation in the majors by far last season, posting a dismal 5.26 ERA. The next worst mark was 4.81 (Blue Jays).
It's just hard to tell what Johan has left. He was good in 2010, but no longer dominant as his strikeout rate fell to 6.5 strikeouts per nine innings. For comparison's sake, he had 9.7 K/9 in his last four seasons for the Twins.
And then came the surgery to his left shoulder. He returned in 2012, but was only able to make 21 starts thanks to a back injury. He wasn't his old self. There were some signs, sure, such as his two shutouts -- which included the first no-hitter in Mets history -- but overall, Santana had a 4.85 ERA (79 ERA+) and 1.33 WHIP, the worst mark in his starting career by a healthy margin. His strikeout rate did climb back to 8.5, though, so that was one good sign.
Then, though, Santana again tore his shoulder capsule and due to the surgery missed the entire 2013 season.
The concerns have to be myriad. He'll be a 35 year old with a throwing shoulder that has undergone two surgeries in the past three years. His fastball velocity -- once in the 93-95 range was down to 88-89 miles per hour. Can he still afford to throw that high-stress slider? That's another question. Four-seam fastball, sinker and changeup is an arsenal that could work with a cerebral pitcher.
The problem with no true breaking balls, though -- a sinker is a two-seam fastball -- is it's unlikely a starter could get through the lineup three times, much less twice. Thus, seeing Santana transform into a reliever at some point -- which Dayn Perry mentioned in one of our roundtables -- seems like a good move.
But the Twins need reliable starters. Under the circumstances of the past four seasons, it's hard to see Santana being one, even if he would be a great mentor to younger pitchers and it would make for a fun story.
If they do bring him in, they would obviously be giving him a lower salary with high incentives, which is fine. It's just that they'd be advised to have five other able-bodied starters lined up because he's a complete wild card. Then, if Santana rounded back into a quality pitcher, it would be gravy.
Granderson heads north of the border for his age-37 season

What did the Pirates get in return for their franchise player?

Rivero could remain in Pittsburgh for some time to come
The White Sox, Angels, Athletics, Orioles and Marlins are the holdouts after Blue Jays fol...

The Pirates have several attractive trade chips if they decide to go into a full rebuild

Gerrit Cole was traded over the weekend and now McCutchen is on the move