Does Kevin Youkilis still have a place in Boston?
With the ascension of Will Middlebrooks, what will the Red Sox do with Kevin Youkilis when he's ready to come off the disabled list?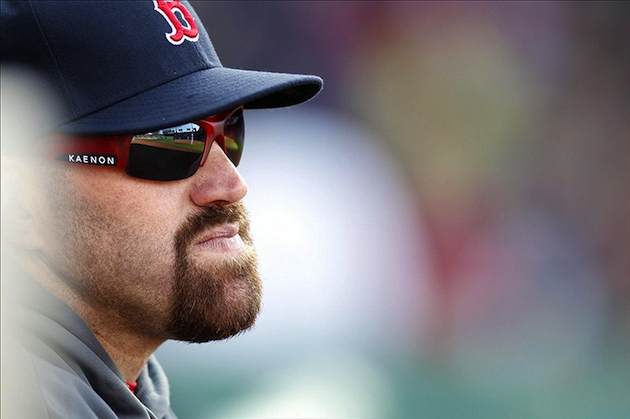 What does the ascension of Will Middlebrooks mean for Kevin Youkilis? I don't know -- and apparently neither does Youkilis.
"I have no idea," Youkilis
told ESPNBoston.com's Gordon Edes when asked that question
. "I'm here to play baseball for the Red Sox. If there's one thing I've learned in this game is you can't predict the future and you don't know what's going to happen. All you can do is worry about now, which for me is getting healthy and playing, and I'm a Boston Red Sox until they tell me otherwise."
Youkilis can come off the disabled list on Monday from a strained back muscle, but he hasn't started baseball activities yet, so when he'll be back on the field still seems up in the air.
With Adrian Gonzalez at first, David Ortiz at DH and manager Bobby Valentine saying Middlebrooks won't play the outfield, it seems there's little place for Youkilis. Youkilis is in the final year of a four-year, $41.125 million deal and it seems unlikely the team will exercise the $13 million option it has for 2013.
Or, it may not be that long, as the Red Sox could look to trade him -- not that at his current production he'd bring much in return.
Youkilis told ESPNBoston.com
that he would like to stay with the Red Sox -- but at the very least, another team would have to see him play before they'd take a chance at trading for him.
"My goal is playing here," Youkilis
told Edes
. "I love playing here. But if something happens and I have to go somewhere else, I'll go somewhere else. I don't control it."
While it wouldn't be his decision to play somewhere else this year, he'll likely have a choice after this season. Last year
he said the one place other than Boston he'd like to play would be Cincinnati, his hometown
. The Reds could be in need of a third baseman, and some would argue they are now. Scott Rolen is 37 and hitting just .182/.247/.318 with two homers and 11 RBI this season. Rolen's contract ends this season and he's hinted that this will be his last season. The Reds traded their top third base prospect, Juan Francisco, before the season, but do still have Todd Frazier, who has played well since being called up this season as a utility guy. And then there's the question of whether Youkilis can play every day. He's never played more than 150 games in a regular season and hasn't played more than 136 games over the last three seasons.
There are other teams that could be interested in even a limited Youkilis, such as the A's or Phillies, but Cincinnati does make some sense for both sides -- and at least more sense than Boston at this point.

The Twins have already fortified the bullpen with Addison Reed, and now they want to address...

The Orioles likely want pitching, and the Indians have plenty of it

Halladay died in a November plane crash off the coast of Florida
The power-hitting outfielder is headed to Toronto

Martinez could add some power to a Boston lineup void of it

It's almost that time of the year again, time for the Tebow madness to return