Does Luis Gonzalez have a Hall of Fame case?
First up in our series of breaking down 24 individuals on the Hall of Fame ballot is Luis Gonzalez.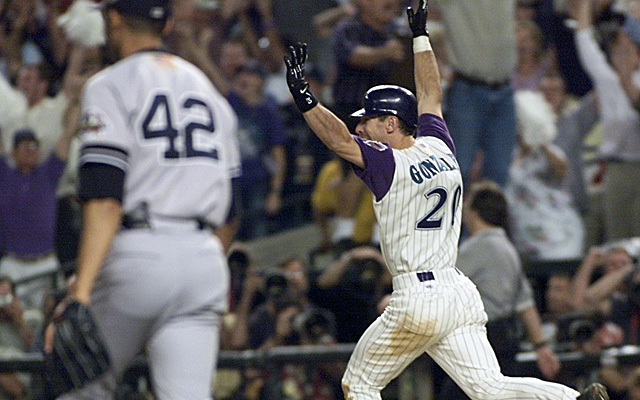 Hall of Fame: Cox, La Russa, Torre get in | Miller snubbed | Steinbrenner's complicated case | Checking out the one-and-done candidates
As noted in this very space Monday, the BBWAA Hall of Fame announcement is less than a month away and we're smack dab in the middle of a slow news time of the year for our favorite sport. Thus, we're going to break down one Hall of Fame candidate per day in this space.
How we'll do it this year is we'll attempt to paint an argument as each player being a Hall of Famer and then create an argument as to why a player is not a Hall of Famer. Some cases will be much more evenly divided than others (I mean, seriously, how are we even going to come up with an argument against Greg Maddux?), but we'll give it a go nonetheless. The fun of it will be the readers can then decide which argument is stronger -- and, again, some will be rather easy. But some won't.
One last item of housekeeping: We aren't going to get into how many players on the ballot are "more deserving." We are just going to stick with the individual and whether or not he merits strong consideration. The figuring out the ballot part of the process would come after we decide who is worthy of consideration.
First up in our experiment is Luis Gonzalez.
THE BARE ESSENTIALS
Gonzalez hit .283/.367/.479 (119 OPS+) with 2591 hits, 596 doubles, 354 home runs, 1439 RBI, 1412 runs and 128 stolen bases. He was a five-time All-Star, finished in the top three of MVP voting once and won a World Series ring with the 2001 Diamondbacks.
THE CASE FOR INDUCTION
Gonzalez hung around long enough to rack up over 2,500 hits and he ranks 81st in MLB history in hits. He wasn't a compiler, either, as he was still productive in his second-to-last season (104 OPS+).
His biggest strength was extra-base power, as Gonzalez ended up ranking 15th in baseball history in doubles, 85th in home runs, 30th in extra-base hits and 53rd in total bases. If we're only looking at extra-base hits, it's more than fair to say Gonzalez was a Hall of Famer on that front, being top 30 in baseball history.
In terms of run creation, Gonzalez has a case as well. He ranks 87th in career runs scored and 62nd in RBI.
Hall of Famers should have a elite peak in addition to great career numbers, and Gonzalez had one -- albeit as a late bloomer. From 1999-2003, Gonzalez hit .314/.405/.564 (140 OPS+) while averaging 39 doubles, 34 homers and 115 RBI per season. That's an excellent peak.
And, yes, Gonzalez was feared. He was walked intentionally 150 times, good for 46th in history. He also found ways on base via the hit-by-pitch (56th of all-time) and non-intentional walks, as he ranks 68th in career walks. Add it all up with the more than 2,500 hits, and only 55 players in MLB history reached base more times than Gonzalez.
Of baseball-reference.com's top 10 statistical similars to Gonzalez, three -- Billy Williams, Tony Perez and Andre Dawson -- are Hall of Famers.
And we can't forget that Gonzalez does have a signature postseason moment, as he collected the game-winning hit against the great Mariano Rivera to win Game 7 of the 2001 World Series for the Diamondbacks (pictured above).
THE CASE AGAINST INDUCTION
Notice that we mostly only dealt with counting stats above instead of rate stats, because Gonzalez's peak years all came in a ridiculously exaggerated hitters' era. His overall OPS+ shows a real good hitter who was 19 percent better in his career at getting on base and hitting for power than the average player. Is 19 percent better than average Hall of Fame caliber? No. It's not. At least it shouldn't be.
More on the rate stats, Gonzalez ranks 193rd in career slugging percentage and 195th in career OPS, but he's a bit further down the list in batting average and on-base percentage. Those don't add up to Hall-worthy rate stats by any stretch.
His rankings in the top 100 in all those categories above is very impressive, but he also ranks 39th in games played, 50th in plate appearances and 60th in at-bats. Yes, he was good enough to earn all those stats -- which is why I won't call him a compiler -- but a lot of the raw numbers were more about productive longevity than extended greatness.
Also, though Gonzalez's peak was excellent, it was only five seasons and the average per season numbers were skewed by one completely out of character year when he hit .325/.429/.688 (174 OPS+) with 57 homers and 142 RBI in 2001.
---
So which argument is stronger? The case for or the case against?
Wednesday: The cases for and against Moises Alou