Does the 162-game suspension mean we've seen the last of A-Rod?
Alex Rodriguez's suspension was upheld by the arbitrator and he will miss the 2014 season. Could this be the end of his MLB career?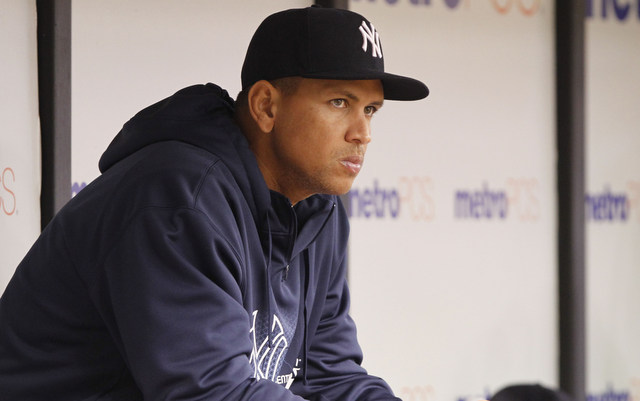 MORE: A-Rod suspended 162 games, planning more legal action | Yankees get cash, clarity
On Saturday, arbitrator Fredric Horowitz officially upheld Alex Rodriguez's record suspension for his ties to Biogenesis. The ban was reduced from 211 games to 162 games but don't be mistaken, it's a win for Major League Baseball. They wanted A-Rod gone for 2014 and that's what they got.
The situation is now clear after months of uncertainty. We know Rodriguez will be banned. We know the Yankees now need a third baseman and have some extra cash to play with. We know commissioner Bud Selig's legacy will include a big name PED trophy. There is still one thing we still don't know, however.
Has Alex Rodriguez played his final MLB game?
The easy answer is yes. It's not really that easy though. Rodriguez is still under contract through 2017 (!) with annual salaries north of $20 million. The suspension wipes away his $25 million salary for 2014 but he is still owed $61 million across the following three more years. Would a team, even one as wealthy as the Yankees, simply eat $61 million to make a distraction go away?
Again, the easy answer is yes. And again, it's not really that easy. In recent years under owner Hal Steinbrenner, the Yankees have shown a renewed focus on the bottom line. They've been talking about getting under the $189 million luxury tax threshold in 2014 for two years now, and it wasn't until the team lost nearly $60 million in ticket revenue alone last season (according to Brian Costa of the Wall Street Journal) that they reversed course and spent big this winter. Missing the postseason and not being competitive does serious damage to the Yankees brand. Paying $61 million to release A-Rod would be a tough pill to swallow.
For the sake of argument, let's say the Yankees do cut ties with Rodriguez, either right away or next winter after his suspension ends. He will be 39 years old when he is eligible to play again and that's after missing a full season. It's tough to come back from that. A-Rod has been declining in recent years but he was still a productive player, posting a .780 OPS from 2012-13 compared to the .724 OPS third base average. A lot of teams need third base help but how desperate are they?
This is a weird situation but there is some precedent. Barry Bonds hit .276/.480/.565 (169 OPS+) with 28 home runs in 126 games for the Giants in 2007 but never played again. No team bothered to sign him because of the distraction created by his PED concerns and impending legal battle over grand jury testimony. Teams simply said no to an insanely productive player who would have helped them win games because they didn't want to deal with the headache.
A-Rod is in a similar situation right now. There are several teams in need of third base help (including the Yankees) who would likely improve by adding Rodriguez when he becomes eligible to play in 2015. Would a team actually take the plunge? I doubt it. Maybe his hometown Marlins would in a move geared towards PR and headline-making than on-field production. That seems like a real stretch.
Ultimately, I think Alex Rodriguez has already played his final game. I think the Yankees will flat out release him at some point -- he has no reason to take any kind of buyout -- and it might be sooner (before spring training) rather than later (after the season). Once that happens, no team will bother to take a chance on him the same way the league shunned Bonds a few years ago.
In all likelihood, Saturday's ruling ended A-Rod's career, a career that was once ticketed for the Hall of Fame and the all-time home run crown.
Hosmer recently signed an eight-year contract with San Diego, and his usual No. 35 was spoken...

As part of the five-player deal, Brandon Drury is headed to the Bronx

Stoneman Douglas caps will be worn during Friday's spring training games
Arrieta is the top starting pitcher left on the market

The Angels are lowering the fence from 18 feet to 8 feet, so we should see a jump in home...

Mathis is one of the best at something that cannot be measured but is valued